Angel Beats!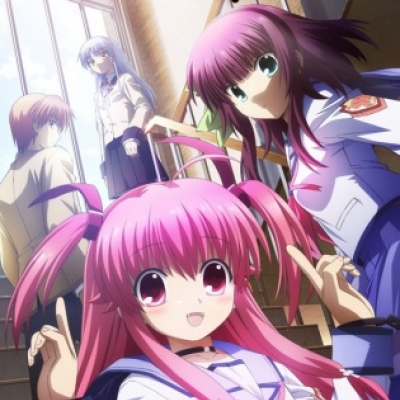 Uploaded by RoseRedFlower
Info
Angel Beats! is a 13-episode Japanese anime television series produced by P.A.Works and Aniplex and directed by Seiji Kishi.
Comments
Top
Popular
Newest
Angel beats should be way higher. It has such a sad and amazing storyline. It will always be my favourite.
Wow absolutely wow. This anime has too be the best anime I have ever seen. I love the characters and I could really relate to them. The storey that I could relate to the most was Yuri's storey. I could relate because like her I have two little sisters and a brother. She really is a great example of a fantastic leader despite what had happened to her. She proved that no matter what hardships you go through that you can find peace. Then there is Yuzuru, He thought me that you always have something to live for. Even when you think that your purpose for living is lost there will always be one. Then Kanade. She taught me to never judge a book by its cover. Kanade was always so lonely only because she wanted people to have a normal youth. And yet everyone fought against her and wanted to hurt her. The thing I noticed about Kanade is that she only used her powers for defense. She was so delicate and never wanted to hurt anyone. Out of all the characters I see a lot of myself in Kanade.
This anime is capable of making any person go through an entire spectrum of emotions all in a single episode, let alone the entire series! Furthermore, the episodes are short, and so is the series, but the storyline has a great deal of depth to it, so you never lose interest but still get deeply obsessed with the plot and characters, plus there's no filler episodes! I finished the entire series in two days, and the only thing I regret about that is not spacing it out a little so I could enjoy it more. Make sure you watch it if you haven't, and if you did watch it but didn't like it you clearly lack a soul!
Super touching... teared so many times and even cried when I watched this masterpiece. Normal shows and movies with real life characters fail to bring out the emotions and feelings of the characters and the intention of the author and the story line as well. Great use of music and the structure of this anime is really good. When I watched this I felt like I could sympathize with the characters and I thought about many things and issues faced by them and was able to reflect it to my own life. really great. highly encouraged to watch. don't just go for action and fighting. I feel that this - although short and even without the fighting scenes, impacted me so much more than those like Bleach and Naruto with all those fighting scenes.
Angel Beats is undoubtedly my favorite anime series of all time, and will most likely be for quite some time, if not forever. Not only does it have great animation, characters, and story, but the soundtrack is possibly the best I have heard for an anime, television series, video game, or movie. Though it is a close win (Halo 3, Halo Legends, Tengen Toppa Gurren Lagann, and Five Centimetres Per Second being the closest contestants.), but is nevertheless amazing. The characters are also quite complex and interesting (Yes, including Ooyama! ), which complements the story very well. Which leads me to my next point; the story has, by far, the best plot in all my time of gaming and watching anime. It contained happiness, comedy, and friendship, but also mystery, action, and romance. But most of all, possibly the most heartbreaking ending. All in all, I believe this anime to be a must-watch. I was not able to stop watching it! So get the popcorn and tissues. Because trust me, you will need ...more
Angel Beats! Is an amazing series. The show as a whole has an almost unmatched capacity to shift between comedy and tear-inducing drama in less than a heartbeat AND make that work and flow on well. It gets the message through that a goal or a virtue in life is more important than life itself, with all the characters redoing what they could not achieve and Otonashi's own arc on top of it all.

One of the few series that actually manages to teach a message to the watcher.
Angel Beats is one of those anime's that really make you realize who you are as a person. being unable to look at yourself in the mirror and harboring regrets we forget is human nature. This show taught me how to overcome many things I had not done, either out of hesitation or resentment. I understand that everyday could be my last and the past can not hold me back ever again. I have to live life and love every bit of it. We are all born lost and our journey is to walk the path we carve. This anime changed my life. Watch it and tell me after you see the final episode that your not a better person at that moment because of it.
I have watched many animes, and Angel Beats! Was the best by far, the ending was so sad, in the 13 episodes, Angel Beats! Has created a bond between me and the characters most shows don't get in many, many seasons. You get to learn all their quirks, one sentence says enough, "This is so stupid.". This made the ending way, WAY sadder than I ever imagined, it was like saying farewell to dear friends. If you think you're man enough to not cry over an anime (I thought so too), I guarantee you this anime will invade your heart and tears will cascade down in a waterfall before you realize it. 11/10, should be number one for sure.
The best innovative anime of all time! May god be there or not but one can create their own future, lead their own life and overcome their fears. It is a masterpiece which shows that whatever obstacles life may offer, with your will and heart you should keep living and keep progressing towards your goal. At the end, however the fact that you have worked towards your goal is more satisfying than whether you achieved it or not. It is an absolute masterpiece that shows the power of human will and determination.
Angel Beats! Reflects human life. We all have our flaws, and we often just want to help people out of our own good will. Even though the series arrives at a somewhat sad ending, it blows your mind, and you wonder about it. Not only is it hilarious, but it is also dramatic, and shows the tragedies of a human life, and the sacrifice for death. Plus, it is hilarious from beginning to end, and all the characters have a dark background, making you feel more connected to them.
Amazing truly a master piece, it had a story like no other, it had a nice feel to it and the characters were absolutely original in a way. The story was sad and beautiful, it had me smiling laughing and crying, an extremely memorable anime and is at the top of my of short one season anime. The only thing that was bad was that the way it ended off, sealed off the possibility of a season two.
THE ENDING! :'( nothing has ever made me cry so much! It throws you into this world and is somewhat confusing at the start but after a few episodes your hooked and feel attached to the characters. It is so influential when it tells the protagonist past and has multiple twist and satirical humor. Love it 10/10
Change my entire outlook on life and made me want to change it. The ending is super sad, and it's emotional at parts, and extremely funny at others. I never thought that a 13 episode anime would mean so much to me. Recommend it to anime because it has both action, comedy, and romance toward the end. The characters I all fell in love with, because they are all unique and quirky, while purely human. Had an amazing soundtrack, and I've re watched many times.
No offense... but I think this anime is the best out of all of them, and it's a really good anime but the problem is it only has 13 episodes which is not enough since it has so many characters in the show I really want to know them more but I don't have the chance to really understand there background information and there personality, but anyway it's still a great anime (in my opinion)
Angel Beats has a great message, which is at the same time also very, very depressing. It really shows how you have to live life without regrets and live it to the fullest but at the same time it shows that no matter what you do and no matter how hard you work you'll end up the same anyway. The setting was also very original, seeing as everyone was dead and you got to see their backstories. Really emotional, but totally worth it.
This is an amazing anime! It has incredible soundtrack as well as plot. It even has a deep meaning and theme behind it all. The characters vary and are all great in personality. It is a very touching anime and the only problem or flaw is that it was only 12 episodes. This anime is extremely underrated because it isn't mainstream. I highly advise you watch this anime!
Other than the plot holes (Which can be filled with interpretation from the viewer) This show is amazing. The ending is amazing. Everything is. The comedy is FANTASTIC in this and it will make you in all actuality laugh out loud. This anime brings the viewer to feels, and if you even think one bit your a man, I promise you, you will be crying like a little baby.
This anime deserves a higher spot. It was something that really got me into anime. The story is compelling, and I will admit the ending absolutely broke my heart. The characters are all well developed. It is a masterpiece. You cannot watch this anime without crying at least once. I highly recommend it and you will not regret watching it.
Angel beats was like an emotional roller coaster, and when it was done, it made me cry so hard! As you go along with the plot, you feel attach to the characters and you realize, "damn, not only is the music good, but I actually care about what's gonna happen next." Definitely started weird, and it was so meh, that I even wanted to stop watching it, but I continued, and I'm glad I did because as I went on, the episodes got better and better until I was actually crying with joy and sadness.
Angel Beats is a fantastic anime and deserves more votes in my opinion. Angel Beats should at least be in the top ten. Angel Beats is a deep anime with three-dimensional characters that explores human nature and the struggles that people face. It is also really funny too!
Watching this was an amazing trip with an immersible world, with wonderful earthly characters and beyond emotional moments. Changed my outlook on the world, and taught me a lot about life.
Angel Beats is an amazing anime, it made me laugh it made me cry. I loved watching it and it really brings out my emotions. I'm really grateful to everyone that helped make this anime. Anime is everything to me and without this anime I wouldn't be the person I am today!
This series is amazing I can't belive they where able to fit so much emotion in the last few episodes this show was just great I actually belive it should be higher than Pokemon but I'm satisfied being able to be top 20 with only 12 episodes compared to the rest this is short but great. This has gotten long so all I want to say if had to describe it in one sentece it would be. An awesome anime a 12 episodes blockbuster of emotion and a must see.
Truly the crown of an anime that has such an amazing plot and lots of action too! They could have definitely made more episodes though in the anime because no matter how good the series is 14 episodes doesn't do the trick.
Personally one of my absolute favourites. Its quite short, but I quite like how it ended... I don't think it would have turned out well if they had decided to make a second season. But I cried in every single episode, it was beyond beautiful. This is an anime, that in future, I'm going to force my children to watch XDD Art is beautiful, and so is the storyline and the characters are so memorable. This anime definitely deserves a higher spot, at least in the top 10... Which is kind of disappointing - When all is said and done, you have to watch this. It should be on your bucket list, for before you die. Legit. - kittykxtmeow