Ouran High School Host Club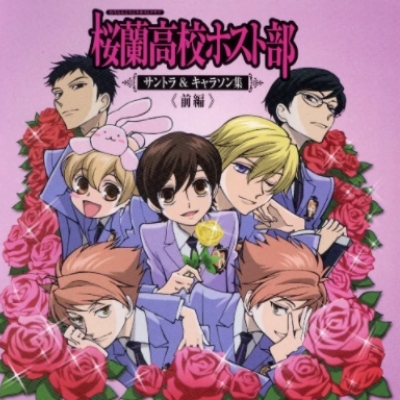 Uploaded by RoseRedFlower
Info
Ouran High School Host Club is a manga series by Bisco Hatori, serialized in Hakusensha's LaLa magazine between the September 2002 and November 2010 issues. The manga has been adapted into a series of audio dramas, an animated television series directed by Takuya Igarashi and produced by Bones, a Japanese ...
read more
.
Comments
Top
Popular
Newest
I have almost watched the series straight through twice now since February 2014 and it's only April. I watched select episodes over 5 times each I'm guessing and I really enjoy watching this series. I will probably continue to watch it as the months go by despite the shortness of the series. I wish there had been more episodes because I completed it in about 2 or 3 days when I first got into it, but I can't control what BONES does (Or whoever controls that) and am grateful to have been able to witness the beauty and comedy this series has to offer. My favourite characters are Hikaru and Kaoru Hitachiin, those handsome and very close twin brothers, but I loved everyone in the Host Club. I can't believe that I denied watching this series about 7 years ago now, and I am so glad I changed my mind and decided to check it out.
I have been watching anime for quite some time. When I started watching this anime, I absolutely fell in love with it. I'm always up for a good comedy anime with nice characters and a good plot. This exceeded my expectation by a long shot. The characters were brilliant, as well as the story line. And let's not forget how Tamaki's mother tied into it all. I really wish this anime was a bit longer, but not long enough to bore it's fans.

Overall, one of the greatest! Now to enjoy some instant coffee!
I think this anime is one of the best I've ever seen. The hilarious characters, along with a thrilling easy to understand yet still thought provoking plot keeps me glued to my seat through every wonderfully beautiful episode. This anime should have continued. The only reason that there was no season two was because it was planned from the beginning to only have these 26 episodes. If you're interested in more, there is always the manga to read.
Funniest anime ever! I recommend this show to everyone who is reading this. I think the story was perfect, there was a cliff hanger or some twist at the end of EVERY SINGLE EPISODE! I wish it had more episodes continuing there high school life or at least a second season with every separate person's story told more. But, even without all that I still thing the anime is one of the best animes I have ever watched.
How is OHSHC so far down on the list? It was the first amazing anime I ever saw and is the funniest, most relate-able anime I've ever seen! The whole concept of the show is simply hilarious and entertaining in every way. We need more votes! This needs to dominate some of the other animes! Come on guys!
I just started watching this anime and I'm already addicted to it! I can't stop watching and I finished the whole thing in two days and that's a lot of shows! Twenty-Six episodes is 23 minutes each. 23x26=598 which is almost 10 hours of watching! I would recommend this anime to anyone! It's really funny and enjoyable to watch.
Get out your bucket lists people because if you haven't seen this one you better put watching it on the things you have to do before you die. Ouran High School Host Club is a combination of romantic comedy, and just an all around good show. There's really no contest because Ouran is one of the best, and you will not be disappointed.
The best anime to teach the differences in social class and the effects of how a person's life can be affected by one another without even realizing it. It expresses complicated concepts in the best way possible by using comedy as a key asset. There is a perfect blend of comedy, drama and romance
If you want a dose of Comedy and Romance, this is for you. It follows the story of Haruhi Fujioka and her discovery of the Host Club, a club that entertains women. The host club mistakes haruhi for a boy (she's a girl) and she joins the club. They Later figure out that she's a girl and they go through romantic, awkward, and funny situations. My Rating: 9/10
Literally I watch this every single time I get sick. The first time I watched it was in 6th grade, re-watched it in 10th grade, and now, as a senior, have probably seen it at least 15 times. The only thing that changes is that I get better at quoting the lines. The writing is too incredible for it to be so far down on this list
It was the most hilarious thing I have ever seen. It has very good planning, graphic and music. I need to compliment the creator because they built up the comedic tension from ep1 to the end very well! I burst into a never-ending fit of laughter when I watch it. Too bad it has only one season
This is Anime, it's really that simple. If you want to see what anime is supposed to be this is it. Decently complex characters, funny story line, continued plot points, and it makes funny of dozens of classic anime tropes while giving you a good overall story with loveable characters.
This show, I don't know what to say. I just love it! It's manga is really cool to read (Even though my bookstore has only book 1,2 &18 *sigh*), the anime is really funny. I own an Ouran lanyard as well! My favorite episode has to be "Haruhi in Wonderland" since I love Alice in Wonderland themed anime/manga series' (Alice in the Country of Hearts, Pandora Hearts, Wonderland Days, etc.). My favorite character is Honey-senpai (Since he's short like me! ) Best thing to watch on Netflix! - OtakuKat
This an awesome anime. It's hilarious and one of the funniest anime I've seen. The characters are wonderful have their own stories. They all have some type of conflict, which makes the storyline line better. And they all care for one another, no matter how much they get on each others nerves.
I actually really enjoy this anime. Though it is very comedic, when the romantic part of the story comes to play, it makes the plot much more interesting. What I really loved about this anime, even though it was a shoujo anime, the romantic part of the anime was pretty subtle.
I was once wavering between weather I liked anime or not, and I'd already seen many of the anime on this list, but this is by far my favorite. I have watched it many times and introduced it to others who love it just as much as I do.
Best anime ever! How could this be rated 21. I think it should be the first! Its hilarious and funny and is actually pretty realistic, its like a cool dream waiting to come true
This is HILARIOUS! It's romantic, but it's mostly filled with comedy. Haruhi was supposed to be studying, but instead she ended up joining a club for guys! And by the way Haruhi is a girl, so she's a cross-dresser, like her dad. And it's weird but there mostly a banana split at the end of the scene, and they slip and fall. (They banana split is by the twins Hickari and Kaoru.) this deserves to be the best
This is by far THE BEST anime I have ever watched! I love the different but special characters, and how the whole storyline is so creative! If I were to only watch one anime my entire life, I have to say it would be this one!
I love this anime so much, you have to give it a try. It's so funny, especially the twins, my favorite characters in the whole anime! The voice actors are amazing and really bring the anime to life. Haruhi X Hikaru forever
Ouran High School Host Club is fab! It has comedy, romance, drama and action. The perfect combo for a sick show. There is also a manga about it, so it must be a amazing anime if it has its own manga.
I absolutely loved Ouran High School Host Club
It was so funny, and the characters and the way they were explored deeply made you feel like you knew them, and it was so bad when it ended! It's a great story with great graphics and... Just amazing for any age. Not to mention it has some of the most attractive cast of all time! (TAMAKI SUOH I LOVE YOU! )
I've watched this anime at least a million times through over years and I've never gotten tired of it. Definitely something that everyone should watch at least once in their lives!
Anytime life gets bad, I watch this. Then I forgot why I was depressed. All I'm doing is laughing my lungs out. Funniest show ever. Wish it was longer though. :/
Gotta love this anime has everything you can think of that makes an anime good. My favorite people honestly are the Hitachiin twins Hikaru and Kaoru