Top Ten Best Aquatic Animals
The Top Ten
1
Killer Whale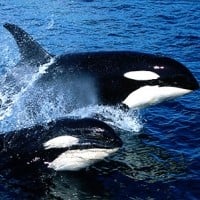 The killer whale or orca is a toothed whale belonging to the oceanic dolphin family, of which it is the largest member.
2
Great White Shark

The great white shark, also known as the great white, white pointer, white shark, or white death, is a species of large lamniform shark which can be found in the coastal surface waters of all the major oceans.
Great White Sharks are some of the most misunderstood animals in the world. They're wild and really cool to look at - ShuhBanggg
3
Dolphin

Dolphins are a widely distributed and diverse group of fully aquatic marine mammals. They are an informal grouping within the order Cetacea, excluding whales and porpoises, so to zoologists the grouping is paraphyletic.
4
Seal

Seal, known as Pinniped, is a marine carnivorous mammals native to all continents, commonly to North America and Antarctica.
5
Tiger Shark

The tiger shark is a species of requiem shark and the only extant member of the genus Galeocerdo. It is a large macropredator, capable of attaining a length over 5 m. Populations are found in many tropical and temperate waters, especially around central Pacific islands.
6
Bull Shark

The bull shark is a requiem shark that is considerably dangerous. These sharks live in both freshwater and saltwater environments. Bull sharks can be recognized by seeing a shark in freshwater and watching the shark due a hit and run.
7
Piranha

A piranha or piraña, a member of family Characidae in order Characiformes, is a freshwater fish that inhabits South American rivers, floodplains, lakes and reservoirs.
8
Seahorse

Seahorse is the name given to 54 species of small marine fishes in the genus Hippocampus. "Hippocampus" comes from the Ancient Greek word hippos meaning "horse" and kampos meaning "sea monster".
9
Clownfish

Clownfish or anemonefish are fishes from the subfamily Amphiprioninae in the family Pomacentridae. Thirty species are recognized: one in the genus Premnas, while the remaining are in the genus Amphiprion.
10 Blue Sturgeon
The Contenders
11
Giant Squid

The giant squid is a deep-ocean dwelling squid in the family Architeuthidae. Giant squid can grow to a tremendous size due to deep-sea gigantism: recent estimates put the maximum size at 13 m for females and 10 m for males from the posterior fins to the tip of the two long tentacles (second only to ...read more.
They're really cool with their massive size and long tentacles. - ShuhBanggg
12 Giant Pacific Octopus
13
Whale Shark

The whale shark is the world's largest living shark as well as the largest living fish. Whale sharks grow up to 45 ft. (13.7 m) long, and can weigh as much as 13 tons (11.6 tonnes). Their mouths alone are a whopping 6 ft. (1.8 m) across-big enough to gulp down three percent of their body weight in food ...read more.
14 Whale
BAdd New Item