Philippines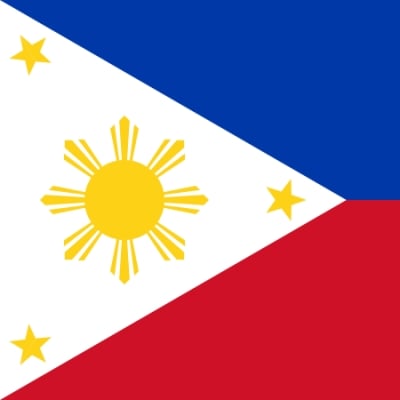 Found on wikimedia.org
Info
The Philippines was established in March 16, 1521 and named in honor of a Spanish King whose name is King Philip of Spain II. It is located at Asia, specifically at Southeast Asia. The capital is Manila. 89% of the people there currently are native, while 11% of people there are foreigners.
Comments
Top
Popular
Newest
This has got to be the best country in Asia right now when it comes to finding happiness and potential. The future if the Philippines looks very bright. These past 5 years have been looking pretty good lately for the Philippines as believe it or not the quality of life here continues to improve step by step. The country is still developing. It really is a true democracy. There are a lot of really good people here. The food is outstanding. Cost of living is very low. Excellent place if you like beaches, boating, mountains, greenery, tropical fruit and the world's largest shopping malls in the mix.
Woah, shocked to see that our country is ranked as no. 2 but IN MY OPINION, I think that South Korea should be next to Japan. But I think that we still deserve this. First of all it is already proven that PH is one of the best country to live in Asia because of the number of foreigners living here. The English education is one of best of the best, in fact most of the students from other countries transferred here to study English. The people here are very nice and cheerful. Filipinos are friendly, many foreigners that chose to live here said that this is one the reason why they chose our country. Beautiful sceneries are everywhere. Don't forget the food and service.
The Philippines is great but, coming from a filipino, I know what's real here.

Well I agree for it to be top in the top 3 in Asia to VISIT. But to live in, it would be top 12 I think.

The Philippines have a very bad Government, Transportation, and Cleanliness. But we take a bath twice a day everyday. Anyways They are very Respectful, loves everybody, except China. and the tourist spots are great.

Thank you for Reading - Life_Sanchez
The Philippines may be a flop in transportation and governance, but the people are unique.

They are the most sensible people in the world. They are always there as if they really have the responsibility on you. They are always happy and optimistic. The dark slums hides the shining hopes that leads to development on their family. They have the determination on their goals.
They are very open-minded.

Festivals and celebrations is also a gold to mine in the Philippines especially Christmas! They celebrate it the best!

The food is also very good! Rooting to it's culture and history. Especially, that Adobo and Sisig!

Traffic is a flop as I said but only here you'll get a chance to ride in Taxicabs with a karaoke and many more!

I loved this country very much!
Philippines is not a boring country, everyday is full of adventure and funny... People have a very good sense of humor whether boys or girls, young or old... So it's not boring.. Sometimes your neighbor here will knock on your door holding a plate of newly cooked food to give you.. They love to share their food here...
Beautiful country, lots of poverty, insane politicians mostly that is. Greed and corruption seems to be the most important among elected officials and their cronies. More or less all in public offices. Slow justice system most can bail themselves out, if they can afford it, with stolen money. The poor are the best. A few good politicians like senator Miriam Santiago... She is top 1.
The Philippines has a beautiful island landscape and a diverse wildlife. We have people who are very friendly and can sometimes let you in for dinner, even if they're strangers. Food here is just amazing (like the chicken adobo), and the Philippines is melting pot of Spanish, Chinese, Malay, and American culture. It's more civilized than you think, even though it's considered a third-world country. Even if we have corruption, typhoons, and other disasters, looks can be deceiving. - ethanmeinster
Philippines have it all, internet maybe slow but it's not a big deal. A lot of interesting things to see and experience. People are friendly to good foreigners. EACH DAY IS DIFFERENT EXCITING EXPERIENCE, EXPECT THE UNEXPECTED. Metro Manila particularly Makati City is a place to live if you love luxury, shopping and great nightlife.
Philippines IS ONE OF THE BEST COUNTRIES IN THE WORLD Philippines HAVE MANY BEAUTIFUL PLACES THAT NOT EVER SEE IN OTHER COUNTRIES LIKE BORACAY HUNDRED ISLANDS IN THE Philippines AND MESSAGE TO ALL WHO WANT TO COME IN THE Philippines please COME NOW I PROUD TO BE A FILIPINO
Philippines may be an economically challenged country... Corruption still rots and well spread not only in the government and other public sectors... But whats great in the Philippines is they welcome everyone... Specially the tourist.. It's so overwhelming to visit any destination where everyone is there to smile and greet you...
People are warm and friendly. They are the type of neighbors you would want to live with. Philippines is so diverse and metropolitan any kind Of person will feel it is home.
I will choose Philippines than Indonesia, Vietnam or Malaysia or Thailand because Philippines has the most beautiful womens and I can say that Philippines is more beautiful than india because of the pollution even philippines is a poor country but people are trying hard here to become divirsed. And I'm a indian,
Best and longest Christmas celebration in the world.. From september to january.. We are not as rich as other Asian countries in terms of economy but our natural resources are rich enough to enjoy... Especially people here are not that hard to get along with..
Low cost of living, high value for human rights, good family values, good education and health care, English speaking country, large natural resources.
Philippines has many entertainments for both kids and adults - theme parks and beaches can make anyone happy. Philippines also has a lot of species, making it a target for nature-lovers. People whose nationality is Filipino must be proud to be one!
The people are happy and contented. They just don't wish for more. HAPPINESS and UNITY with family and friends are more important that things we see. They love singing too
Okay, I know much about poverty and the typhoons here. But everyday we Filipinos upgrade our preparedness for such disasters. I'm not trying to be boastful but if I lived in japn I wouldn't live that long since I don't understand. Here? Well most of us...tried to speak in English

Oh yeah! Remember if you are planning to live here, don't try the capital city (aka manila). Pretty much a mini USA there -.-
There are lots of things to be found right here in the Philippines that will surely surpass your expectations and fulfill all your excitement which will make you came back here again and again.
Happy people make a happy country. When you live to a country happiness is one of things that we consider. It is always more fun in the Philippines
The Philippines is known for being hospitable and peace-loving nation. The people are highly educated and there are lots of beautiful sceneries. Its more fun in the Philippines!
Althouhg the weather is this country is a bit hot compare to other countries, the warm and authentic smiles of the people makes you realize that no matter what the situation we can do it, resiliency. Aside from that it has a lot beutiful places to visit that will definitely feast your eyes with and eventually will make you happy. The people are really wonderful, creative and willing to help in various form of situation.
Wow. I would never want to live in the Philippines! I'm just happy here in Vietnam because the PH has the highest crime in all of SEA. And they have such a high poverty rate! The people are disgusting pigs and so dirty. They think that there country is perfect and that there is no problems with it. Grow up, you unsanitary pigs.
Yes it's dirty, yes it's corrupt, BUT WHO CARES! Nice resources sexy women, nice people and warm weather as soon you visit Philippines, you would not want to leave! It's true it happened to me before!
Better than Thailand even Thailand is not that polluted well Philippines is better because Thailand always gets the attention but finally people prove Philippines is the land of free
All filipino are very hospitable please vote! Philippines