Vietnam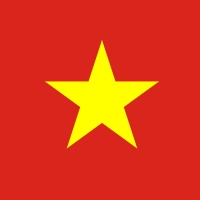 Found on wikimedia.org
Info
Vietnam, officially the Socialist Republic of Vietnam, is the easternmost country on the Indochina Peninsula in Southeast Asia.
Comments
Top
Popular
Newest
Having lived for 4 years in Vietnam, have to say, this is just paradise on earth. Vietnamese woman are always friendly, amiable, caring, very polite, natural, beautiful, traditional, faithful and every day sunshine. Vietnamese woman always show their love to their spouse, in any situation and it is said, they follow their husband everywhere in the world. Being married with a Vietnamese woman since 5 years now, every day again is like just falling in love the first day. Even when they getting older, they keep their natural beauty. The wife of a friend was already 67 years old, even though I was guessing she is maximum 35. What amazing scenario. It is also said, that the girls from Vietnamese woman and western man are the most beautiful creatures on this planet. So looking forward when our little baby girl is growing up.
I've been to Vietnam couple of dozen times in the previous years due to the nature of my business. The majority of Vietnamese girls are quite conservative, but you will see here and there a few girls who are truly open with foreigner. It doesn't sound really right about 'if you want one, go online, pick up a favorite one and make them wives. It won't happen, as Vietnam is not Thailand.
Vietnamese girl who grow up in countries such as Europe, America and Australia are way more gorgeous and face figures are more beautiful compare to those who grow up in Vietnam (In my humble opinion, please vote if you'd agree with me on this)
Vietnam have the most beautiful women that is my opinion. Sometime the other people say the ugly that the big misunderstanding, the women in Vietnam smart, genus, pretty, helpful, sexy, beautiful, cute, rich, listen, don't fight, pay everything, buy a house for you, good cooker, relax, don't go to shopping, make money for you, don't gambler, don't drunk, don't say bad word, you can many as you want she don't care, is not matter you rich or poor, they still love you, make a lot baby for you, don't go with the other man, and don't care where you from see how awesome the Vietnam women is if you don't trust go find one and you will trust 100% is true I not lie I promise go find one and take them home and have a babies that Vietnam women is the best in the world see that is cool right if you want to go out with them so fast go online then and find your favorite.
You are such a disgusting men! Do you think we are slaves or what (I'm Vietnamese)? Please, just shut it and think twice before you post such a bull.
Why do you say that we are not a toys we love our family that's why sometimes we do things that we think we never gonna do respect as the way we respect you
Don't you dare think my country's women are slaves you disgusting man! You are never going to get a Vietnamese girl from these reasonings you have listed! - LoganGFX
VietnamESE GIRLS ARE THE BOMB! My girlfriend is Viet and she is absolutely gorgeous
I see majority of Vietnamese women have natural looks. also majority of them have double eyelid, I do not seen many full race Vietnamese woman have Chinky eyes. not trying racist. Vietnamese are more natural beautiful compare to other Asian Women.
Vietnamese girls are the most attractive girls in the world with hidden charms and shy beauty
Honestly, I think Vietnamese women and girls are so beautiful because they are natural. It is very hard nowadays to find a female that wears absolutely NO makeup - if that is what you call "natural", for me natural is when someone wears an acceptable amount of makeup (not like their whole face literally covered in it) but if you people see my point that a little makeup is fine. So in my opinion, Vietnamese women are gorgeous!
Vietnamese women are just simply beautiful, classy, feminine, with a hidden charm that is irresistible. They are not timid but are gentle and knows how to treat their men and be great mothers/wives. Strong women whom are loyal and respectable. Family is everything to them.
As a person who has visited Vietnam, I would say the girls here are attractive. Usually they would have double eyelids with a medium sized eye, medium sized lips or small lips are common, and a medium sized nose, not super slim and tall, but not flat. Vietnamese girls have really good figures, and although there are many plastic surgery advertisement here it's not common for people- Only for those who think they are really in need of it, nose surgery is usually the most common surgery here, but it's not often since no one really undergoes plastic surgery so casually. Overall I think they're really naturally pretty
Vietnamese girls are 100% Asian, not too much mixed like Filipino. Family is everything with them, they will sacrifice their self to do the best things for their partner, their kids.
I'm not surprised Vietnam is placed 3. We do have very good looking girls. And all have been pretty well educated and has been learned all the skills of being a woman. Which I find is a good thing to learn.
I think that Vietnamese girls are the most pretties and they have some kind of class aura around them that makes them look gorgeous I got a Vietnamese girlfriend and she is just so pretty sometimes I think why she is with me lol
Vietnamese girls look great. They haven't done a lot of plastic surgeries like Korean, Chinese or Thai girls, that's what I like. I hope they keep studying and working hard to have a decent mind.
Just married a Vietnamese woman that moved to US 3 years ago. She is 40 and looks 30 at most. Stunning beauty, beautiful skin, great body,black, shiny hair. But most important: she is kind, loyal and has a very sensitive heart, She will treat a man with respect and dignity. Not subservient, but will allow the man to be the King, which allows her to be the Queen. Always the most stunning woman in the room. Great pride of appearance. Keeps a clean house and is meticulous about almost everything. Plus, continually works out to keep body in wonderful shape. Wonderful smile and great sense of humor! Simply put: THE BEST! Plus, there are a lot more similiar to her in Vietnam...trust me. You won't go wrong!
Vietnam women are gorgeous. Most of them usually don't wear any make up 'cause they love natural beauty. They also cook really well, don't say bad word and care for their family.
Well, Although I haven't been to Vietnam yet, however I met some Vietnamese ladies at other countries and they are beautiful and very sexy Too.
Vietnamese girls are very graceful with smooth and white skin!
Vietnamese girls are sweet, loyal and strong. Most of them are natural and beautiful!
Simple because my mom is Vietnamese women.
Vietnamese girls are amazingly beautiful without resorting to cosmetic surgeries and are extremely humble and caring.
Vietnam girls are the best in my opinion. I can see a lot of beautiful girls on the street, coffee shop, even front of school gate with "ao dai" that is a tradition clothes. Their skin may not lighter than the other country girl as Korea, Japan because the weather is too hot and very sunny. Almost Vietnamese girls aren't tall but look they so cute.
The more Southern Asian countries tend to have a more Western look in their natural bone structure. Most Vietnamese women have naturally larger eyes and it's difficult to find monolid. In the North they are light skinned naturally in the cold and snowy weather, in the South they have a nice healthy tanned glow, which is what Westerners like. Vietnamese girls are probably second to the Philippines.
Vietnamese women is still very beautiful without any make up. A nature beauty
Vietnam is the best among these. 100% Asian, Nice face, Nice body, Nice personality
They smart and beautiful, know how to satisfy their partner and stay away from meaningless sex.