Best Athletes of the 2018 Pyeongchang Winter Olympic Games
The 2018 Pyeongchang Winter Olympics may have ended since February 25th of this year in 2018, but the memories of the feats put in by this Winter Olympics' athletes won't. This is the list of the best athletes of the 2018 Pyeongchang Winter Olympic Games. Feel free to vote and add to this list.
The Top Ten
1
Chloe Kim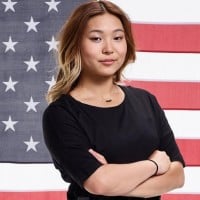 Nailing all those 1080's on the mark, Chloe Kim was a snowboarding queen on the women's halfpipe. Come the finals, she truly left her mark on Winter Olympic history as she became the youngest woman to win an Olympic gold medal for the women's snowboard halfpipe at 17 years of age. As one NBC article says, her action on the slope truly caught the attention of those watching her, including me and my sister in pure excitement when we watched her in the finals. - ModernSpongeBobSucks
2
Red Gerard

Red Gerard is a beast and a great snowboarded. Way better than Chloe Kim in my opinion
The first American gold medalist at the 2018 Winter Olympics and the youngest American to medal in a snowboarding event at the Olympics. For his first time at the Winter Olympics, his Winter Olympic debut couldn't have been more grand. Gerard drifted his way into victory by taking home the gold in the finals for men's slopestyle. NBC isn't exaggerating when they say he could very well be the face of the future of snowboarding. - ModernSpongeBobSucks
3
Ester Ledecka

The first woman to win medals in two different sports at the Winter Olympics. The Czech athlete made history by taking home the gold in both the super-G in alpine skiing and the parallel giant slalom in snowboarding. Ledecka was only in it for snowboarding, but she really took her Olympic talent Up to Eleven when she won gold for alpine skiing, which isn't even her main sport. Not every game do you see this kind of phenomenon occur. - ModernSpongeBobSucks
It's very impressive what she achieved in the OS.
4
Mirai Nagasu

The first American female figure skater to land a triple axel at the Winter Olympics in free skate out of the three other athletes around the world who did so before her. In addition, she was also one of the teammates who won bronze for America in the figure skating team event. As you can tell by this list, Nagasu is one of many Asian-American athletes at this year's Winter Olympics, so it goes without saying May is going to be a blast for Asian Pacific American Heritage Month with all these athletes of Asian descent. That said, the seven-time US national medalist is one strong spinner in her technique. With her skating techniques and style combined with her practicing on improving her jumps, Nagasu made figure skating history at the Winter Olympics for America. - ModernSpongeBobSucks
5
Nathan Chen

Nathan Chen is in essence an outstanding example of that if at first you don't succeed, try again. Unlike most athletes on this list, Chen's feats are more than one. He was one of the athletes who helped earn a bronze medal for America in the figure skating team event. While he performed poorly in the men's event, he made quite a big comeback in the free skate by not only doing six quads and nailing five of them successfully, but also placing first with a score of 215.08, the highest in Olympic history, earning a total of 297.35 to move up from 17th place to the top 5 at 5th place. Perseverance perseveres, indeed. - ModernSpongeBobSucks
6
Adam Rippon

The first openly gay male athlete to win a medal at the Winter Olympics. According to NBC, Adam Rippon made his Olympic debut this year at Pyeongchang after missing out on Vancouver and Sochi from 2010 and 2014 respectively. While the medal he took home may not be gold, his performance on ice and the history and legacy he set for current and aspiring LGBT athletes surely was. After all, Rippon himself said he "might not be the best, but I'm the most fun." You done good, Rippon. You done good. - ModernSpongeBobSucks
7
Yuzuru Hanyu

He got gold in both the Sochi and the Pyeongchang men's singles. Too bad I've never watched him in either. I've seen other videos of his performances and he is AMAZING. He should be above Nathan Chen. He's good, but he never won a gold yet. - PhoenixAura81
Defender of his now two-time winning title for gold in men's singles for figure skating. For a guy who went through a 3-month hiatus following a heavy ankle injury prior to Pyeongchang 2018, the Japanese athlete managed to pull through even with his recovery still incomplete as he defended his title once again in men's singles for figure skating since Sochi 2014. Here's to him mastering landing those quadruple axels in the future to come. - ModernSpongeBobSucks
8
Yun Sung-Bin

The first Korean gold medalist for men's skeleton. According to NBC, prior to Yun Sung-Bin's win at this event, only athletes from nine different countries including the United States, Austria, Canada, Germany, Switzerland, etc. were the mainstay champions of men's skeleton. But thanks to Sung-Bin's enthralling third run, not only did he win South Korea's first gold medal in skeleton, but he also won South Korea's first gold medal at Pyeongchang 2018. Call him the Red Gerard of Korea, if you will. - ModernSpongeBobSucks
9
Alex Shibutani

The elder brother of the Shibutani siblings. According to Wikipedia, Alex Shibutani is a two-time Olympic bronze medalist (2018), a three-time World medalist (silver in 2016 ; bronze in 2011 and 2017), the 2016 Four Continents champion, and a two-time U.S. national champion (2016, 2017). Along with his sister, they have won six titles on the Grand Prix series and stood on the podium at 14 consecutive U.S. Championships, at five levels including eight as seniors as well as a silver medal at the 2009 World Junior Championships. The Shibutani siblings are both notable for being the first ice dancers who are both of Asian descent to medal at the Olympics by coming in at bronze. In addition, they're also the second sibling duo to win an ice dancing medal at the Winter Olympics and the first of such from the United States as well. - ModernSpongeBobSucks
10
Maia Shibutani

The younger sister of the Shibutani siblings. According to Wikipedia, Maia Shibutani is the 2018 Olympic bronze medalist, a three-time World medalist (silver in 2016, bronze in 2011 and 2017), the 2016 Four Continents champion, and a two-time U.S. national champion (2016, 2017). Along with her brother, they have won six titles on the Grand Prix series and stood on the podium at 14 consecutive U.S. Championships, at five levels including eight as seniors as well as a silver medal at the 2009 World Junior Championships. The Shibutani siblings are both notable for being the first ice dancers who are both of Asian descent to medal at the Olympics by coming in at bronze. In addition, they're also the second sibling duo to win an ice dancing medal at the Winter Olympics and the first of such from the United States as well. - ModernSpongeBobSucks
The Contenders
11
Alina Zagitova

In a Winter Olympic where all Russian athletes are restricted from representing their home country due to a doping scandal, Alina Zagitova is one of the many standouts, if not, the most major standout of all the Russian athletes at the 2018 Winter Olympics. She stands foremost as one of the first Russian athletes to win a gold medal, having taken first place in ladies' singles at the figure skating event. Her silver medal from the team event with the OAR team is an honorable mention as well. Her championship and grand prix titles from previous figure skating seasons truly show off how and why she got to where she is today. - ModernSpongeBobSucks
I was actually not expecting her to perform, considering the fact that Russian teams were prohibited from playing in the olympics. She gave a really good performance though. - styLIShT
I'm happy that she won gold. Although i'm not Russian, but she hitted out of the park. I hope she defends her title in Beijing 2022
12
Evgenia Medvedeva
She got the chance to meet EXO at the olympics last year! I'm SO HAPPY FOR HER! - dfj
Best ever figure skater I want her to win gold
BAdd New Item