Athletes Who Have Done Something Bad
I really wanted to make a sports list considering I like Basketball, Football, Tennis, Baseball and Soccer, but I didn't have an idea until now. Anyways the title explains it. Most of these will be dumb things although some will be serious. But all will be controversial.
The Top Ten
1
O.J. Simpson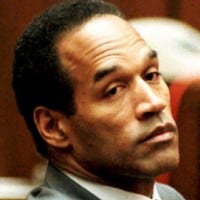 Orenthal James "O. J." Simpson, nicknamed The Juice, is a former National Football League running back, broadcaster, actor, advertising spokesman, and convicted robber.
The most infamous trial in history, for the murder of his wife, and had the worlds slowest police chase that kept people watching
It's pretty obvious he committed the murder. There's way more evidence for it than against it.
This should be number one
He didn't kill his wife, however, he is a convicted robber.
2
Chris Benoit

Christopher Michael "Chris" Benoit was a Canadian professional wrestler. During his 22-year career, he worked for numerous promotions including the WWE, WCW and ECW. Benoit is often cited as one of the greatest professional wrestlers of all time.
Benoit is kinda overrated in Wrestling Entertainment, he was just a legend for what he do not in Wrestling, you know what I mean.
Infamous for killing his wife and his 7 year old son, and then committing suicide on June 24, 2007.
Just saying, I like the basis behind this list, but the title is too vague. "Athletes Who've Committed Horrible Crimes" or something like that seems more fitting.
3
Aaron Hernandez

Aaron Josef Hernandez was an American football tight end in the National Football League. A productive player during his three seasons with the New England Patriots, his career came to an abrupt end after his arrest and initial conviction for the murder of Odin Lloyd. ...read more.
He actually killed a guy. He should be #1.
I expected him to be higher on the list.
Stuck a bullet in his head
Should be lil bit higher
4
Mike Tyson

Michael Gerard Tyson (born June 30, 1966) is an American former professional boxer who competed from 1985 to 2005. He reigned as the undisputed world heavyweight champion and holds the record as the youngest boxer to win a heavyweight title at 20 years, four months and 22 days old.
He's still a good boxer, people looked at him negatively for alleged sexual abuse.
What he has done is not as bad as most of the other people on this list. He's just the most famous. And it was just an allegation
He was a really good boxer until that sexual assault charge.
He was still a good boxer but wasn't looked at the same way.
5
Jimmy Snuka

James Reiher Snuka, better known by the ring name Jimmy "Superfly" Snuka, was a Fijian professional wrestler and actor. Snuka wrestled for several promotions from the 1970s to 2010s.
I don't understand what this list is doing in the featured section. This is not an HQ list by any stretch of the imagination, maybe because it's popular, but that doesn't make it a Quality list. Quality lists should be about great content and effort, not because it's voted on by millions of creatures. Look at the other lists in that section, those are the epitome of a Quality list except lame Best Songs and best Video games list.
Allegedly killed his wife
6
Adrian Peterson

Adrian Lewis Peterson is an American football running back who originally played for the Minnesota Vikings and currently plays for the Washington Redskins of the National Football League.
If you're talking about the child abuse, he was found not guilty.
Child abuse probably deserves to be higher than #9 (his 4-year-old son's legs were with slash-like wounds). Peterson admitted he still uses some forms of punishment to "discipline" his son.
If killing your wife is worse than child abuse, leave him here. If child abuse is worse, put him at 5
How could someone do this to there child like for real I would do anything for my family I would never do anything like that!
I honestly hope he rots. What he did to his child is unforgivable.
7
Oscar Pistorius

Oscar Leonard Carl Pistorius is a South African former sprint runner, who was convicted of murdering his girlfriend in 2013. Both of Pistorius's legs had been amputated below the knees when he was 11 months old.
Shot and murdered his wife through a door and will deny it until the cows come home.
We all know what he did. But was it intentional?
He should also be higher.
8
Luis Suarez

Luis Alberto Suárez Díaz is a Uruguayan professional footballer who plays for Spanish club Barcelona and the Uruguay national team as a striker.
This is the person, who bites opponents, as if he was a vampire or a dog.
The biting is bad but funny.
He was known for that incident in which he racially abused Patrice Evra
Human vampire
9
Ray Rice

Raymell Mourice Rice (born January 22, 1987) is a former American football running back who played his entire professional career with the Baltimore Ravens of the National Football League (NFL). He played college football for Rutgers and was drafted by the Ravens in the second round of the 2008 NFL ...read more.
He assaulted his fiance in an elevator and dragged her to where the security cameras captured it.
The video of him doing it is hard to watch
Knocking his girlfriend out is the worst
His last name "Rice" lolol
10
Michael Vick

Michael Dwayne Vick (born June 26, 1980) is a former American football quarterback who played 13 seasons in the National Football League, primarily with the Atlanta Falcons and the Philadelphia Eagles. He played college football at Virginia Tech and was selected by the Falcons as the first overall pick ...read more.
He's the first person I thought of when I read the title of this list. Surprised he isn't in the top 10
Animal abuser
He has committed murder and forced dogs to fight
Dogs or humans? Which one is worse to abouse.
The Contenders
11
Yuli Gurriel

Another racism incident in which he mocked a baseball player of asian descent and called him "little chinese boy" in spanish.
Racist guy got that ugly ass batting stance
Every batter has a different stance you knucklehead. Plus, he made a dumb mistake. He owned up. Time to forgive and move on. Let him learn from his mistake.
12
Tiger Woods

Eldrick Tont "Tiger" Woods is an American professional golfer who is among the most successful golfers of all time.
Wait do people go to jail for cheating on their wife. I don't think it is that bad.
This is one of the biggest stories of an athlete. Came out very emotional speaking up about cheating on his wife. He was never again the great golfer he had been prior.
Is that guy sent to jail for "speaking against" his wife?
He should be higher on that list!
13
Serena Williams

Serena Jameka Williams is an American professional tennis player. The Women's Tennis Association ranked her world No. 1 in singles on eight separate occasions between 2002 and 2017. She reached the No. 1 ranking for the first time on July 8, 2002.
Give the woman a break. She is a respectable Tennis player. There are murderers on this list..
Give her a break she was probably stress and she has a baby she was probably a lot tired
She was a respected tennis player until she did a really embarrassing temper tantrum after she lost a game.
My mom watches tennis and is a fan of Serena.
14
Lance Armstrong

Lance Edward Armstrong is a former American professional road racing cyclist. At age 16, Armstrong began competing as a triathlete and was a national sprint-course triathlon champion in 1989 and 1990.
Once thought to be a wonderful athlete, now is a has-been, a literal dope who used performance enhancing steroids, cheating when he won the Tour de France seven times. Now he's stripped of his world records and has to live the rest of his pathetic life with the consequences and important fact: CHEATERS NEVER WIN. - SailorSedna
What a total scumbag. To do what he did but more importantly to go after people so viciously who accused him of something he was guilty for; this guys moral compass is completely out the window
Yeah, Armstrong doped, and the story blew up like a bomb. But performance enhancing drugs aren't anything new in sports.
Taking steriods isn't a good reason to to put them on do something bad otherwise this list would be bombarded with athletes because most do it
15
Tom Brady

Thomas Edward Patrick Brady, Jr., is an American football quarterback for the Tampa Bay Buccaneers of the National Football League. Brady is known for being the only quarterback in history to win 6 Super Bowls, and is often considered one of the best quarterbacks of all time. Brady is also frequently ...read more.
Will do anything to win super bowls and is the biggest sore loser in nfl history
That doesn't mean he should be on here, there are way worse people
If you said that he was bad then your trash
16
Ray McDonald
He should be at the top. Him or OJ Simpson.
This football player has been arrested multiple times for sexual assault,domestic violence,violating restraining orders,etc
I can't believe ronald mcdonald would do this this is so sad. I love bigmacs so much :(
17
Maria Sharapova

Maria Sharapova is a Russian professional tennis player of Belarusian descent. Sharapova has competed on the WTA tour since 2001. She has been ranked world No. 1 in singles by the WTA on five separate occasions, for a total of 21 weeks. She is one of ten women, and the only Russian, to hold the career ...read more.
18
Kobe Bryant

Kobe Bryant (1978 - 2020) was an American retired professional basketball player. He played his entire 20-year career with the Los Angeles Lakers of the National Basketball Association. Kobe Bryant has won 5 NBA championships with the Lakers and was the all-time leading scorer in Lakers franchise history. ...read more.
What did he do?
Though he was never convicted, there was an incident in the early 2000's where a woman claimed he sexually assaulted her somewhere. I don't remember the details, but that's why
Dude he the BLACK MAMBA he didn't do anything wrong! and by the way he better than you
19
Claude Giroux
He was a Canadian hockey player who was arrested for grabbing the butt of a police officer twice.
I've heard of that guy.
20
Dynamite Kid

Thomas "Tom" Billington, best known by the ring name Dynamite Kid, (December 5, 1958 - December 5, 2018) was a retired English professional wrestler.
wait what
21
Jahlil Okafor
He beat up a fan who mocked how badly the 76ers were doing.
22
Jameis Winston

Jameis L. Winston is an American football quarterback for the Tampa Bay Buccaneers of the National Football League.
23
Patrick Kane

Patrick Timothy Kane II (born November 19, 1988) is an American professional ice hockey right winger for the Chicago Blackhawks of the National Hockey League (NHL).
I actually met Patrick Kane before (I'm from Chicago) and was really nice. I never heard of the thing he did with the taxi cab driver before though.
A hockey player who was arrested after he beat up a cab driver.
24
New Jack

Jerome Young is an American semi-retired professional wrestler, better known by his stage name New Jack in ECW.
25
Cristiano Ronaldo

Cristiano Ronaldo dos Santos Aveiro is a Portuguese professional footballer who plays as a forward for Italian club Juventus and the Portugal national team.
I think some people put him on here because he threw a chair at his teacher in the 7th grade
What did he do?
Yeah I agree with you what did Cristiano do what is he doing on this list
He had not given income tax
He raped an American woman
PSearch List