Bo Jackson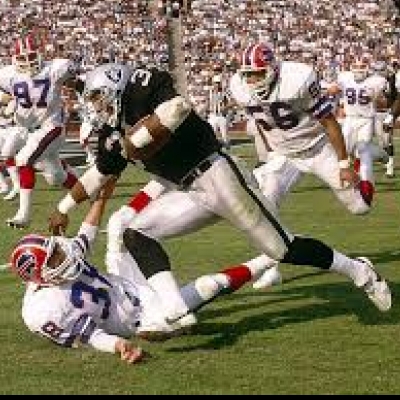 Uploaded by Wastexsas
Comments
Top
Popular
Newest
Without doubt the greatest athlete in modern times (with respect to Jim Thorpe who is from another era). The only person ever to be an all star at TWO major sports. He could do it all and not just based on strength and speed. Fabulous hand eye coordination and would kick Michael Jordan's butt at anything but basketball...

However, I worry that steroids were involved. I hope not and base the above on that assumption, but some of what he did seemed super-human and recent times have shown that just about all super-human athletic feats appear to involve PED's. Steroids were around in his playing days and rumors are out there. I hope they are just rumors...
I'm shocked that this is number 8. Bo Jackson is the best athlete to ever step foot on earth. He had every attribute to be a successful athlete. Balance, strength, power, speed, endurance, coordination, and flexibility. For gods sake, he played 2 professional sports in an elite level. He could of ran professional track if he wanted too as well. 10.2 second 100 meter dash isn't too shabby. In his documentary they said he came into training camp a week before the season started without any practice and dominated. Built like a bodybuilder with the speed of Bold. God given abilities. Bo Jackson is the greatest athlete to ever step foot on earth.
We are nothing but fans, arguing over who we think is the greatest ever. I'll take the word and opinion of legendary coaches and players who have all seen talent on levels we can only imagine. People who's lives are based on watching athletes say Bo Jackson is the greatest athlete who ever lived. Hands down. Fans can vote for others, but like I said, the opinion of legends who have seen it all hold more validity. Bo was faster than anyone on this list, stronger than anyone, had better hand eye, and natural talent. Jim Thorpe is the only competition.
Speed, Power, Vision. Bo was faster than Deion Sanders and would run over linebackers. He is in the top five fastest ever to first base and hit the ball 500+ feet into the burm at Royals Stadium. I could keep going. Greatest athlete has to encompass a combination of speed (4.175 40yd. Dash) and power (bat, running guys over), at the highest level. Bo has no peers when it comes to his level his level of play at TWO sports played at their highest level.
Fastest 40 in nfl history, offered a spot with the Yankees in high school and said no to uphold a promise to his mother. Hiesman trophy winner refuse to play football the next year on principle, first MLB at bat hit an arguable hr on first pitch, then second pitch hits a blooper to second base and outruns the throw, the wall run, the throw, the catches, the lead off hr in the Allstate game, nfl as a HOBBY!, following a hip replacement his first at bat was a home run for his mother! I like about 80% of the choices here for best in the sport they played. But this man was not human! Bo knows his talents and doesn't care!
Could have been the greatest running back of all time had his career not been cut short with a hip injury. By the way the only reason he got injured was because of how explosive of a runner he was. Did I mention he was an all-star baseball player as well. Could have been a 500 home run guy, and was an excellent outfielder, with a canon for an arm. Greatest athlete of all time for sure, and he would have 99.9% of the votes on this list if his career hadn't but cut short. Believe it or don't but BOE KNOWS!
I thought this was titled greatest athlete. I can't question Michael Jordans basketball ability or talent. But Bo was a freak of nature, with his size he was timed at a 4.2 40 yard dash. There are many GREAT players at every sport, but they can't be compared to Bo has an athlete. Bo had gifts that I don't think will be seen again, his speed, size, amazing!
I can't believe he is at number seven. He was a freak. Fastest, strongest simply the greatest athlete of all time. I have never seen anyone that even comes close. MJ is definitely the greatest basketball player of all time, but Ali number 2... Please, he wasn't even the best boxer of all time much less the one of greatest athletes. Bo is hands down the greatest!
This is true athleticism. Bo did not just play two sports, he dominated both of them. Michael Jordan never really did anything in baseball, despite his basketball greatness. Bo was a slugger with a great glove in the outfield in the spring and summer, and a perfect combination of speed and power in the backfield in the fall and winter.
The size, power, speed and agility is unlikely to ever be matched by another human being. He's the great white shark of humans. It's shame he never played a full season in the NFL and that his career was cut short. Even with his shortened career in professional sports, his body of work during his time is unequaled.
I'm not sure why he isn't #1 or #2, he was the only human ever to be on two professional all-star teams, and be insane at two sports professionally. He was freakishly fast, strong, versatile and tough, you can say Lebron is a better athlete but look at the size comparison, imagine a 6foot8 Bo Jackson... yeah he would have super human level abilities
Only dude ever (as far as I know) to be an all-star in baseball and football (american). Hit a 450 home run in the all star game.
Career stats in both:
Baseball: 2393 AB, 598 Hits,.250 average, 141 HR, 415 RBI, 82 Steals.
Full career: 9572 AB, 2392 Hits (same average), 564 HR, 1660 RBI, 328 Steals.
Football: 38 Games, 2782 yards, 515 attempts, 5.4 YPC, 16 Touchdowns, 1 of 2 players with 3 80 plus yard runs (Chris Johnson is the other).
Full Career: 152 Games, 11, 128 Yards, 2060 Attempts (same YPC), 64 touchdowns and more 80 Plus yard runs.
Best achievement in baseball (full career projection): 564 homers. (13th all time as of may 2013).
Best achievement in football (full career projection): 11, 128 yards (19th all time as of may 2013).
Hall of Fame in BOTH sports.
In my opinion the greatest athlete freakish skills, that no one in todays game has. BO is the men when it comes to athletic ability, the power, speed, vision ridicolous
This should just be the Greatest Bo Jackson of all time list. No other vote here should be taken seriously. For example, in his short time in the NFL, Bo was the Michael Jordan of running backs. Now does anyone want to compare MJ's baseball skills to Bo? I suspect Bo was also faster and stronger than Jordan. - unclejoe1917
If your looking for an all around athlete that could do it all, with respects to Jim Thrope, there's a reason why the Nike campaign implanted in our brains Bo Knows but hey so did everyone else that saw him swing a bat or take a hand-off. Should be #1 or 2, if he played more years there would be no debate.
On Sports Science Bo came out number 1 in this category. He had the fastest time in the 40 yard dash ever. Plus he was 30 pounds heavier than the next best guy. He hand unbelievable coordination to play baseball, yet he was still strong enough and agile enough to be one of the best running backs in the league.
If your talking about pure athleticism here, Bo Jackson is hands down the most athletic person of all time. He could run the 40 yard dash in 4.11 seconds, which would smash the current NFL combine record of 4.24 seconds. And of course, he was a beast at 2 different sports. Imagine if he had committed to just one...
You only have to check his stats in the original Tecmo Super bowl game and realize how good this guy was. World class athlete in multiple sports is incredible. The fact that it was mostly raw talent is the only thing that holds Bo from the top spot. (He hardly stepped foot into a weight room)
No athlete in history could have ever gotten closer than Bo to being a two sport hall of fame athlete... If it weren't for his career ending injury he would have done so. Michael Jordan maybe the greatest basketball player but not best athlete... I mean remember how Jordan was in baseball?
not even close... he high jumped 7 foot in high school at a practice once... michael jordan you saw what happened when he picked up a baseball bat... michael johnson was just fast and a hockey player haaaaaaaaaaahah...

BUT WE ALL KNOW AND AGREE ON ONE THING... BO KNOWS
Bo Jackson should be number one if he would have never got hurt there would be no doubt be the greatest athlete in the world he did things on a regular basis that no one can do and can almost do any sport out there besides hockey maybe I say he might even be faster than Usain bolt
There simply is no argument, Bo is the greatest all around athlete of all time. All you had to do is watch him do everything he did and he simply did everything better than anybody else ever did in history. Hands down the best ever in any sport. Period!
If you consider most pure talent and athleticism over achievements, Bo is truly the greatest athlete to ever walk the planet. Of course Jordan is always going to be #1, but if you look at the perspective of athleticism, Bo Jackson would out-perform anyone on this list.
Watch the film. It's not even close when comparing athleticism to anyone else in the history of the world. Would've been so fun to see what he could do had he not gotten hurt. There is no argument, he is the most athletic human of all time, a freak of nature. Love you Bo
Obviously the greatest. Been voted on before, was the fastest ever at the NFL combine, won the Heisman, only person ever selected to play in both NFL pro bowl and MLB all star game. His feats far outweigh everyone before him or since. I will paraphrase what Sparky Anderson said about Johnny Bench in relation to Boston Jackson - "I will not embarrass any other athlete and compare them to Boston Jackson"
Related Lists
Best Michael Jackson Songs

Favorite Characters From the Percy Jackson Series
Best Michael Jackson Albums

Most Powerful Demigods From Percy Jackson
Best Percy Jackson Books