Donald Bradman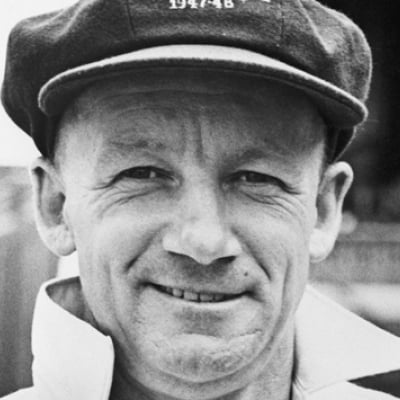 Uploaded by zxm
Info
Sir Donald George "Don" Bradman, AC, often referred to as "The Don", was an Australian cricketer, widely acknowledged as the greatest batsman of all time.
Comments
Top
Popular
Newest
As others have noted. Bradmans average over the length of his career was so far ahead of his contemporaries that they are judged against him to see how they go. So far, over 60 years after his retirement, his average score is still the benchmark all cricketers aspire to and no one can ever match. And considering that he lost 10 years of his career to world war 2, to have achieved what he did... Means that he is the greatest athlete in the world. Even Sachin Tendulkar would agree that he doesn't deserve to be above his personal hero 'The Don'.
In every other sport, the next best person is not far behind the best. With Bradman, it's daylight second. One of the other commenters mentioned that he won the South Australian open squash tournament. That was with very little squash experience. He also once beat Walter Lindrum in billiards! One of the most amazing pieces of film footage of the Don shows him repeatedly hitting a golf ball against a water tank with a cricket stump.
Athlete Sport Statistic Standard deviations
Bradman Cricket Batting average 4.4
Pele Soccer Goals per game 3.7
Ty Cobb Baseball Batting average 3.6
Jack Nicklaus Golf Major titles 3.5
Michael Jordan Basketball Points per game 3.4
Bjorn Borg Tennis Grand slam titles 3.2
The fact Sachin Tendulkar is higher than Bradman in this list, shows how flawed this ranking is. How could Sachin Tendulkar ave 55.8 even compare to Bradman at 99.94?. He also achieved this average on uncovered wickets not the roads they roll now. No sportsman on earth has ever been twice as good as the second best. For this reason any ranking besides number one is laughable.
Arguably the greatest sports person of all time. All sports had at least one competitor in the era they played in, like Maradona and Pele, who were statistically and skillfully close. This applies to all the major sports played in whichever era. But Sir Don Bradman was above all of his time, even now no one is even close to his record. Such was his greatness. He is statistically superior to all the Cricketers of all eras by a huge margin.
I agree with other comments that this list is biased towards American sports. No one has dominated their sport to the extent that Bradman has. No cricketer will ever come close to Bradman's numbers, and Bradman operated under conditions that were much more difficult for batsmen. Bradman should be number 1, and there is no number 2. The real debate here is - who is the third greatest athlete of all time.
The Don was twice as good as any other cricketer in history. Only Tendulkar is comparable but only through longevity not skill. The Don averaged just under 100 runs per innings in a game where 50 is considered elite. Compare it to a baseball player who averages over.600 for his career, where.300 is elite. That's how good The Don was. Nothing like him has appeared since.
Unfortunately given the US bias towards only their own sports the Don has not been correctly identified as the greatest athlete of all time. It should go without saying that if a player is almost twice as good (statistically speaking) as the next person on the list (bat average of 99.94 for Bradman, 60.97 for Pollock) then they are likely pretty good at they are doing. Is M. Jordan have stats twice as good as the next best basketballer? I think not.
Yes, "The Don" was great and so too is Sachin but their greatness was found only in batting. Sir Gary Sobers played the entire game as he was a batsman and a bowler and a captain of a very successful test side. For me and many, Sir Garfield Sobers is the greatest all-rounder and therefore the greatest cricketer and the greatest athlete.
"The Don" had a batting average of 99.94 over a twenty year career and was only 7 runs short in his final innings of averaging 100 runs per innings batted in an era of no helmets and vicious bouncers aimed at the head. The second best average since the beginning of cricket is 60 something. Bradman was 66% better than any batsman before or since.
Assuming the criteria is the extent to which any player has surpassed his peers in a major sport over a substantial time period then Don Bradman is undeniably the greatest sportsman the world has seen so far.Although not part of my criteria he also gave an entire nation new respect for itself.
Unquestionably the greatest Cricketer in history. His batting average is almost twice as good as the next best. They say records are there to be broken however his Test Batting Average will never be surpassed. The true sporting great...
Jordan was 3.4 Standard Deviations about the nom, very high indeed. Pele was 3.7. By contrast, Bradman was 4.2 Standard Deviations from the norm, the highest ever recorded. Thus, Bradman must be number 1. Simple math, I would say!
In terms of statistical deviation from the mean - which is probably the best measure of whether one was dominant in their sport - Bradman reigns supreme over other legends such as Jordan, Nicklaus etc.
How the hell is sachin tendulkar above 'the don' he was so good now they name any the best in their sport the bradman of the sport he was that good. Also try hitting a golf ball into a round tank with a cricket stump continuously.
Has to be the greatest! Statistically no one on earth has dominated any game like Sir Bradman. 99.94 batting average and his runner up averaged 60. Also I don't see many other SIR's in here.
The only person on this list that is twice as good as every one of his peers both past and present.
Should be number one and then daylight second.
The Don is one of the few men in the history of sports to hold a record that will never be broken. Still, today, nobody is even close to his career batting average.
Less tangible is the fact that he gave hope and inspiration to a nation struggling through a depression and then a world war.
Statistically the best sportsperson of all time. Among all test cricketers there are just a few who have converted 50s into 100s at a ratio better than 1.00. Azharuddin from India at 1.05, Michael Clarke at 1.04, Younis Khan from Pakistan, Smith from South Africa and Matt Hayden from Australia at 1.03. Bradman's ratio was 2.23. In terms of standard deviations above the average Bradman is just off the scale.
There may never be another Bradman. His test average may never be beaten. He was a symbol of masculinity that today struggles to get in todays world of debauchery. Attitude to his game, and stats. There Is no way a list is complete without Donald Bradman.
The greatest ever sportsman to play one of the hardest sports to play test cricket averaging 99 next best 60 shows there is daylight to the next best batsman no one in world sport will get close to his ratio
Twice as good as the next best player, what other sportsman can claim that? From his 3rd international game onwards his batting average always remained above 50. Current players struggle to keep their average above 50 on batting friendly pitches. Sachin and Lara are considered great. The Don's average is double both of theirs.
No one in history has been so ahead of their time in any sport. Even the best batsmen today can only average around 50. His average was almost 100. Especially when he played without helmets or covered wickets.
This list is a joke. No sportsman other than Sir Don has ever been almost twice as good as he's nearest rival (and this is in the world's second most popular sport). Unquestionably, he's the world's greatest ever sportsman...BY FAR!
Should be number 1 by a mile! Compare his statistics with others in his sport and you will truly understand the absolute dominance and unbelievable records the Don has in cricket. Babe Ruth X 2