Michael Phelps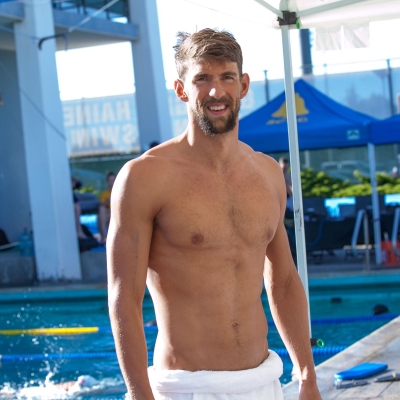 Uploaded by Marcial
Info
Michael Fred Phelps II is an American competition swimmer and the most decorated Olympian of all time, with a total of 22 medals in three Olympiads.
Comments
Top
Popular
Newest
The person who said best swimming can't be the hardest sport obviously has no idea what they are talking about. Just because it is not that interesting to watch doesn't mean its not hard. There no sport that requires more physical condition than swimming. Swimming and track are the only two sports that are pure performance sports how hard can you push your body to go.
Most individual world titles of any athlete ever. Most world records. Most decorated Olympic athlete. Most gold medals. And he wins by wide margins. Add to all that the fact that he made a huge personal comeback, continues to dominate well past the age when most athletes have retired, and he does so multiple times a day for several days, there is no dispute. It's simple fact. He's the best. Opinions are irrelevant. Math and logic confirms. The most winningest athlete of all time is the best athlete of all time. Simple criteria. Why are we struggling with this?
The stats talks by itself. He was the youngest American swimmer in Olympics. He is the only swimmer who participate 5 Olympics. He holds 39 Olympic records, 28 Olympic medals of which 23 are Gold Medals. 4 gold, 1 silver medals at the age 31 in swimming. He is the undisputed champion of Swimming and Olympics of all time. By the way he even beaten a 2,168-year-old Olympic record for individual event successes from Leonidas of Rhodes.
People say he only got so many medals because there are so many events in swimming but if you look at the range of swimmers most of hem only compete in 1 or 2 events because they're limited to they're specialty stroke. Phelps competed in 8 events and got the gold in all 8. He is without a doubt the most well rounded swimmer in history and in my opinion the greatest athlete of all time
I think comparing athletes of different sports and games is not justified. You can't really judge who is the best athlete across all sports just by public votes. After all, people will only vote athletes they know or the sports that they watch. You won't expect an American to know about Sachin Tendulkar's contribution to cricket or an Indian to know about Babe Ruth's contribution to Baseball. So, you can probably make a list of greatest footballer, swimmer, sprinter, etc. but greatest athlete? -NO
28 Olympic medals...23 gold, 3 silver, 2 bronze...although swimming has the most events it is insanely hard to be the best ever in so many of those events. People specialize and train for one event their whole lives and Michael still blows them out of the water. One of the greatest athletes to ever live. No doubt about that
Can someone say best swimmer ever. And the hardest sport
Come on peeps, nobody has been as dominant in their sport and as far ahead of everyone else in their sport as Phelps has his. There are more exciting and charismatic athletes for sure, but there are no more dominant or successful ones. - feisty37
There is a reason why this guy won 22 medals in the Olympics. His strength and speed in the water were clearly visible throughout his entire career as a swimmer. Phelps deserves all the praise and recognition he has earned over the years, because of his outstanding endurance, speed and strength.
Michael Phelps is the greatest athlete and that is a fact. If you win the most, at the biggest athletic event in the world, that obviously makes you the greatest athlete. Jordan, Ali, Bolt and Gretzky don't even come close to putting in the same amount of work that Phelps puts into his sport.
Even though Michael Jordan and Michael Phelps aren't in the same sport, if they were, MJ would lose. This guys has broken so many records and everyone knew he was going to do it. I love MJ, but I this guy is ridiculously talented and devoted. - 2shy
There seems to be a lot of opinion on this list. The fact, however, is that Michael Phelps proved he was the best in the world at his sport 21 times, breaking seven different world records. He placed 5th in the olympics at age 15 in the 200m fly. Ali was great, Jordan was awesome, and bolt is the fastest man on earth, but none of those names can best Phelps. He should be number one.
Anyone who's ever swam on a real team knows that it is the hardest sport in the world. That's why Phelps is the greatest athlete ever. - aman28
Greatest individual athlete the world has ever had the grace of witnessing. Gifted physical talent, confident mental strength, and undying passion for competition and victory. Nothing like him has ever been seen before or since.
Of course, it has to be Michael Phelps for his amazing power, determination and skills.He has won an unbeatable 28 Olympic medals including 23 golds. His marvellous speed is breathtaking. He has won over 80 trophies in his career and no one could have dominated a sport like him. Let us bow to this great legend. Undoubtedly, he is the greatest athlete of all time.
As an individual achiever- there is not really much to compare- of this list he is the only one who won while competing against the best the world had to offer at that time and he won, over and over again.
The greatest ever. 14 Olympic Gold medals speak for themselves. If you hold the title of "greatest Olympian ever, " you should also hold the title of "greatest athlete ever. " No doubt in my mind about that.
All Michael Phelps did was win. He never doped and he is the greatest and most decorated Olympian of all time and made the Olympics as a 15 year old, which is just plain amazing.
Who else in the world has won as many olympic gold medals as him? PERIOD. Also swimming is a major sports, not a minor one. The greater the sport popularity, the tougher the competition. Simple fact
Michael phelps is the greatest athlete... To win 18 gold medals and 4 others in Olympics 3 consecutive for a period of 12 years is unrivaled... None other athlete dominated their sport for such a long time..
Amazing guy. He won so many gold medals. I really hope he comes back for the rio olympics.
But Lance Armstrong is a good athlete too. He cheated, but so did everyone else.
Phelps competed in so many events. Its hard to believe how someone can swim so many events in a short time and break so many world records. Best athlete ever!
He has been the best swimmer since Mark Spitz and that says a lot. He has swam in 5 olympics and won over 20 golds while swimming 8 events in a week. Try this and you will be amazingly tired.
Michael Phelps broke a record in Rio that was 2,168 years old! Leonidas won 12 individual events over four Olympics. At 36, five years older than Phelps, he won his last three events in 152 B.C, in races of about 200 and 400 meters, and in a shield-carrying race. Phelps surpassed Leonidas, winning his 13th individual gold (and 22nd gold overall and 26th medal).
Michael is dedicated to swimming. people are dedicated to other sports but it's different. swimming is the hardest thing out there and I know it for a fact because I am a swimmer.