Roger Federer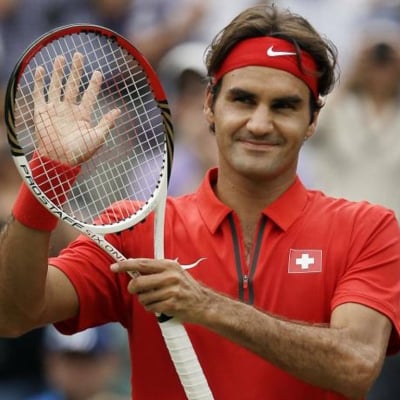 Found on roger-federer.org
Info
Roger Federer (born 8 August 1981) is a Swiss professional tennis player who is currently ranked world No. 3 in men's singles tennis by the Association of Tennis Professionals (ATP). He has won 19 Grand Slam singles titles, the most in history for a male tennis player. He has held the world No. 1 spot ...
read more
.
Comments
Top
Popular
Newest
Without a doubt Roger Federer is the greatest tennis player in the history of the sport. But not only is his extravagance as a sportsman apparent in Tennis. His records are incredible, and they probably won't be touched any time soon. What other athlete in any sport has dominated his/her sport the way Federer did in the 2000s? Now he is 30+, and he is still relevant in his sport, competing avidly against his younger competitors. Yes, his invincibility has been lessened, but the fact that his is still considered a MAJOR CONTENDER even at such an old age is a testament to his ability and dedication to the game. He is also a class act outside the court. No one trumps Federer in the athletic department. No one. Period.
He's Roger Federer. He spent 302 weeks at world number one; something that is extremely had to do in tennis. You have to be very consistent. Won 17 Grand Slams, more than any other player, 6 world tour finals, and has been the most consistent player of any tennis era. Not only are his records impressive, but you also have to watch him with a naked eye. You see him do things no other player has ever done with a racket before. He makes such a physical game look so effortless. I have never seen any other player play like that. Definitely Great Of All Time. We love you Federer! Long live the King!
It's not even a competition. It's not about who has the most titles, or who won what, or whatever. It's about who changed the sport. Federer completely revolutionized tennis in the open era by being the first major proponent of the serve and volley, crushing all of his opponents with it from an early age. Then, when many of the best players began to catch on and use it themselves, he created a new shot: the dipper, once thought to be a very foolish choice in tennis. Using this, he then reduced the prominence of serve-volley, completely changing the game again, while staying on top. His ability to see the court from a thousand different angles and weave a point as elegantly and effortlessly as possible truly marks him as the best athlete ever.
Being a fan of all sports and many athletes no one has impressed me more than Roger Federer and not because of what he's achieved as staggering as his records are but the way in which he has achieved it. His movement and technique are godly looking iv never seen an athlete with such natural coordination and grace even in extreme situations, his mastery of all shots and court surfaces is unseen in tennis he has as much skill and finesse to match his power causing him to conjure many shots over his career that were thought not possible such as the smash lob. Furthermore he has astonishingly been able to remain virtually injury free over his whole career a credit to his athleticism and most likely due to his unique movement preventing him injuries. He may not be as great a athlete on the physical side as a Usain bolt or Michael Jordan and many more but he has the best sporting brain and is the most natural sportsman iv seen combined with his athleticism and shotmaking plus records I ...more
Federer's movement and feel on a tennis court is perhaps better than a shark in water. He is above and beyond any player when he is at his best. Already he has won more slams than any other tennis star. His consistency and health are alien-like. Federer made 23 straight semi-final appearances in slams and is still among the favorites at the age of 30 (grandpa age in tennis) and will be around for another half a decade.
In tennis, Federer is the best ever, with the most graceful and elegant style, the most consistent ever, won the most slams, hold the most records, won the most number of the respected Laureus Sportman Awards...
Outside tennis, Federer was voted the most respected in the world after Mandela, is one of the most marketable sports person around the world, a great ambassador in sports, a lovely son, husband and dad, genuine and passionate in his charity organisation, organised the most number of charity exhibition games in times of disaster around the world...
As a person (a super star no less), Federer is genuine, passionate, humble, happy, humane, down to earth, matured, poised, fluent, joyful...
His influence goes far beyond his sports. So what else could one ask for?
The greatest and the most complete ever.
Roger should be higher on this list like top 5!
Roger's dedication to sport and humanity is inspiring. He shows us WHY
Sports is really a great fight for the happiness and well-being of all humanity.

And forget Bo Jackson, Roberto Clemente out-hustled every steroid-laced home run hitter in the history of Baseball. I saw Roberto make a catch over the right field wall in Wrigley field that was stupendous.

To me among all athletes all time Roger Federer's physical balance and accuracy is the closest to perfection ever. Not one move is awkward or off balance. This along with his dominance of his sport that is unprecedented, especially given the fact that the number 50 player in the world now is a lot better than 50 years ago. And also while the game has become so physical, having a guy that wins seemlingly effortless dancing ballet on the court is even more impressive.
The physical and mental aspects of singles tennis is one of the greatest challenges in all of professional sports, and Roger is the epitome of the athlete who excelled in mastering both. Tennis is a skill sport requiring deft touch and technique to construct and win points, physical endurance to weather matches that last hours and mental toughness to manage the stress of your body, the stress that your opponent puts on you and determine strategy point by point and even within points as needed.

For me, Roger is #1 not only in tennis, but on this list.
To outplay and outlast the generation before him, his current generation and also the newer generation is something to behold. No one will come close to the perfect technique and finesse that this man employs in the world of tennis. We've had him for over 7 glorious years at the very top and he's still going stronger than ever.
He has almost every record in the book. More majors than any other male player who ever lived (17, and counting... ), he was rank N.1 longer than anyone before (237 cosecutive weeks, 302 total)... His consistency and dominance in tennis is remarkable for any athlete, if you consider how both-mental and physical this sport is, and he still has the same desire for winning, after more than 15 years on tour and after so many achievements that he made. Roger has nothig else to prove, but he still plays and enjoys the game, and that's why he is the fan-favourite wherever he plays. His elegance and smoothness on the court can be anoying if you are a tennis player, because he can make such a hard game to look so effortless and gracefull. Now, he can only set records, because he already broke most of them. When you watch him play you just admire how good he is, how well he moves, how precise he is, and you must be thinking "This guy is the greatest tennis player of all time", without speeking ...more
Roger Federer is undoubtedly The Greatest Of All Time.. Even when he is at is worst.. He better than his peers. He has it all to be the number 1 in this list.. Been world number 1 for too long.. Consistency ya. He reached 10 straight grand slam finals. I could go on about the records he set and the ones he broke. Apart from his athletic prowess, he is an exemplary humanitarian..!
Federer is perhaps the God of tennis. His form is pure art. It has an aesthetic beauty to it that science can't capture - a beauty that can only come from natural ability. His hands are worth gold; every tantalizing drop shot, every beautiful winner is set up in the perfect position. His mind and execution of his shots are beyond any tennis player. What's more, he is perhaps the greatest sportsman to live. He is humble and hardworking and philanthropic. It will be a shame on the day this man hangs up his racket.
His records are just astounding, I won't repeat that here and leave it to wikipedia. More importantly, the way he has redefined how tennis can be played, with such elegance, grace and beauty! I started watching tennis purely because of him, after watching a Rolex T. V. Ad, it's the kind of magic that captures one's imagination and I could never let go since.
Look at Wikipedia's Open Era Men's Singles Tennis Records page. Roger Federer is top of virtually every list - most Majors, most Major finals, semi-finals, quarter-finals. Most or equal-most titles at THREE of the four Majors. Most weeks at number one. Most World Championship titles. There are very few sports where one guy clearly stands out across the record books as the singular best athlete in that sport. Roger is the best tennis player ever and arguably the best athlete in all sports.
Let alone his long list of records and ability to play amazing on any surface (yes, even clay but but give that one to Nadal) Roger deserves to be #1 simply for his humility and respect. Whereas other champions may be remembered for their antics more than their skills, Roger goes beyond in his ingeniousness with the ball and superb tactics, without forgetting an amazing drop shot. Roger is to tennis what no one else is.
Arguably the greatest tennis player of all time, and the best ethical tennis player I've ever seen. Federer's not a power player, but he knows how to play the ball with finesse. Another thing I love is that he makes it look so easy. Federer will always be number one
Just take a look at his stats over such an extensive period of time, most major titles ever, ranked number one in his sport for more than 300 weeks over an 8 year period. His longevity is simply remarkable, making at least the last 8 in slams for his last 35 appearances. One title each year at least for 12 consecutive years. Inspirational, revolutionized modern tennis. One Roger Federer.
To me Roger Federer is the greatest athlete of all time his shot making is outstanding. He has set records, broken records, and has done things that no human could ever do. The fact that he has set a record of being number one for an outstanding 300 hundred weeks is just, crazy and awesome. That is why Roger Federer is the greatest athlete of all time, and that is why he should be at the top of the list.
He plays the sport of tennis in its purest form. Nobody else has ever played with the same level of grace, and achieved the same level of success. Even when his records are broken, it is doubtful that tennis will ever look so natural ever again.
It is hard to choose, because every sport is different.
Federer has set records that no-one thought that could have been broken.
The way he plays is candy to the eye. His play isn't body-wrecking.
Then we have his charisma, that's why he is the best for me.
And very important: Has never been caught or associated with doping. Unlike other great sporters.
Roger federer brought me into the world of tennis simply because of his otherworldly manner in everything is partakes in.
I'd say that if this were a REAL list; Fed would be in a close fight with Michael Jordan to come out as the best athlete ever.
Remember a lot of other sports allowed coaching and you also had a team to help set points up for you.
Tennis is as fast paced as they come yet you are confined to a cage in which you can't escape until either you or your opponent comes out victorious. Federer had done this more times than just about any other athlete!
Roger Federer has achieved incredible consistency throughout his career, reaching 23 consecutive Grand Slam semifinals, a record which will never be broken, plus his perfect unique tenique, plus grace in the sport and bringing tennis to an upper level. I do not imagine the world will ever see someone as great as him. The world of sports will be sad when this master retires from the sport as so many people have admired him.
4 Laureus Awards. 16 Grand Slam titles. 19 Masters series titles. He hasn't lost before a quarterfinal in a Grand Slam event in almost a decade. Humanitarian and philanthropist. And he has twins. The man can't do anything "normal. "
For all you TIGER CHERLEADERS! Roger Federer won his first major 26 majors after Tiger did and he now has 16 majors at age 29, he is the ALL TIME MAJORS LEADER on the ATP Tour, he plays a YOUNG MANS SPORT and not a OLD MANS GAME, and has never tried to fool the public or his wife with sex rehab for being a - CHEATING DOG!