Best Attractions at Disney World
Planning a trip to Disney World? Don't worry, read this list on the best Disney World attractions!
The Top Ten
1
Splash Mountain (Magic Kingdom)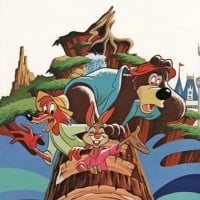 Splash Mountain is a log flume at Disneyland, Tokyo Disneyland, and the Magic Kingdom at the Walt Disney World Resort, based on the characters, stories, and songs from the 1946 Disney film Song of the South.
A Classic, Great for the whole family. - Waffleofdoom949
The best no question.
I'm not gonna make this long, because it doesn't need to be. But this is simply the best ride at Disney World. No questions asked. It's simple.
I disagree.
Not everybody likes drops, or thrills in general.
Yet this ride scares a lot of people.
Disney isn't meant to be about thrills, it's about magic and dreaming and fun with/for the whole family.
Plus, this ride has a health and height warning.
There's a 40" height requirement, and anybody shorter than that cannot ride this.
Yet not everybody's healthy and this ride requires being in good health.
Also, some people are scared of heights, and this ride includes heights.
Yet, some people just couldn't handle thrills.
It's not good to tell someone to man up as that's mean and only makes things worse.
Walt Disney dreamt of a place that has stuff that is fun and suitable for all audiences, and while this may be fun, it's not suitable for everyone.
It's a Small World and Carousel of Progress seem like they're more for everyone.
It might not be as thrilling or intense as Expedition Everest, Rock n Roller Coaster, Tower of ...more - Gregory
2
The Twilight Zone Tower of Terror (Hollywood Studios)

The Twilight Zone Tower of Terror, also known as Tower of Terror, is an accelerated drop tower dark ride located at Disney's Hollywood Studios, Tokyo DisneySea, Walt Disney Studios Park, and formerly located at Disney California Adventure Park. Except for the Tokyo DisneySea version, the attractions ...read more.
I heard the name makes sense, though there was once a scarier attraction, Alien Encounter, but still, this is so scary that anyone hesitant about it should just avoid it at best. - Gregory
3
Test Track (Epcot)

It is so funnner then the old one that got revamed in 2012 this ride is cool because you get to make your own car and race it the ending is the best if you do not like fast rides watch it on youtube I ride it in may 2016 it was the best ride ever
It look really looks like what I halved dreamed of the future
Awesome ride
Although I haven't been on this ride, this would be a good one to go on someday, yet I heard that it's fun.
Fun, though it's not for everyone as it's a thrill ride and it's fast, so anyone with health problems should avoid it.
Also, it has a height requirement of 40", so anyone shorter than that should not ride. - Gregory
4
Kilimanjaro Safaris (Animal Kingdom)

BORING! You just ride in a jeep looking at animals.
I rode this ride once, and the only part scary was the part of going through the "loose" bridge.
Though that part was removed due to the fears after the gator attack at the Grand Floridian Resort in June 2016.
The problem with this ride is that it's rough, so therefore it requires being healthy and all.
Not everyone's healthy anyway. - Gregory
5
Expedition Everest (Animal Kingdom)

This is so scary and intense that I would go on the easier coasters first, otherwise, I would never go on another one again.
Plus, it shouldn't be so high about being the best because not everybody's up for thrills or scary rides and Disney rides are supposed to be for everyone. - Gregory
6
Dinosaur (Disney's Animal Kingdom)

7
Flight of Passage (Animal Kingdom)
How is this so low? This is the best ride at any Disney park, and don't say Splash Mountain is better because while it is fun and has some thrills and wetness, Flight of Passage is an adventure and you will also get wet on it. - DisneyFan
Thank god this is now in the top 10! Needs to be ever higher. It's the best ride ever!
The BEST! Other rides aren't even this good to be number one.
This ride was so breathtaking and fun, there are NO words to describe it.
8
Buzz Lightyear Space Ranger Spin (Magic Kingdom)
I went 1 time, and was shocked by the tunnel effect, even though I know it's a tunnel made by the imagination of Disney.
I went on it again and noticed how outdated it is. - Gregory
9
Rock n Roller Coaster Starring Aerosmith (Hollywood Studios)

This would be my last Disney coaster to go on if I ever had the chance, given it's really intense.
Not to mention the height requirement is 48" so little ones in general aren't tall enough to go on, and those with health problems should also not ride. - Gregory
10
Peter Pan's Flight (Magic Kingdom)

It's so boring, lame and outdated.
The exit signs and doorways are visible and takes away the immersion and charm of the ride.
The music is lame too.
The Contenders
11
Space Mountain (Magic Kingdom)

I rode this twice.
It beat out Big Thunder Mountain Railroad by 2x, 7 Dwarfs Mine Train by 3x, and the Barnstormer by 6x.
I read before it's rough and jerky, and that Disneyland's is much better, so I'd go to Disneyland. - Gregory
12
Big Thunder Mountain Railroad (Magic Kingdom)

Big Thunder Mountain Railroad is a mine train roller coaster located in Frontierland at several Disneyland-style Disney Parks worldwide.
This is my favorite ride at disney world!
I went on this ride after the 7 Dwarfs Mine Train, and no wonder it was a hit by Disney at nearly all Disney parks.
Though too bad it's a roller coaster and not everybody's up for roller coasters (sharp turns, sudden drops, thrills, health warnings and height requirements and seating restraints), though this one is tame compared to some others.
Especially Six Flags roller coasters. - Gregory
13
PeopleMover (Magic Kingdom)

This ride is awesome it takes your on a 10min tour of tomorrw land and you get go inside space mountin
rate this ride 5
It's a good ride, and I see why everyone was upset about Disney taking away the PeopleMover at Disneyland.
Though the only problem with this ride being on the list is that there are parts that go through complete darkness, and some people are scared of the dark.
So for those people this ride can be scary. - Gregory
14
Horizons (Epcot)

15
Toy Story Midway Mania (Hollywood Studios)

Cute ride, but although so, it's not for everyone, as there are sharp and jarring spins from one scene to another.
Therefore Disney warns riders prone to motion sickness not to ride. - Gregory
16
Journey Into Imagination (Epcot)

17
Haunted Mansion (Magic Kingdom)
I know this ride isn't very scary, and I've been on it before.
It's more silly than scary, but cool. - Gregory
18
Mission: Space (Epcot)

Mission: Space is a centrifugal motion simulator thrill ride at Epcot in Walt Disney World Resort in Orlando, Florida.
I don't think this should be on the best list. From Wikipedia: From June 2005 to June 2006, paramedics treated 194 Mission: Space riders. The most common complaints were dizziness, nausea and vomiting. Of those 194 guests: 25 people passed out, 26 suffered difficulty breathing and 16 reported chest pains or irregular heartbeats. - railfan99
I went on the green version in 2006 and it was too tame for me
There's 2 versions you can go on
Green for wimps and orange for true pros
My dad gets vertigo from driving up over mountains with a wide view, and I told a rider has to be not only in good health and free from high blood pressure, heart, back or neck problems, motion sickness and other conditions including being pregnant, but also free from headaches, inner ear problems and not have a history of migraines, vertigo or elevated anxiety.
And I heard it's way more intense than anything else(besides NASA rockets), so much that they made a green version for people who aren't up for thrills nor healthy.
Though like the orange, the green mission is in an enclosed space, so anyone claustrophobic shouldn't ride either level.
Plus, this ride has the most toll on injuries of any amusement ride.
From June 2005 to June 2006, paramedics treated 194 Mission: Space riders.
The most common complaints were nausea, dizziness and vomiting.
Of those 194 guests, 25 people passed out, 26 people suffered difficulty breathing, and 16 reported chest ...more - Gregory
19
Spaceship Earth (Epcot)
I would love to go on this ride one day, I love time and the future, I heard there's an interactive game segment towards the 2nd half, sorry if I spoiled you guys. - Gregory
20
Star Tours: The Adventure Continues (Hollywood Studios)

Star Wars doesn't even fit with Disney, Disney only owns it after George Lucas sold it to them.
Plus, since not everyone can handle thrills, then this ride is not for everyone.
Plus, it's gotten alotta people sick and staying off of it. - Gregory
21
Seven Dwarfs Mine Train (Magic Kingdom)
I went on this roller coaster, and liked it.
It beats out the Barnstormer by 2.
But it's a roller coaster anyway, so you have to be healthy and meet the minimum height requirement(38" for this ride).
Plus, roller coasters aren't for everyone. - Gregory
22
The Barnstormer (Magic Kingdom)
This is a ride I went on, and I will never forget. It's a great roller coaster to start with testing for thrill rides.
I went on it again in 2017 and liked it. - Gregory
23
Pirates of the Caribbean (Magic Kingdom)
I went on this ride a few times, and it's boring compared to the other versions.
Definitely one of Disney's most classic attractions.
Though this one sucks compared to other versions.
But a fair warning that this ride has a small drop in the dark, and not everybody likes drops or thrills in general.
The best rides at Disney are those that are for everybody. - Gregory
24
It's Tough To Be A Bug (Animal Kingdom)
WAY to scary especially for those afraid of bugs and/or the dark.
So it's not for everyone.
Therefore it isn't even one of the best. - Gregory
25
The Many Adventures of Winnie the Pooh (Magic Kingdom)
I've been on that ride 3x and thought it was weird, but colorful. - Gregory
PSearch List