Top 10 Augmented Reality Application Development Companies
The Top Ten
1
IT Craft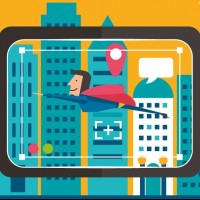 IT CRAFT is outsourcing company, with expert in AR, VR and other software development.

For almost 15 years, IT Craft has been providing affordable, expert software programming services to clients around the world.

IT CRAFT create AR apps for:

- Museums

- Real estate

- Marketing

- Furniture manufactures

- Publishing business

- Medicine

- Education

- Transportation and logistics

- Sports

- Games - Helen18
Visit Website
2
Metagram
Metagram uses Augmented Reality to build narrative experiences in the real world. Metagram stands out as the only company to offer a large-scale glasses-free Augmented Reality solution able to move through real world space. - Helen18
Visit Website
3
Seemore Interactive
They help retailers and other forward-thinking brands tap into new consumer insights and embrace experiential marketing through augmented reality. - Helen18
4
Lm3labs
Founded in 2003 by a team of passionate researchers, engineers, designers and marketers from various international backgrounds, focused on the fast transformation of innovation into unique products, LM3LABS is a recognised leader in computer vision-based interactivity solutions. - Helen18
5
Apparmo
Apparmo is an independent mobile marketing company focussed on building innovative mobile apps for businesses who wish to engage more with their customers." Leading with Augmented Reality advertising, we specialise in building apps that entertain, engage, retain and monetise users enabling our clients to achieve maximum ROI on their leading edge app 'investments'. - Helen18
6 Pandora
7
Metavision
Metavision's growing community is pioneering innovative ways to make augmented Reality real across an impressive range of industries and audiences. More than 1,000 developers and companies are already using Meta to make their augmented reality dreams come true. We're taking it to another level and welcoming millions more into the future. - Helen18
8
Gravity Jack
Gravity Jack is a custom software design and development agency, specializing in the creation of custom mobile and web apps, augmented reality and virtual reality. - Helen18
9
iMOBDEV Technologies
IMOBDEV Technologies step up with the trending technologies and keep the qualified resources to relate modern technologies with raised requirements. We write the code for Augmented Reality apps with an approach to deliver the best ever solution by keeping client requirements and business goals in mind. Dedicated expert programmers harness the innovation for each task they do for Augmented Reality App Development & modernize the way how brands interact with their customers. We have the capabilities to shape your raw idea into full-featured apps which offer immense end user experience.
10
Quytech

Great services provider in AR/VR..!
I had the best experience with Quytech. They carry a very professional attitude. Their AR /VR development team have been exceptional for my business. - hiwilliam31
The Contenders
11 Zco Corporation
12 GameAnax
13 Credencys Solution
14
Layar
Founded in the summer of 2009, Layar quickly gained international attention as one of the first mobile augmented reality browsers to hit the market. Our open development platform attracted thousands of developers from all of the world to create AR content as millions downloaded the Layar App for iOS and Android, making Layar the world's most popular platform for AR. - Helen18
15
GBKSoft
Moreover, the AR could cut the expenses on maintenance, so that a company or a customer could perform product service without external help of manufacturer. GBKSOFT expert. - ped4enko
I've been working with GBKSOFT for 2 years. To my mind, they provided me the best service I could have by outsourcing development works. By the way partly my app can be related to AR (It has image recognition and AR-filtering option that allows to determine object by camera and tweak them on the screen), the tean showed great persistance and went beyond their initial knowledge in order to deliver this functionality.
16
Inde
INDE develops award-winning augmented reality experiences for entertainment, education and advertising. We provide professional AR solutions ranging from mobile to large-screen AR experiences with exceptionally high quality 3D, to create next-generation platforms that change the way people interact with content. - Helen18
17
Clavax
Clavax is an agility grounded augmented reality app development company that has developed apps for the variety of industry needs. The company is capable of developing an augmented reality app for automated tracking, product visualization, optimized street views and much more. Clavax deploys Vuforia, Layar and Wikitude for developing augmented reality apps.

Expertise: Augmented reality app, eCommerce app development, iPhone & Android app development, Real estate development
18
Solution Analysts

19
Quytech.com
Quytech is working on AR for several years to builds many apps on AR. Some of the applications are uploaded to the Android and Apple app store. If you want to get AR application on mobility, you can contact the professional team of AR app developers at Quytech. These applications are managed properly to take an innovation to next level.
20 Y Media Labs
21 Citrusbits
22 Zgames
23 Blue Label Labs
24 Space-O Technologies
BAdd New Item