Best Backup Quarterbacks Coming Into the 2019 Season
The Top Ten
Tyrod Taylor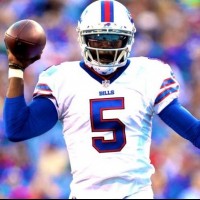 Anyone see the Colts trading for him now that Andrew Luck retired? - SirSheep
I do think Taylor will be a starter again he might dethrone Rivers but unlikely - RawIsgore
Almost a no brainer, but the best backup in my eyes is Tyrod Taylor. He is a very underrated quarterback in this league a decent to good starting quarterback option. Problem is I don't see Phillip Rivers wanting to give it up just yet (unless he goes down in an unexpected turn of events). Chargers would be okay at that position if that were the case knowing what Tyrod has around him is a pretty studded cast of weapons, He'll use them wisely. - htoutlaws2012
Teddy Bridgewater

Theodore Edmond "Teddy" Bridgewater II is an American football quarterback for the Carolina Panthers of the National Football League. He had previously played for the Minnesota Vikings from 2014 to 2017, and for the New Orleans Saints from 2018 to 2019.
Teddy I miss you come back to us it was Blair Walsh fault not yours - RawIsgore
One thing I like about the Saints is their crops of Quarterbacks usage is so unique to me. The Fact they wanted to get Teddy as a future plan if Drew Brees ever gives up the field (probably when he ever wins his 2nd ring). Bridgewater will know the system by than, and honestly Bridgewater was plagued by injury that's why Vikings had to move on meanwhile Saints have faith he can fit right in, and I think he can be as well. - htoutlaws2012
Chase Daniel
Chase Daniel had his one bright moment on Thanksgiving Trubisky was out for the game, and you would think the advantage goes to the Lions right? Ha, nope instead Chase Daniel was Drew Stanton out there having a ball on Turkey day craving out our defense like nothing yet I kinda saw that coming to my amusement. Daniel is a very good Backup that Mitchell can feel comfortable for being a temporary help to this studded Bears team. - htoutlaws2012
Ryan Tannehill

Ryan Timothy Tannehill III is an American football quarterback for the Tennessee Titans of the National Football League. He previously played for the Miami Dolphins from 2012 to 2018.
There's a good chance of him being an insurance policy if Mariota is indeed in trouble of losing his starting job at Quarterback after the events of the last two regressed seasons.Tannehill came off a final stand season in which he and coach Adam Gase failed once again both got separated from Miami to new teams. He can be good when healthy he is the modern era Sam Bradford and that's not a good comparison. Yet his also one of the better backups regardless.
Jacoby Brissett
Jacoby Brissett may not be a good starting Quarterback, but as a backup now as opposed to early on he could be much more serviceable if Luck stunningly goes down again (not saying he won't). He knows the Colst system well, and again could be good under that offensive line. - htoutlaws2012
Dwayne Haskins

He'll most likely be a backup, I'd be a bit stunned if he gets the nod from Day knowing past times it's the veterans for a couple of weeks than the rookie comes in. Haskins to me might shine the brightest of all these rookies from this draft class. I'm not sure how Keenum would do in this system, but gonna be the man that says he won't utilize the talent right and therefore Haskins will come in making it look at most average to maybe good. - htoutlaws2012
Drew Stanton
With Tyrod gone to LA's B-Team Drew Stanton is going to backup the young and ''dangerous'' Baker Mayfield. Stanton is actually a very underrated backup Quarterback he came a few times with some wins for a couple of teams Lions, & Cardinals. Guys got a history of doing great things being a backup his being around for awhile i'm not sure if he'll ever start this season (probably not). Nice to see his still around though. - htoutlaws2012
Drew Lock

Now unlike Jones I could see Lock actually take the field perhaps in his first year at some point. Joe Flacco last year ended up passing the torch to Lamar Jackson and he managed to take them to the playoffs (even with fluky like performance against the Chargers in the end). Maybe the lock was really the secret key to this lowly expected squad on offense for all we know. - htoutlaws2012
Will Grier

Grier definitely has a chance to start maybe 2nd half of the season if I had to say seeing Cam Newton's shoulder is beyond screwed up to the point yeah toss out the guy from West Virginia who might be very good. Now granted I fought Kyle Allen was good last season, but I guess they wanted somebody with more distinction, and this is them concerned about Cam Newton's health could be closing of his prime potentially. - htoutlaws2012
Blake Bortles

Blake Bortles is an American football quarterback for the Jacksonville Jaguars of the National Football League.
I did fought about Bortles, but I don't see him starting for the Rams any time soon especially with Jared Goof being better than half of the other quarterbacks around. - htoutlaws2012
I feel the Rams got a pretty good backup in Bortles. Sure, he was bad as a starter, but I think he can produce some when stepping into a game in a pinch. - PackFan2005
He could be serviceable but he wouldn't be my first choice - Randomator
The Contenders
Daniel Jones

The real question will Daniel Jones ever take the field anytime soon if Eli never retires all I can say for Giants fans is hope for a change in culture. Granted I don't like that he was picked so high up were he would of been at best a late 20's to maybe an early 2nd round pick. Can a Quarterback from Duke thrive with similar colors (Minus red)? - htoutlaws2012
Matt Schaub
Matt Cassel

Matthew Brennan Cassel is an American football quarterback for the Tennessee Titans of the National Football League.
Nick Mullens

He has NFL starting experience - SirSheep
BAdd New Item