Top Ten Bad Songs That Get Stuck In Your Head
Bad songs that you hate but get stuck in your head. If you like these songs then that's cool.

The Top Ten

1 Friday - Rebecca Black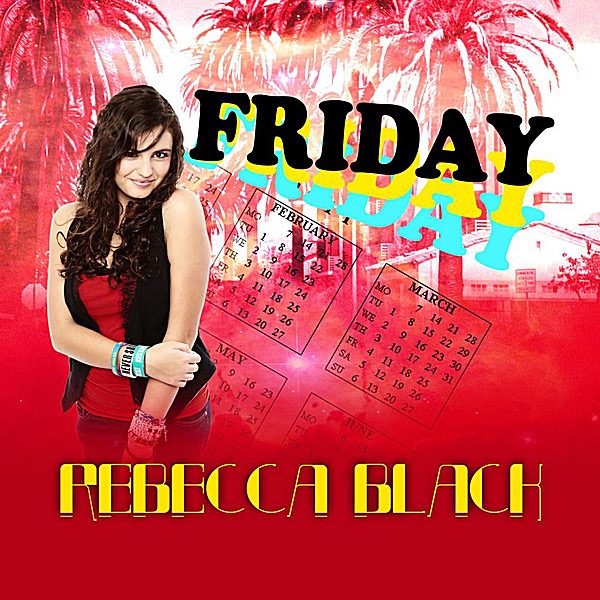 Just stop you have failed at singing and life ( try using auto tune it will help) even Justin Bieber is better than this girl ( not by a lot though)
Her voice is like a screaming little girl in this song terrible
... Hold on for a sec.

...

Yep, it still in there. Please kill it. - Chaotixhero
2
Baby - Justin Bieber

I just put this here who hates him. But to me, I don't care about him but he been overhated here. Give him a break. - Chaotixhero
3
Anaconda - Nicki Minaj

A peice of garbage with a cool instrumental that it doesn't deserve. Seriously nicki, you are killing hip-hop. - Chaotixhero
4
Wrecking Ball - Miley Cyrus

I love this song! - westofohio
Ugh I hate... The music video. For some odd reason I like this song. Why... ? Why do I like this song? Eh, whatever. - Chaotixhero
5
Good Kisser - Usher

Oh Usher... You had good songs until this came out. But he still is good nonetheless. - Chaotixhero
6
All About That Bass - Meghan Trainor

This song did when my teacher played it in grade 10, it got annoying, it got stuck at the part she saying, all about the base no trouble
7
Baby Got Back - Sir Mix-a-Lot

I love this song! - westofohio
I HATE this song dearly. This song is... Ugh bad. If you like the song then that's fine but me, no thank you. - Chaotixhero
8
We Are Never Ever Getting Back Together - Taylor Swift

Ugh really Taylor? You make this song? Really? You are very lucky you were hot in the video. And even more sexy in I knew you were trouble. - Chaotixhero
9
Gucci Gang - Lil' Pump

10
Shake It Off - Taylor Swift

I can't believe that my MOM likes this song...
Oof yep... it gets pretty annoying.
The Contenders
11
In My Feelings - Drake

This awful garbage was stuck in my head for a while after I listened to it. - allamassal
12
Wiggle - Jason Derulo

13
Lifestyle - Rich Gang

14
Last Friday Night - Katy Perry

I love this song! - westofohio
Who put this on here this is a great song
15
Barbie Girl - Aqua

16
Love Me Again - John Newman

17
Work from Home - Fifth Harmony

18
GDFR - Flo Rida

19
Sexy and I Know It - Lmfao

20
Diamonds - Rihanna

Grrr get out if my head! Now! - Chaotixhero
21
Rude Boy - Rihanna

22
Call Me Maybe - Carly Rae Jepsen

My 9 year old cousin used to like this song and won't stop playing/singing t. She now no longer likes it but thanks to her former constant obsession with this song I can't get it out of my head!
I knew I was NEVER going to like this song in the first place! I also hate Carly Rae Jepsen and that's my own opinion.
23
What About Us - P!NK

24
Caillou Theme - Caillou

25
#Selfie - The Chainsmokers

I never had this song stuck in my head. It should stay that way. - Misfire
PSearch List