Top 10 Baltimore Ravens Players of the 2017-2018 Season
How can Baltimore get by if Flacco is indeed out for a bit? If there lucky enough to find a good offense then i'll be stunned since that defense is not what it use to be like when Ed Reed and Ray Lewis were there.

The Top Ten

1 Eric Weddle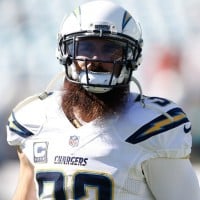 Eric Steven Weddle is an American football free safety for the Baltimore Ravens of the National Football League.
I do not think he'll be as good of being the Ed Reed of the squad, but he is better than what they had last year which was a bad crop of players put in that just flat said take me outta here. - htoutlaws2012
2
Terrell Suggs

Terrell Raymonn Suggs, nicknamed T-Sizzle or Sizzle, is an American football outside linebacker for the Baltimore Ravens of the National Football League.
The veteran, and future hall of famer Terrell Suggs can still go, but for how long? He can help the younger guys out by making his moves and all, and then if he is out for the season your relying on the young player to find a way through this weakened role of wisdom. - htoutlaws2012
3
Justin Tucker

Justin Paul Tucker is an American football placekicker for the Baltimore Ravens of the National Football League.
Perhaps the most prolific kicker today who kicks incredibly good with enough leg to make history going 70+ is beyond insane. This is Baltimore's rare gem here the kicker for life is set right here. - htoutlaws2012
4
Marshal Yanda

Marshal John Yanda is an American football guard for the Baltimore Ravens of the National Football League.
He is considered the best guard in the league, well he has proven that status since he has been the most consistent lineman on the team for about 10 years is outstanding. Like Stanley though, the Ravens will just have to deal with one bad side which will be the right side being there blind spot in this case. - htoutlaws2012
5
C.J. Mosley

Clinton "C. J." Mosley, Jr. is an American football linebacker for the New York Jets of the National Football League.
Mosley is the closest thing they might get back to the Ray Lewis caliber type player. He will get the tackle for sure, but you never if he does get the sack or even a pick six to the house.
Why not number 1
6
Jeremy Maclin

Jeremy Maclin is an American football wide receiver for the Baltimore Ravens of the National Football League. Maclin was selected 19th overall in 2009 to the Philadelphia Eagles. Maclin has been with 3 teams in his NFL career.
Baltimore has to be fortunate that they got Maclin at such a critical timing. Many questioned why they did not take a Wide Receiver first round, well the first 3 guys in the draft were picked pretty high so they had to go corner they almost had no choice to. Months later they have there #1 all set in Maclin who maybe the best pickup for them this year by far. - htoutlaws2012
7
Marlon Humphrey
Last year the Ravens has a ton of trouble stopping the pass which was weird because for years Baltimore had been able to get passed that, but now suddenly with what did have was essentially a very mediocre secondary that ended giving up too much to the point they would lose most of those games. Bringing in Humphrey and some of the other free agent acquisitions along the side to ensure no more screw ups. - htoutlaws2012
8
Ronnie Stanley
Baltimore is not entirely terrible on the line at least, and Stanley has shown he can be a good tackle for the team. The team was lacking in a solid left tackle so they did themselves in with Mr. Stanley who was the fit that proved useful hopefully for the next few years. however you now face problems on your right side with the departured Rick Wagner. - htoutlaws2012
9
Benjamin Watson

Watson is one of those dudes that is old, but he will slip for a lot of people who need a good secondary Tight End in fantasy football I'll say that much. He missed all of last year in which Flacco definitely missed a valuable part of the offense, and hopefully a Tight End can overcome some part of a diminished offense at Wide Receiver. - htoutlaws2012
10
Joe Flacco

Joseph Vincent Flacco is an American football quarterback for the New York Jets of the National Football League.
Flacco maybe battling injury all year, but can he surprise people with a lack of supporting weapons around him. While he is not always great in the regular season what if they were very fortunate to get in the playoffs like how the Lions were fortunately that the Redskins the last game of their season on the line. Joe Flacco is money when he is in the post season he is usually on point.
The Contenders
11
Lamar Jackson

He is the QB for the team now he is the best
He is better then joe flacco
BAdd New Item