Bill Russell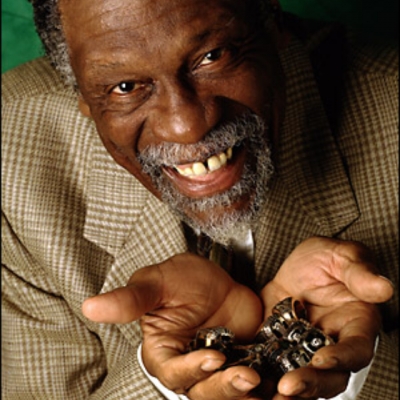 Uploaded by Htown3ball
Comments
Top
Popular
Newest
Michael Jordan was to scoring like Bill Russell was to defense. You won't see this guy on any all-time scoring lists, but on every top ten list in NBA history. (Not to mention 5 MVPs and 11 rings, yikes! )
Bill Russell at #8 is as blasphemous as it is sad. Obviously, many of the newer fans don't truly have an appreciation of what Russell meant to the game and its current players. I'd bet that, if you ask any of the neo-stars who they'd choose as a teammate if they could pick any four other players to make up a team, they'd all include Russell and probably all make him their first pick.
Bear in mind that the game was much more demanding (physically and mentally) during Russell's tenure. Every team had a hatchet man and there were only two referees. Hand checking and elbow throwing were an essential part of the game. Black players suffered discrimination, taunting and threats that are unthinkable today. Despite these aspects this guy wins 11 championships in every season he wasn't injured. MORE RINGS THAN FINGERS. Does more need be said?
Russell and Jordan are neck-and-neck for 1 and 2 all-time greatest players. As time goes by, people tend to forget how great certain players from the past were. Bill Russell dominated Wilt Chamberlain and went to the NBA finals 13 times, winning 11 of those times. Before the NBA, he won back-to-back state high school championships, back-to-back NCAA college championships, and a gold medal as the 1956 Olympic basketball team captain. In the NBA, he averaged 22.5 rebounds and 15+ points per game, and is considered the greatest shot blocker of all-time. Had they kept track of this stat when Russell played, he would certainly be listed well ahead of Hakeem.
Let's not forget his Univ. Of San Francisco Dons set a then record of 55 consecutive wins. (eventually broken by UCLA teams in the 70's under J. Wooden) And brought home the Gold in the 1956 Olympics.

The 84' Olympic Dream Team of M. Johnson, L. Byrd, K. Malone, C. Barkley, J. Stockton, M. Jordan, etc. , we all know drubbed their opponents. But Russell's 56 Olympic team STILL holds the record for the largest scoring margin over opponents in men's Olympic basketball!

And he's not #1... ya gotta be kidding me! Nobody in ANY sport can match Russell for Championships.
I have him as second best BB player because he played defense and won many championships!
Defense wins championships. No-one is, was or will be better than Bill Russell.
If you were to start a team, who better to take?
No one was a better defender. No one was a better rebounder. No one was a better team player. No one was better than Bill Russell. If you think there was you are greatly mistaken. If you value frills and showmanship over quality, then yes, vote for Chamberlain, vote for Magic. Even Michael Jordan falls short for year in, year out dominance.
In about 3 different games, the announcer CASUALLY says that Russ had 8-9-10 blocks. like he wasn't even surprised. Russell dropped 30-40 on Wilt, and Russ wasn't even a scorer. In fact, about 3 years before the Lakers acquired Wilt the Stilt, Lakers owner Bob Short asked his 2 star players, Jerry West and elgin Baylor if they should acquire Wilt. Their answer:NO :O. Russell won 0.84615384615% of the NBA finals that he played in (11 out of 13) To make this short and sweet, Russell was the best center of all time and was the 2nd best player of all time. Oh yeah, and the best defender of all time
Russell was the games most valuable player (5 MVP's). Let's not forget the 11 championships in 13 years. Nobody was more dominant defensivley than Russell and if you are putting Pete Maravich ahead of Russell because of Maravich's college career, you have to remember Russell has 2 NCAA National Championships, while Maravich had ZERO!!! - Tivo
Russell was the best ever, hands down. He dominated Chamberlain in most of their matchups. He played superior defense and was the ultimate team basketball player. To have players like Alan Iverson and Lebron James above Bill Russell is absolutely ludicrous.
Bill Russell now the main reason that Russell is on this list is because of his rebounding ability he is an amazing rebounder and he is only 6'10" he was one of the great players of the 20th century.
Bill Russell 5x NBA rebounding champion and 5x NBA Most Valuable Player he was NBA All-Star MVP and won more rings than anyone in NBA history with eleven rings he won 1 ring in 1967 and 10 in a row and he did that all in just 13 years he was an astounding player - logankulas
Bill Russell is the only player that has also been the head coach of the team at the same time. How did that turn out? Just like the rest of his career, with championships. He also could be considered the greatest leader in professional sports history...
This list is all jacked up. It should be like this

1. Bill Russell
2. Michael Jordan
3. Wilt Chamberlain
4. Kareem Abdul-Jabbar
5. Oscar Robertson - Chezlovakian
I guess most people who voted here never saw Russell played, nor know anything about the game of basketball. Bottom line is Russell is by far the best ever period.
No doubt about it, Russell far better than Jordan. If you switch Russell in his prime with any center on a team Jordan beat in the finals, Jordan doesn't have any rings! Cause Bill would have dominated and been the difference! - Dperry
A defender of heroic proportions and the foundation stone of a great basketball dynasty. Many who watched him would have ranked him 1 or 2 in this list. Not as flash as some, but a Rock and the master of initiating the fast break!
Bill Russell is behing AI, Pistol Pete, and LeBron. This list is no good. Russell had 11 championships in 13 years, and should have 12 if he hadn't gotten injured one year - TrinityTrojan
Been watching basketball since the late 1940s - I am an old man. Seen them all since then. In my opinion, Bili Russell was the greatest basketball of all-time. Wherever he was, the team won championships.
Was only 6'8", not to mention he was playing CENTER. Kareem was 7'1", Wilt was 7'1", Mikan was 7'1", and he still got 40 rebounds! The best defensive player ever. 2 or 3 blocks a game and 24 rebounds a game. 11 rings in 13 seasons!
Bill Russell holds the record for the most NBA championships won with 11 titles during his 13-year playing career. He won practically every year he payed. How could he not be number 1?
Bill russell is the definition of an all around basketball player. And this was prior to players even getting payed a lot, so he played with heart, not for a large check at the end of the week. Look at all the promotions now that strive players to be better. Bill Russell just wanted to win... No, wait, Bill Russell just wanted to DOMINATE!

FPnickkrapoza
If you voted for anyone else, you don't know the meaning of winner. His competion was intense, most of his career he played only against the top 8 teams in the league! Jordon played against 30! - Gutz
11 rings and 5 MVP awards in thirteen seasons. Not a great scorer, but he was a great rebounder and a great passer. He was also the greatest defensive player of all time. - SgtPeppersz196715
There are 2 NBA players who you have to respect no matter what, the 2 best players ever Russell and Jordan. You can say stuff about magic, bird, LeBron, kobe, etc. but those 2 are untouchable, so 8 is too low
How is this guy not #1? He's a basketball god. Try winning 11 championships in a career. Most team don't win 11 championships in their history. If blocks were recorded back when he played he would be #1
He is the best rebounder of all time. He is way better than Wilt Chamberlain he won like 10 championships and Wilt only won 1. Most people who voted here only know one basketball player; MJ.
Related Lists

Top Ten NBA Players from the Bill Russell Era