Hakeem Olajuwon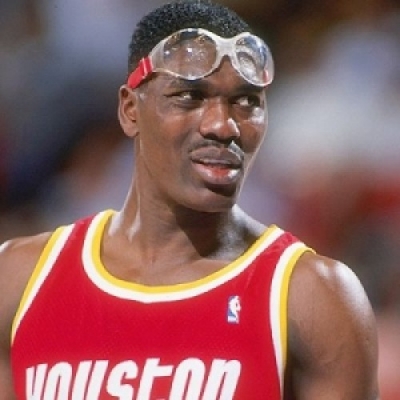 Uploaded by Htown3ball
Info
Hakeem Abdul Olajuwon, formerly known as Akeem Olajuwon, is a Nigerian-American retired professional basketball player.
Comments
Top
Popular
Newest
He never had stars to help him and even when he did (drexler and barkley) they were on the downside of there career. If he had played with teams as talented as the bulls he would have won more than Jordan. - ChrisHenry
I have no problem with Jabbar, and Wilt ahead of him, but Shaq has no business being ahead of Dream. Olajuwon destroyed Shaq every time they played each other. Shaq always talks trash about every center in history, but always admitted Dream was the best. Also Wilt was the best NBA player in history, Jordan is a distant second to Wilt The Stilt.
In my estimation, for what little it amounts to, Hakeem was the most talented big-man to ever play the game. There is certainly difficulty in finding his proper placement amongst the very best that we've ever seen, but 12 (by deduction, there are 11 players better) is just too low. He put the NBA on his back when Jordan walked away in the wake of personal tragedy, and retired in the top 10 in scoring, rebounds, blocks, and steals.
Hakeem Olujawon the leagues greatest shot blocker of all time he has over 3800 blocked shots in his career now Olujawon is my favorite player of all time he lead the league in all time blocks is one of the greatest centers of all time not only could he block shots but he was ninth place in all time points scored with just over 26,000 points scored in his long eighteen year career

HE WON AN MVP 2 TITLES AND SEVERAL BLOCK LEADERS - logankulas
HE is the best basketball player ever! And the reason is that he dominated centers played during his time. Won two championship with poor supporting cast. No other big man is as skillful as him!
I voted for him because, keep in mind people this is a guy that helped his team have any chance of playing jordan. He literally was a center that jordan said he would put in his pickup team. Best center other than Wilt, 'cause wilt is superhuman
The best Center of all time, the best basketball player to have ever played the game. His defense was phenomenal, his offense was undefendable-there was no answer. An absolute team player, a total gentleman. If you are to build a fantasy team and he's not your first pick you haven't thought it out. The Dream.
Why is Hakeem Olajuwon so far down you have got to be kidding me!
He single-handedly won two rings. He was both a dominant defensive center and an incredible offensive center. He led the league in points scored and blocks. If he had more people around him, he would probably be in talks of being the greatest basketball player of all time.
Hakeem The Dream is the most fantastic player ever he is my favorite too..
The single best Nigerian athelete, he is a legend in the game
He was and all around center had a great post game and a beautiful jump shot. But can't forget the dream shake.
Underrated. Defender, rebounder, shot blocker. Efficient scorer.
Jordan needed pretty much a whole team to win. Olajuwon did it almost all by himself
Greatest big man offensively and defensively. Hands down. - jcpenn10
He would dream shake you, then block you shot on the other end to start a fast break. What more do I need to say.
Olajuwon destroys every center that he plays against especially Robinson
Possibly the greatest most underrated basketball player of all time
Hakeem should be the top 10 because he led his team to championships
He won 2 championships while jordan was playing I think he should be higher up personally
The dream thats all that needs to be said
Hakeem is the best center of all time
Dude he was the first pick in the 1985 draft OVER Michael Jordan
Underrated. No way that Tim Duncan is ahead of Olajuwon.
Back 2 back titles blocks galore he was a beast in the 90's - mountainhawk