Kareem Abdul-Jabbar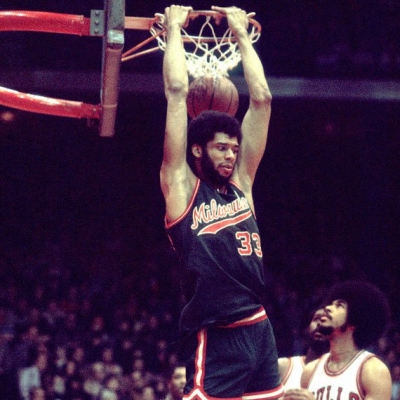 Uploaded by Htown3ball
Info
Kareem Abdul-Jabbar is an American retired professional basketball player who played 20 seasons in the National Basketball Association for the Milwaukee Bucks and Los Angeles Lakers.
Comments
Top
Popular
Newest
Kareem Abdul-Jabbar has broken more records than anyone in NBA history he has most minutes played, most points scored in NBA career, most most valuable player wards won then any other NBA player in a career, most fouls in an NBA career I am sure there are much more but I don't know about them Kareem had 6 rings in a 20 year career and he had quite a few rebounds now the mane thing about Kareem was his sky hook yes his sky hook just thinking about the sky hook you probably remember Kareem Abdul-Jabbar winning the game in Magic Johnson's pro debut with a last second sky hook what a player and to add to all that he was 7 foot 2. - logankulas
How the heck is kareem this low. I bet the other people voting don't know one stinking thing about basketball. There probably just babies listen other people when they say jordan's the best. He is not. How is lebron so high he has only played 7 seasons and has no rings. Not hating on lebron or anything but COME ON! Babies that only know about today's nba and know nothing about it's stinking history. They csll there selves fans!

Kareem was not just the greatest NBA player all time, but he was the best college basketball player of all time. He went to a school where he was the only good player on his team and led them to 4 championships. His statistics were stacked! This guy was impossible to cover. He won championships like crazy (just as many as Michael Jordan) Lebron, Kobe, Larry, Magic, and Michael are not as good as he was. SO FACE THE FACTS
Kareem Abdul-Jabbar was the most unstoppable player ever. He dominated all centers in his entire career. Not one center can guard him or even keep up! He has a smooth, sweet jump shot and with go sky high with a hook right over your head and you can't do anything about it. He scored 38, 387 points. I'd like to see the most overrated player to ever step on a court, Michael Jordan, beat that.
Kareem is the pioneer of all this. Not that I am saying that Michael, Magic and Kobe etc. are not great players. But the point is that none of them would have existed if Kareem hadn't shown them the way to be great. Take Kareem out of the game and you would find that none of them would have known how to take their game to the next level. Kareem is the best and a true legend!
Kareem is the best because of what he done in High School, College & Pro. A lot of people forget that there was basketball being played before Jordan. Jordan is an NBA great, but his college career was average & high school career was the same. Russell & Wilt are second and third and then comes Jordan, Magic & Bird. None of today's NBA talent comes close to these GIANTS!
Kareem was the greatest basketball player of all time because he is the only professional player that can be considered the greatest on all time on all three levels (high school, college and pro). He also played professional basketball at a very high level over three decades 60's, 70's and 80's.
Kareem is beast he created the hook shot first one in history to do it. No lie MJ is better but not on the block and plus Kareem has the most career points in history of basketball so I have no ide what yall talkin about 8th place is way to high I think he should be in 4th or 5th place.
This is a no brainier: Kareem was a phenom from the 8th grade. As a freshman at UCLA he dominated the entire NCAA, however freshman were not eligible for varsity play. The freshman team could easily have beaten the varsity team, which was the number one team in the country. Take a look at Kareem's stats.
Its hard to block the sky hook of Kareem Abdul-Jabbar he is the greatest Center ever He has so many blocks as well as some great assists. That is why He deserves number 1He scored the most points in NBA history!
For most dominating and revolutionary player, it must be "The Captain" himself. Kareem is the one with the revolutionary SKY HOOK that could not be defended as shown by his many many records and rings.
i was really expecting him to be bit higher, im mean when you have 6 titles and 6 mvps, and are the all-time scoring leader, chances are you'll at least be in the top 6 top 7
He has more blocks more points more defensive player of the years also a better rebounder he has a lot that Michael Jordan has and like you guys said he should be number I know that Michael can fly but that's nothing like Kareem's sky hook
So humble, so laid back. Players like Kobe and LeBron should take a leaf out of his book and learn how to be kind to people and behave appropriately. As for his playing side of things, his points say it all. (more than MJ)
No player represents the 70's and 80's as well as Jabbar. An amazing player. Will always remember is one arm hook shot, known as the Sky Hook, it made history. - Undertaker15-0
He is way better than lebron james are you kidding me? He deserves to be #3 no matter what he has the most points out of anyone in his NBA career. So please next time choose very carefully.
Kareem Abdul-Jabbar will always be at the top of my list. His accomplishments are unmatched by any basketball player past or present. He silhouette should grace the NBA logo.
In my opinion Kareem should be at second. Not first though. He wasn't as good as Michael but I think he was the second greatest player to play the game. Kobe and Lebron are good but not quite Kareem. Magic is pretty close though...
Kareem Abdul-Jabbar is one of the most underrated players in NBA history despite being the all time leader in scoring, having 6 championships (more than Jordan), having the most MVP trophies (more than Jordan), being 3rd in rebounding and 3rd in shot blocking which is amazing because shot blocking wasn't even counted statistically until his 4th year in the NBA it's safe to say if they would've counted it from his rookie year up he might very well be the all time leader in shot blocking, he is never in the conversation of greatest of all time, WHY?! - ADTAYLOR09
#8?!? Holy crap! This guy scored the most points and is the coolest and most unique player ever. He invented the 1 arm hookshot! - moose4life19
Kareem Abdul-Jabari: all time NBA scorer. That is what you should think of when you here that name. He is the best post scorer in the NBA ever. He is not better than guys like Jordan, Magic, Kobe, or Bird, but he has had some special moments. He is the best center ever. Many people do not know who he is because he played a long time ago, but he is a true NBA legend just like Jordan.
It's not just about points were titles, it's about the human being. Read your history and look at what the older black ball players went through in order to just exist in the world let alone a predominately white NBA.
The highest scorer in the history of NBA. He should be rated the best player in NBA. It is true that no could stop the sky hook so easily.
Everybody voting for someone else is to young to have ever watched Kareem play, no on has ever scored 100 points in a game like he did, no competition by far the best, just compare stats and then you be the judge
The man won six championships, and, to date, over 25 years after retiring, still holds the all time scoring record; how in the world can you reasonably place six players ahead of him?