Magic Johnson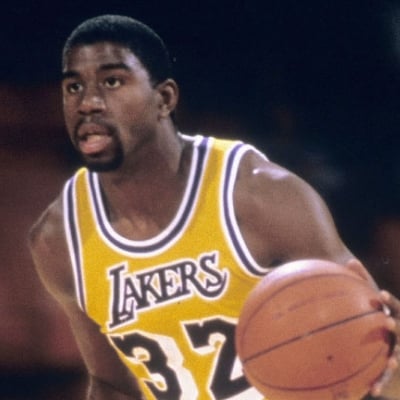 Uploaded by Htown3ball
Info
Earvin "Magic" Johnson Jr. is a retired American professional basketball player who played point guard for the Los Angeles Lakers of the National Basketball Association for 13 seasons.
Comments
Top
Popular
Newest
No body came close to this dude when came to court vision except for maybe Stockton. Could have taken any team to the finals by himself, best passing/scoring guard in history.
Magic johnson is the original greatest player of all time notjordan he is only imitation of magic Magic Johnson was better than Michael Jordan. He won 1 less championship than Michael Jordan in the toughest era in basketball which was the 80's which had celtics that was filled with kevin mchale, robert Parish, larry bird, 76ers that had darryl dawkins, dr. j, maurice cheeks, and pistons who had isaih thomas, dumars, vinny johnson. He was also more versatile than Jordan able to play every position on the floor. From 1985 on when Kareem numbers started to decline Magic did more of the scoring and put up ridiculous numbers like 23 points a game and 11-12 assists a game, 8-9 rebounds a game. Also Magic made his players better. Most of James Worthy points came on the fast break which Magic Johnson used to set him up or in the post. Byron Scott who was a good or not great player also scored a lot of points on the Lakers with Magic leading the fast break. I think the main reason why Jordan ...more
He should be at number one are you crazy, he Is unbelievable he is a magician or science on the floor I saw him school Jordan and score. And why is lebron at the top he should be at 12 he's a choker sorry lebron but until you improve on your dribbling and shooting and finesse in the air and play good at that time for your ring and don't choke. You look awkward get some tips from magic or kobe awkward get some tips from kobe. Some players recognized that when you are closely marked you pass the ball you can't dribble. I know you are tall, but what about crossover, But there are things I like about you. You understand the game and make the right plays better than Bryant
Magic Johnson won 5 titles against 5 teams that won titles. The 80's was the best decade I know of and the Lakers ruled. Magic could score if needed, rebound when needed and assist COME ON MAN! Jordan was a beneficiary of the battles the Lakers, Celtics, early 76er's and Pistons fought as well as father time. Jordan won titles in a weak watered down 90's, Magic Johnson number 1 along with Larry Bird (saviors of the game).
Magic is only seventh and behind Lebron and Iverson please, Lebron may not even be the best player on his team. Both have not won a championship though Lebron might only time will tell. There is more to basketball than how many points you average, Magic and Larry Bird are the greatest ever with Magic Johnson getting my vote. They won championships against teams in their prime (Dr J Sixers, Isiah Thomas Pistons and against each other), even Jordan was not good enough in the eighties and had to wait for the nineties for his success.
Allen iverson ahead of magic johnson? I'm sorry but you have NO idea what you're talking about and I don't mean any disrespect. Magic has 5 titles, AI has ZERO! I'm sorry but you have lost all credibility.

Magic has the single, best individual performance in the history of basketball when he replaced kareem in the 1980 finals in game 6 against julius erving and the 76ers in philly. He was only a 20yr old rookie! He scored 42 points, 15 boards, seven assists and three steals! The lakers won the game and won the title.
Best all around player ever! He played all positions. If you asked him to score he had the ability to do that. If you asked him to get every rebound he would be the rebound champion. Magic was the best NBA player that's ever played the game. He played during a time when there were more elite teams and elite players than any other time in NBA History! LA Lakers, Boston, Celtics, Detroit, Pistons, Chicago Bull's and other teams.
Magic Johnson is the consummate team player and a leader on a team full of all-stars. Without Magic they are like the Mavericks... great team no real victories! Magic is the best point guard to touch a basketball and winning the championship that year without Jabbar should tell you Magic never needed the help that Jordan required... clutch shot take Jordan clutch game take Magic!
Easily the most overrated player of all time. Bird was the better player all around. WATCH 30 FOR 30! No one could compare to Birds 3 point shot. People, (not trying to be offensive) only like him because he got AIDS which is commonly obtained from homosexual intercourse. Many are afraid that if they don't like him, they will be called out as homophobic. Now, I am no homophobic, and he was certainly a good player, but he would stand no chance against Bird or Kareem.
Magic was the best Period! He could have led the league in some or in if he desired. He played multiple positions legitimately. He wasn't the greatest athlete, however basketball a team sport and he played against the best of the best in an Era where where fouls were real fouls. I will not say he could have had more rings, but he retired early. And those PASSES! What other rookie won a RING!
Magic was the only player besides Bird to make his team better. Jordan could score, but he ushered in a new era of basketball. Magic played in the hardest era, and was the best in that time. Jordan played in an easier era, where his competition was karl malone. Magic was the only one to be able to do everything and lead his team to victory.
Magic johnson was and still is my favorite player since his Michigan state days the no look passes he was the best and he got you so excited just watching the game. He made the fast break offense go and because of him there was SHOW TIME and that what the Miami Heat are gonna be shortly a FAST run offense like MAGICs old team...
If you take each player and make a team with (5 Jordans on the same team or 5 Birds) then a team with 5 magic's would be a pretty good team. Magic changed the game (with Bird) and was in my opinion the most complete basketball player ever to play the game. Greatest player and team player of all time.
Why the hell is Magic Johnson doing at the seventh rank he should at least be at 2 not that kobe bryant which is a fake and a wannabe Michael Jordan. and Larry Bird should swich with LeBron because the Dream Team should always be together even though LeBron is my favorite besides Dwayn Wade and Blake Griffin. - PePsMeX
Magic is my favorite player ever he is one of only a few and that's very few that could dominate from any position. Magic is without a doubt the best point guard ever and not far from MJ. He led his team in his rookie year to a ring. He went to the championship just about every year he played I think it was 9 out of 12 years. If he wouldn't have gotten hiv he might have one another championship.
This is the only player who can play every single position with perfection in nba and so only saying that much I would say he is better than Lebron james. Sure Lebron james can play almost every position as well however he doesn't have the things magic can do. There is a reason his first name is MAGIC.
Because he created an Illusion of making himself better! By use of the Media and being blessed with the most talent on his team in college and pros helped as well. He is my 8th best Point Guard! Good but not GREAT! He fooled you with Magic, especially his awful passing. - BrianGaddy
Magic could score, rebound and is the greatest passer in NBA history, but the thing that separates him from all the others in the top 10... He was able to bring out the best in everyone on the team.
Not to mention playing every position!
He did whatever he had to do for the team to win, sacrificing his own personal stats for the team.
He is the best player there was he was a team player he wasn't a hog he had the triple threat he was the one player he wasn't know for his scoring he was the first true legend and that is that magic was the best there is and the best there every will be magic was the best okay that's that
MAGIC is NUMBER 2! The guy is a assist king and make the crowd love him. My favorite player of all time. He has 4 rings 3 MVP's and way way more awards he is a great player and if he didn't retire on his 12 season he would probably be at the very top at this list or at least second because he was probably the best of the era he played.
How is kobe ahead of magic magic could handle the ball better than almost any PG of all time despite the fact he was 6 foot 9 inches also he could pass better than any player ever and he could score too averaging 18.6 points per game over his career and kobe shot 42% from the field last season
I'll take his size & leadership first every time. All he did is WIN. Half of the best rivalry of all-time(Bird). Missed time late in career but still stats are right there all-time. He should talk to LeBron(who is still a youngster)to let us see greatness again. - suhlevy
Could take over a game without scoring. Could play every position on the floor. Best transition player ever. 42-point, 15-rebound, 7-assist, 3-steal effort in the title-clinching Game 6 of the 1980 NBA Finals filling in at the 5 for Kareem Abdul-Jabbar his rookie year. MAGIC IS THE BEST
WAY BETTER THAN JORDAN (In my opinion so please don't disrespect it). He was better at passing and rebounding. He is (arguably) the greatest all-around basketball player if not athlete of their sport of all time. Sure he may not have been as athletic and quick as Michael Jordan but his all-around abilities make up for it. LETS GET HIM AT NUMBER 1!
Awesome! He is just such a great player that I think that he should not be like seventh in line I think he is better than that. So I vote for him and hope that people actually think he is good! I think the lakers are better than they think so LETS GO THE LA LAKERS!
I love this analogy take any player and duplicate them 5 Magic Johnson's beat anyone! Lebron James is close but no cigar.. He does not have the all around game knowledge that Magic has and even though Lebron is more physical he would lose!