Shaquille O'Neal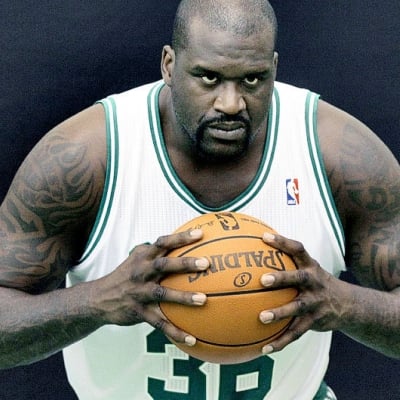 Uploaded by EGreen
Info
Shaquille Rashaun O'Neal, nicknamed Shaq, is a retired American professional basketball player who is currently an analyst on the television program Inside the NBA.
Comments
Top
Popular
Newest
I can't believe this guy is not higher up the list. to quote a great center 'he has brought a new dimension to the game' (Hakeem Olajuwan). one of the best scorers of all time (he averages more than abdul jabbar over his career), also a great rebounder and shot blocker. 4 championship rings as well.
Shaquille would be number 2 if he would hog the ball and not pass the ball like kobe and lebron they think they are the only player on the court shaquille it the best of the three players he should be number 2 but just think about it shaquille is the best kobe would not be there it shaquille had not help him so that make shaquille number 2
Nobody can do a better charge then this man. He currently I think the most experience pro-basketball player on the NBA Roster being on currently 15 years. I mean he is simply amazing. Him along with the amazing Dwayne Wade to Miami Heats to places it hasn't gone before. - Undertaker15-0
SHAQ the most interesting player in NBA history he leads everybody to the playoffs from Kobe Bryant to Dwyane Wade with four rings 2 scoring titles and an MVP were can you go wrong with this guy - logankulas
Shaq gets my vote because of shaq's great personality not to mention his statistics. he's truly a fun guy and I don't actually think he's the BEST (Jordan of course is though).
He's obviously the top ten because he was big and could definitely put up layups and dunks. There is no one that I know that in a better center than Shaq, (unless the other good center can shoot free throws,). He can probably be a small forward!
Shaquille was extremely dominant in the post. Besides having 4 rings and being the rookie of the year. The "BIg Apostle" was the absolute beast on the floor.
O'neal is without doubt the best center in the history of the game. He should be ranked 4th, no question about that!
Im sry, but Mikan can't even compare to shaq, shaq is the only player in his catagory the man is f'n huge
He is the most dominant center in history! He needs to be in top 5 and in top centers number 1! LeBron will never be as good so they need to put Shaquille in his place and let LeBron be in number 9!
O'Neal is by far better than Most of these people on this list. I don't think that he is the best, but he sure made history and gave it his all. Great Job Shaq!
shaq in the prime of his career, was fast strong and just physically unstoppable! unrivaled at centre.
Unanimously the most dominating player in the NBA for at least 5 seasons. 5 Finals appearances, winning 4 Rings. Should be higher than Lebron and Bird.
He is awesome because he was taller then everyone on the court and he could block Lebron that is why I think he is the is the greatest basketball player of all time.
He is awesome and he deserves 1st you choose others because they score a lot but o neal was the best back player
This guy not only showed that people need to upgrade their hoops, but it also showed that there is no such thing as "limits" and I think that Shaq showed this.
he is the best center and baketball player of all time.
I agree with this shaq is the most dominant center EVER! I think he could of been top 5 if he taught himself how to do free throws lol
A little like Wilt Chamberlain, although Shaq was shorter, slower, weaker, fatter, had less vertical and way less endurance.
Shaquille O'Neal is the great and amazing basketball players of them all he should be in 5th place for the greatest basketball players of all time
You have got amazing basketball skills. He has got good shooting, passing and dunking
By mistake I voted for this racist he really is a racist see what he said to Yao ming
What!?!? How in the world is he this high!?!? Big Mac Shaq can't even shoot a good free throw. The guy weighs 350 pounds for crying out loud!
Derrick Rose over Shaq right now? Haha no chance.
Are you crazy! Shaq the deazle! You can't stop him! He's a beast! He could dunk on you any second of any day! Shaq the super man! No one can stop him, not even Air Jordan! He's unstoppable, Jordan, not you!
Related Lists

Top 10 Teams Jermaine O'Neal Has Been On

Top 10 People Named Neal

Best Neal Morse Band Songs
Top 10 Neal Morse Albums
Best Ryan O'Neal Movies