Tim Duncan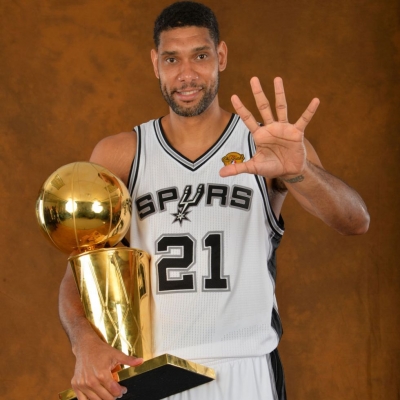 Uploaded by Htown3ball
Info
Timothy Theodore "Tim" Duncan is an American professional basketball player who has played his entire career for the San Antonio Spurs of the National Basketball Association.
Comments
Top
Popular
Newest
The Spurs are always underrated by the media even though they've won FIVE, that's right FIVE Championships (1999, 2003, 2005, 2007, 2014) and all of them have been won with this guy, number 21, on the Spurs since he was first drafted in 1997. He's the greatest power forward ever and he will be the best power forward as far as time goes, nobody will beat him. 3 MVPS, a host of All-Star Game appearances, Rookie of the Year and so much more. Why is this superstar plus plus at #11? He should be top 5!
IS this a joke? Duncan is the by far one of the most amazing people to ever touch a basketball. He is a champion. He keeps quiet unlike Kobe and LeBron. Don't forget he is the most underrated player in sports...
Top 10 at worst best player of his generation. The big fundamental is the perfect model of a basketball player as he continues to improve with age. Timmy D's longevity is the key to his success he has one more titles than most of the guys on this list.
You haven't ranked Tim not even in the top tens? That's disgraceful! 5. 5 championships...He didn't even need the 5th to prove how Great of a player he is. Kobe and Shaq both need to be under this guy for sure. We are talking about the best players not the most famous ones...
He's a top five player for sure. Never missed the playoffs. Five rings. Two time MVP. Three time Finals MVP. Fifteen time All Star. Head to head he's beaten a lot of the guys who are ranked ahead of him on this list. He's changed an entire franchise. Popovich, Parker and Ginobili are going into the Hall of Fame because of Tim Duncan's dominance and longevity. Some of you need to rethink your votes.
umm 18th? most underrated player ever, by far. Hes one of the greatest rebounders ever, oh and JJ REDDICK? wtf? f this website, duke fans obviously swarmed this page.
BEST PF EVER, tim duncan is a monster, no one can 1vs1 him, if he wants, when he was younger he was one of the greatest players of his time, and now he's the best of his age
Not to mention the that since Tim Duncan has been in the league the San Antonio Spurs have the best playoff record in all of pro sports - westofohio
I don' think he's the best player ever, but he deserves to be in the top ten. He's the best passing big man ever and the best power forward ever. - Hun20ter
There are new players like Leonard or Aldridge who are great, don't get me wrong, but Duncan is a living legend and he deserves to be higher on this list.
This is a ridiculously low rating for Duncan, he is easily one of the top 10 of all time. By consensus the best power forward to ever play the game and leading the Spurs to 5 championships speaks for itself. Also rofl Allen Iverson at 11 are you guys morons?
I agree that's a horrible list, It's obvious the person that put that list together is a spurs hater.
Tim Duncan is the greatest player in Spurs history, he is so consistent
Since Tim Duncan came into the NBA, the Spurs have the best playoff record in all of pro sports - westofohio
3 titles, 3 Finals MVP's in eight years and plenty more to come
Most underrated player of alltime, the man just gets it done
Why would Tim Duncan be on number 16. I do not agree with this!
I believe he has the highest win percentage of any other the players on the list.
He's my all time favorite player. I remember their first NBA winning year, he has been my favorite since.
Because people all him the legendary Tim Duncan. Also he and his team went to 5 NBA finals game in a row
He is better then Shaquille he can make a free throw un like some body don't want to mention name.
They should at least retire Number 21 from the SPURS shirt records
He deserves to be in the top ten ova wade
Timmy is one of the best basketball players I've ever seen he should at least be top ten
His a champ like many others he came from the virgin islands but is a scary guy to face
Related Lists
The Greatest Tim Burton Films
Best Tim Burton Characters
Best Tim McGraw Songs
Best Tim Allen Movies