Wilt Chamberlain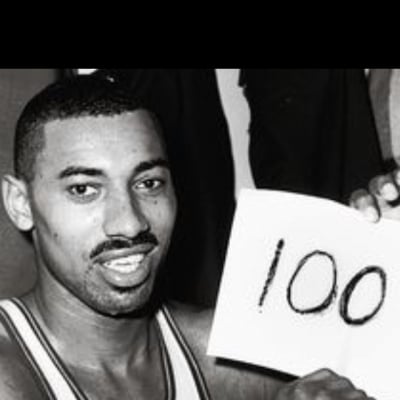 Uploaded by Htown3ball
Info
Wilton Norman "Wilt" Chamberlain was an American basketball player . He was born on August 21, 1936 in Philadelphia and died on October 12, 1999 in Los Angeles due to heart failure . ...
read more
.
Comments
Top
Popular
Newest
It is unfortunate that Wilt did not play in a modern era. Wilt was easily one of the most physically gifted men in history. To put it in perspective Shaq bench pressed near 300 on the other hand, in his late 50's Wilt could lift 500 pounds. Wilt unlike other big men was able to dribble. Wilt had spent some time with the Harlem Globe Trotters and there he gained some handles as well as becoming a good passer. Some argue that Wilt was only great because he was playing with low level talent and could only jump and back down like a bulldozer. A lot of people do not know that wilt was the only Center to lead the league in assist averaging 8 in one season, and keep in mind he got those assist playing with sub par talent. Despite Wilt being most know for just garbing rebounds and just doing a little finger role a foot away from the basket people forget that Wilt also had a killer fade away jumper that was successful because of his length and how the fade away took away all the strength ...more
People say he couldn't hang with great dominant centers. They say he couldn't play in today's league. This man grabbed 55 rebounds against a player who is widely considered the greatest defender ever (cough cough) Bill Russell.
He scored 50+ points against him 7 Times. People said he didn't have as much competition as today which is true but if you think about it bill Russell is some pretty good competition. That is why many people consider him the greatest defender of all time. The man benched 550 in college at Kansas. that's an awful much stronger then shaq. On the set of Conan the destroyer he was RUMORED to have out lifted Arnold Schwarzenegger. At 41 years old. He was said to have a 55 inch vertical. He played 48.5 minutes a game one season sitting out only 8 minutes that whole season. And he sat out because of two technicals called against him in the 4th quarter. So yea apparently he wouldn't be able to handle today's game. He was also a track star in college. He was going to ...more
Greatest natural athlete to ever play the game. In high school he was a 90mph pitcher, football star, and after his NBA career he achieved world class status in professional volley ball. He shunned practices, pre season camps, curfews and training. He would show up at game time, play 48 minutes averaging points, rebounds, and assists for his lifetime that many players today don't achieve in a season. After Kareem topped his career points total he remarked "If I had ever thought anyone would have even come close, I would have put the total so far out of site no one would have ever caught it". At one time he had led the league one time or another in every offensive and defensive category for at least one season except assists. The year he led the league in assists. The "Big Fella" as he was referred to by his contemporaries was indeed an unmatched one of a kind player
100 points, 55 rebounds, and 10,000 women- the question: records that will never fall. Wilt is the GOAT. Career averages of 30+ points and 20+ rebounds. All-time leader in blocks. Number 5 on the list of career scorers and he played fewer years then anyone in the top 10. Wilt is perhaps the most over looked player as far as the argument on the GOAT goes. Perhaps it is due to his lack of championship gold or the lack of media coverage for the NBA during his time or his lack of flashiness compared to LeBron, Magic, Jordan, or Kobe. Wilt had to play against greats like Bill Russell, a match up better then LeBron-Kobe and Magic-Bird. People say he only scored and rebounded so much because he was taller then anyone else, yet for his 100 point game he was against legend and NBA Hall of Famer Jerry Lucas. As far as I'm concerned the only player that could challenge Wilt as the GOAT is Bill Russell. Michael Jordan is overrated and people need to realize that.
GOAT. In practically every major team sport, the guy who is the most individually dominant in its history is either the strongest or, at worst, a top 2-3 strongest GOAT candidate. Why should basketball be any different? There hasn't ever been anyone more or equally dominant to Wilt, and the league changing its rules to curtail his dominance is a testament to this. And all this in an era full of great big men, contrary to the popular "no competition" myth. A player as dominant as Wilt ranked at 6 is absurd to say the least. I wouldn't rank him so low even if I had to rank the greatest athletes of all major team sports combined.
Let us just see why Wilt Chamberlain is the best one he got more rebounds in an NBA career than anyone else with just over 23,000 rebounds, 5th place in most points scored in NBA career with over 31,000, highest amount of points in a single game with 100 points, highest amount of points in an NBA season with over 4,000 points, 4 time NBA Most Valuable Player, 7 time NBA scoring leader and 11 time NBA rebounding leader yes he is pretty god damn good and he did that all in just 14 years and before the three point line came in and he was pretty tall 7'1" to be exact. - logankulas
Oscar Robertson Quote "the record books don't lie" says it all to me. Also, Players that played against him truly know how good he was! Wilt excelled in everything he was asked to do. That's the reason for the records. And, if you put any other center (any player in history) with the teams he played on, even Bill Russell, The teams would have played with worst results. I value the opinion of the players that played against him because they are the ones that have witnessed his abilities first hand.
Wilt Chamberlain, in my opinion is the god of basketball. Jordan was fantastic but when compared to Chamberlain he's falls short. I have never seen a player who can average 50 points a season and average 25 rebounds a season. These days even the best players only average 25-30 points a season. Who these days gets 100 points in a game as a player or rebounding 55 times against teams like the historic Celctics? None, not Jordan, not Magic Johnson, not LeBron and not even Abdul Jabbar! He was often criticized about how he never passed, but then again he was playing with a bad team so he had to be the superstar. If he was put in a team like the 95-96 Bulls team, he would definitely outshine Jordan and would probably play better! Overall, Underrated and should be 1st of all time!
Most dominating player ever. Holds 71 NBA records with 62 by himself. 65 or more points in a game 15 times. 50 or more points in a game 118 times. Most points per game in a season (top 3 spots). Most points in a season (top 2 spots), Most points scord in a game. Most consecutive 50 point games, 40 point games, 30 point games and 20 point games. Only person to average over 50 points a game in a season. Holds the record for most career rebounds. Career rebounds per game. Top 7 spots leading the league in rebounds per season. Most rebounds in a game. Never fould out of a game. Basketball is a team game. Bill Russell had better teams. Michael Jordan had better teams. If Wilt played with Jerry West and Elgin Baylor his whole career, Boston may not have ever won a championship.
This list should begin with Wilt, and Wilt only. No one else is even close. The rules changed because of his pure dominance. No other player on the list can lay claim to that. You did not ask who won the most championships (Russell), who was the most intense competitor (Jordan), who brought the NBA into the era with the combination of television and marketing (Magic and Bird), but who was the best basketball player of all time. It is Wilt - only Wilt.
Able to score, rebound, block shots, pass, play defense and dominate the game. He led the league in scoring, rebounding, assists and field goal percentage during various seasons in his career. He was the lynchpin of one of the greatest basketball teams of all time in the 1971 Los Angeles Lakers. He NEVER fouled out, he played almost every minute of every game. Not only one of the greatest offensive players of all time but also one of the greatest players of all time.
Chamberlain is second in all time career points with 31,419. First in all time career rebounds with 23,924. Led the NBA in scoring his first seven seasons. Led in rebounding 11 seasons. Played 14 NBA seasons and for 13 of them went to the NBA all star games. Was elected to the Naismith hall of fame. Score more than 50 points in 118 games. score 100 points in one game which they won 169-147. Out of 30 best regular season scoring points, he owns 20. Did not foul out once out of his more than 1,200 games. Won NBA most valuable player of the year 4 times. Has score 60 points in a span of 12 minutes. The NCAA and NBA actually had to change the rules of the game because of how dominant he was. Chamberlain could dunk his free throws in highschool. So they banned dunking from the free throw line because of him. Enough said.
The writing is terrible! Punctuation, grammar verb tense issues makes this very difficult to read. However Wilt had one disability that the five players ahead of him did not have, he was a center. The other five were either guards or small forwards. Wilt had to wait for someone to pass him the ball or he had to get a rebound. It is much easier to put up big scoring numbers when the ball is in your hand constantly.
Best statistical player ever known to man for any sport. It is unheard of to average 50 points in a single season. Although stats aren't everything he still dominated the game. Bill Russell was insane but if wilt the stilt and bill Russell swapped teams wilt would have won every championship every year for his entire career
The Most Underrated NBA player ever, No one truly knew just how dominant Wilt Chamberlain was because it's a shame he existed before social media. People say Wilt Chamberlain only dominated because he played in a weak era, but I don't see anyone else do the things Wilt did playing in the same 'weak era'. Wilt Chamberlain could dominate in any era, I'll put him 2nd only to Jordan - MordecaiBlueJay
He was simply amazing. When you look at guys like Michael Jordan and nowadays guys like Bryant and James they are breaking records and trying to set standards for themselves. It all started back with Chamberlain he was the man to make all this status and records that are held to be broken, his pro career was mid-length not as long as some basketball players but he made it is no doubt. - Undertaker15-0
They actually changed the rules of the game because of Wilt Chamberlain. He was the strongest man to ever play the game. When he said he was going to lead the league in scoring; he did. When he said he was going to lead the league in rebounds; he did. When he said he was going to lead the league in assists; he did.
I gotta say Wilt was unstoppable I mean 55 boards against another of the top ten players and probably 2nd best rebounder of all time that impressive. Secondly Kobe Bryant is severely overrated. Kareem played longer than Bryant did and was still amazing. Kobe averages right now one of the highest turnovers per game ratio in the Nba that sucks.
Boo... Bryant and Wilt 2nd greatest of all time behind Jordan.
Its not even close. Wilt AVERAGED 50.4 points for an ENTIRE season. Career 22.9 rpg. Forget the 100 point game, he had a 78 point 43 rebound game against L.A. Thirty five or so years after he retired he still owns the record books. His 50 point plus games total two full seasons. He IS the best ever!
This list is bull by not having Wilt the or Bill in the top three. These guys are the best shot blockers of all time, they didn't keep those stats but they said they would have averaged 7 and 6 blocks a game! That's crazy we get excited about 2. Wilt is a beast because of everything that he does. Bill is a beast because he doesn't have enough fingers to fit all of his rings on. !
Wilt Chamberlain is by far the best NBA player ever. He scored 100 and averaged 50 for one season. For his career, he averaged as much as Jordan (30.1), and over 3 times as many rebounds 22.9, to Jordan's 6.2. In my mind, there is no question who the best player ever is, and it is Wilt Chamberlain.
No one player before or since, had the RULES CHANGED to stop him from playing his devastating type of game... No one dominated the NBA as much, since or before.

No player slept with as many chicks either... just saying!

Legendary status... My Number1.
100 points 30.1 points per game 22 rebounds per game 31000 points 23000 rebounds the greatest player ever to play the game he arsenal of moves to get to the rim he was just a sight to behold he could do anything that Jordan could perhaps even more than Jordan could in fact much better than Michael Jordan - logankulas
Well he is the best player ever
11 time rebounding leader (when Bill Russell was in the league)
7 time scoring leader
1 time assist leader yes assists leader can you believe in have you ever seen Jordan win assist leader that's right no
4 time MVP
2 time Champion
Finals MVP
7 time ALL-NBA first team
Hall of fame
Scored 100 points
+ the greatest player in NBA history!
People don't consider coaching into this. For me, Chamberlain is #1 hands down night in and night out. Both sides of the floor. Rings don't count. What is Jordan on Malone's team without those 2 stars? Is he going to be the Jordan we all know now? Chamberlain does his thing on any team you put him in his prime.