Mike Dirnt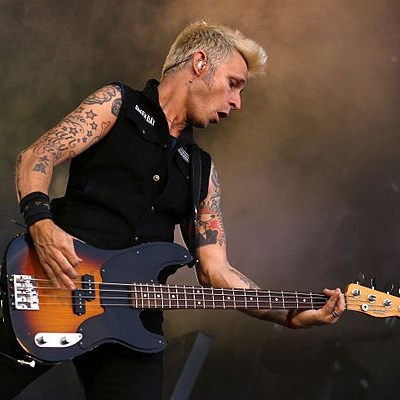 Uploaded by zxm
Info
Michael Ryan Pritchard, known professionally as Mike Dirnt, is an American musician best known for being the co-founder, bassist, backing and occasional lead vocalist of the American punk rock band Green Day.
Comments
Top
Popular
Newest
Want to know why I think he's the best? Ok, first because I'm a bassist, and I love Green Day, then because he's not the usual virtuous, with impossible solos that last for 20 minutes, he is the genius that from those three notes, gets something fabulous and catchy. And remember that the geniuses of music are not those who go looking for complexity, but those who get, through simplicity, something majestic. Good luck
The reason he should be number one is that you can actually hear his bass notes, it's nothing wrong with Cliff Burton, but you csn't really hear his notes that much which means Mike has to work more. Most people may think Longview is awesome but if you hear No one knows you'll get why he should be number one, he were so young when he wrote it and it's the most beautiful bassline ever. Not everyone can sing while playing bass, Mike can do it and it sounds awesome! And if you watch him live you'll see how much he moves while playing, for example how he twists his arm while playing. Mike is awesome and I hope more people votes for him.
One of the many reasons why Green Day are one of my favourite bands is because of Mike Dirnt's bass playing. Unlike a lot of other bands Green Day gives the bass player a chance. I haven't heard many bands who have very many bass intros as well done as Green Day, or even songs by other bands where you can hear the bass as well as Green Day, especially in a lot of songs from "Dookie". Not only is he fast but Green Day's bass lines are some of the best in music.
Mike Dirnt uses his bass to become part of the band, not take it over, like Les Claypool. Even despite his amazing talent, he knows not to clog every song with bass like other bassists do all the time. Listen closely and you'll see the perfect blend of his bass with the other instruments in the band. Thumbs up for Dirnt!
Mike Dirnt is just amazing! He is the reason I got into bass. Hit ability to keep playing at Woodstock '94 was brilliant and his work on Stuart and The Avenue, Longview and JAR among others shows how creative and skilled he is working with the limited chord range he is given to respond to.
May not be the best bass player but he's the best player of punk rock. Just listen to Insomniac, Dookie, Kerplunk, and 1, 039 Smoothed Out Slappy Hours. Even since a kid he's been an amazing bass player. He may not show off his bass lines unlike before since Green Day has two guitarists and has adopted a new sound.
Mike Dirnt is the best bassist in the world! There is no other bass player as he! I'm sure and I think that all the Green Day fans agree with me, he is even the best in the world!
People, longview is good, but try to learn the interlude that he uses on paper lanterns at woodstock, and the jam with the sax on bulletin a bible. And he is easily the best hammer on bassist ever!
Beat base guitar I have seen. He kills all other. Longview, warning, 21 guns, American idiot shows his talent.
Best punk bassist ever that's a big accomplishment he is brilliant I think he should be at least eight but not ahead of thunder fingers good I guess... Green day for life
BEST BASSIST EVER! From the best band ever. he's funny, and talented and he's got great hair. He deserves to win this more than any other one of these people. he's so amazing, he better win this thing.
I think that number 10 is a very reasonable spot for Mike Dirnt. I don't think that he should be like number one since it just seems to unreal, but yeah Green Day's my favourite band so I definitely support Mike! He does make eye catching basslines. Like in "Longview" which is the most famous one and "Last Ride In"
The legendary Bass line in Long view and No one knows is enough to have him win this thing. He's just the best ever. AND he's really sweet in really life as well.
Don't call us all "fangirls" for voting up this guy. He really is a technical master. Listen to Longview, American Idiot, Hitchin a Ride, Warning, Wake Me Up When September Ends, Holiday, Basket Case, and of course, his awesome bass solo on Welcome to Paradise.
I didn't even need to look at the other contenders. Green Day is the best band in the world and Mike Dirnt is a wonderful bassist
How can Mike Dirnt be this far? He should be ON TOP. He plays the sickest basslines I've ever heard! Most songs, the bass doesn't stand out that much, but Dirnt puts the AWE in SOME!
The best for sure! He is under rated... But he has always shown his class.
The songs of Green Day hasn't really made given him the scope to show his real class! But nevermind.. He still has been able to show WHAT HE IS
awesome punk bass playing, inspiration to me as well, you make Green Day sound good, without you Green Day would sound cheesy. You deserve to be in the top 10 as well.
If there is someone who is so good, gifted, talented and plays the best music group, it is Mike Dirnt. It is a professional bass and when he plays, it's so beautiful to see him like what he did for us.
Just watch ''Longview'' or ''When I come around'' for examples. That will make you see the quality of Mike Dirnt the best bassist ever. I'm done talking! Bye.
longview, sassafras roots, knowledge, 2000 light years away, stuck with me, panic song, stuart and the ave., jesus of surburbia, and holiday, period
Great songs of bass, like longview, she, even the newer songs such as peacemaker, last of the American girls, chump, welcome to paradise, etc
Incredible bassist, incredible back up vocalist, not the best bassist but a really great bassist, if you listen to longview you'll think twice about not putting mike in the top 10
Listened to Longview? Warning? Whatsername? Enemius Sleepus? Did you listen to any of these liking it? Then you should totally vote for Mike Dirnt, we love him! Come on babes
Flea's style doesn't cut it for me. He plays that awful funky style of Mark King of Level 42. Mike plays the kind of sounds I want to hear! and with flair!