Tommy Joe Ratliff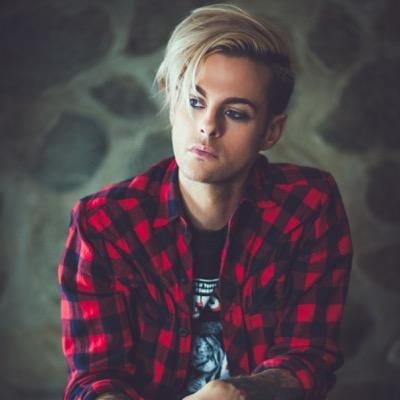 Uploaded by XtremeNerdz12
Comments
Top
Popular
Newest
I mean honestly I do love Mark Hoppus and Pete Wentz, But Adam Lambert is amazing and I ABSOLUTELY LOVE Tommy Joe Ratliff. Tommy is such a good bass player, and I am honestly trying to follow in his footsteps, there is NO DOUBT in my mind that Tommy Joe will ALWAYS be my #1. Pete Wentz make way, There's a bass player around, that has some attention, his name? Thou- that- shall- not- be- mentioned. Jk, his name is Tommy Joe Ratliff. Tommy Joe Ratliff is undoubtedly the best bass player ever.
He's very talented, and I love his dark and striking style. He plays tastefully and gives his own edge to everything he plays. He is original. And apart from his music, he is a wonderful character in the world of arts! He is strong and beautiful, but shy and humble. He is kind and caring for his fans. He respects human and when he sees people are being humiliated, he stand for them. He has the conscience of a true artist, and that's what makes him special. People love Tommy and for me... He is the bravest person I've seen in this world.
The way he plays bass and guitar is incomparable and gorgeous. With his own understanding of the music, his performances can hold all of your passion and love! The most importantly, he only want to enjoy the music rather than be a star! This is an really musician!
Tommy Joe is one of the best, if not the best bass player around! He deserves to be number 1! Or at least in the top 5! For someone who only started playing bass to be apart of the band for Adam Lambert, he has sure come a long way and has more than just natural talent! With each performance he brings life to the stage and he brings the passion he has for music and makes it an extraordinary performance each and every time! A kind, loving person with a huge heart, who millions of fans adore, including myself! Well done, Tommy Joe, you deserve this!
Tommy is by far the best bassist, when Adam chose him as his bassist, he couldn't have done better! He's a damn good! There are a lot of greats yes.. I will agree, but Tommy is up there with them! Show some respect for him! He should be so much higher than this!
Tommy Joe is an incredible talent, amazing and his stage presence is exceptional, he brings that special star quality. Love hearing and watching him perform. He should be in the top 5!
Tommy Joe has an awesome Bass style and should be given the credit he deserves! He has shown us that he can play even while being some what distracted! I love the way he can play and still head bang, whipping his hair like he does! Your simply amazing Tommy and I adore you!
Tommy Joe Ratliff is a very talented bassist. He's charismatic and made me appreciate bass players much more now. His headbanging while playing makes him unique and special. He deserves some recognition and respect.
I will never forget seeing the Glam Nation Tour. Everything about it was absolutely amazing and I have to say, Tommy sparked my interest in picking up my guitar again, although I'm truly dying to learn bass. Anytime you hear the bass on the Glam Nation CD it is just completely mesmerizing. It's a beautiful, hypnotic sound. I hope Tommy sees this since I was led here by a link he posted, and if he does, I want you to know you are an absolute musical inspiration.
He is a great Bass Player So Please Be Smart and Vote for Tommy Joe Ratliff He can Be one of the Best Players of Ever. Tommy brought bass playing closer to me. Before He I didn't knew what even was a Bass.
Tommy Joe Ratliff oh my gosh the way he plays the bass guitar made me want to learn how to play that type of guitar as well so bad. But even more for guitar now too since he also now playing that as well. 33
Tommy is a born talent. Just amazed at how he can play guitar and bass without formal training, all that just sprang from self study. He's still young and will keep on progressing. He is one of the top ranked for now but I know in my heart that he'll be the best in the near future. Music is his life and blood! Love Tommy forever!
To me tommy is always N.1 he is unique!
I have never seen a bass guitarist like him!
He is a great bass player and he can act while he plays guitar... You can't find many people who can do that these days
By the way I love his hair!
TJR ROCKS IT OUT! AND HE LOOKS GOOD Doing IT, Doing IT, Doing IT. I CAN'T WAIT TO SEE HIM PLAYING HIS favorite INSTRUMENT, GUITAR, ON HIS UPCOMING TOUR IN 2012. ROCK ON TOMMY! MAY ALL YOUR DREAMS COME TRUE.
He is an amazing bassist, show some god dam respect guys, and appreciate his bass times, I mean, he's a born guitarist but took on bass for Adam and got INTO the top bassist.. That counts as something!
I want to say this was a tough call since I've loved and adored Duff for years! But Tommy! Yeah he stole my heart last year. So Sorry Duff, Tommy got my vote, dude got skills and he rocks the stage like no other! 3
Love this man! Took his talents from guitarist to trying something new with the bass and rocking it out! Can't wait to see him reach his high as lead guitarist this year with Adam Lambert! What a talent! Congrats on this honor!
Tommy how is the best now it's like the rest of the bass people are good to but give him some respect he worked so hard in and off stage with Adam lambert and the rest of the band so he should be higher than this I live you tommy
Tommy Joe Ratliff leaves me in awe when he plays bass. In my opinion, the bass makes the song. Take away the keyboards, a guitar and even the heavy drums, but if you don't have that bass in the background, you can't feel the song. Tommy takes feeling the song to a whole new level. Never disappoints. If you have no clue what I am talking about, listen to tommy play, then listen to the acoustic version of the song. Don't get me wrong, Adam sounds great, the song as a whole sounds great, but it is missing something. Try it, you'll see.
Amazing bassist! I've watched him grow throughout the course of Adam Lambert's Glam Nation Tour, & he gets even better with time. He's amazingly talented in other facets of music, too. Much respect for this man.
Tommy should be way up there. This man has amazing skills and learned to play all the songs on bass even though he wanted to play guitar. He has mad talent and is awe-inspiring. He tweeted me one time and told me to follow my dreams and gave me some amazing tips! He is young and already a legend. Fender loves him so much that they now endorse Tommy. I could go on forever about this man!
He is amazing! Deserves to be way higher than this! Especially for not being a bass player to begin with and making this list is proof of an accomplishment!
I love watching Tommy play the bass. You can tell by his head-banging that he really enjoys himself and the music. So much fun to watch and listen to him!
Tommy plays the bass like he lives inside the music, and it's amazing to watch him. But I also love how he plays like he's completely connected to everyone else on the stage with him. He's in tune with everything happening. Incredibly talented. I can't wait to see more of him.
I LOVE Tommy so much. He is by far, hands down, without a shadow of doubt, THE best bassist in the world. It's amazing what he can do with his fingers when it touches the strings of his bass and/or guitar. I have respect for everyone else, but come on people! Tommy deserves to be at THE TOP! After the Glam Nation Tour, Tommy proved himself to be THE BEST BASSIST EVER! The bass has never sounded so amazing as it does now. All thanks to TOMMY JOE RATLIFF!