Most Beautiful Male YouTubers of 2018
The Top Ten
Troye Sivan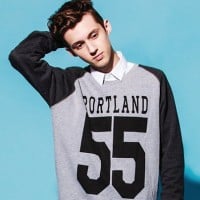 Troye Sivan Mellet, better known as Troye Sivan, is a South African-born Australian singer, songwriter, actor and YouTuber.
Perfect is imperfect in front of Troye. - KanyeWilliam
Stuart Matthew

Stuart Matthew (HC), better known as professionally as Stuart Matthew, is an India based YouTube singer and songwriter. Matthew was hand-picked by MTV as an MTV Artist in early June 2015 after being considered as Top Sexiest Vocals. In early February 2016, Matthew was nominated for Best Pop Artist in ...read more.
Just everything is beautiful - KanyeWilliam
Manu Rios

The most beautiful face - KanyeWilliam
Connor Franta

God I just saw one of his videos today and damn are they relatable
Such a creation. - KanyeWilliam
Jack Harries

Jackson Frayn "Jack" Harries and Finnegan Frayn "Finn" Harries (born May 13, 1993). JacksGap has more than 4 million subscribers. Originally created by Jack Harries to document his gap-year in mid-2011, the channel experienced a rapid increase in popularity after the addition of Finn Harries as a regular ...read more.
Just everything is beyond perfect. - KanyeWilliam
Beau Brooks
Hottest, Playful amd Perfect - KanyeWilliam
Ethan Dolan
Two pack of fire. - KanyeWilliam
I think Ethan is very sweet and kind, and he would be a perfect boyfriend
Or best friend and will support anyone's decision
Tyler Oakley

Mathew Tyler Oakley, known as Tyler Oakley, is an American YouTube and podcast personality, humorist, author and activist.
Loveliest person alive. - KanyeWilliam
Finn Harries

. I mean how perfect. - KanyeWilliam
Joe Sugg

Joseph Graham "Joe" Sugg is a British YouTuber, film-maker, author, and vlogger. He is known for his YouTube channels ThatcherJoe, ThatcherJoeVlogs and ThatcherJoeGames.
Funny and attractive is everything. - KanyeWilliam
The Contenders
Tom Phelan

Tom Phelon is a YouTube personality who can be seen on The Fine Bros. web series Teens React. He later landed a part on the Nickelodeon spin-off React To That. He was known on Vine as Boston Tom. In 2017 he got his own The Fine Bros show called Challenge Chalice. He is also currently on Adults React. ...read more.
Zach Clayton

Nick Bean

Eric Beckerman

Gavin Macintosh

BAdd New Item