Best Action Movie Actresses
The Top Ten
1
Milla Jovovich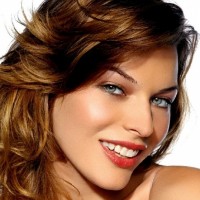 Milica Bogdanovna Jovovich, known professionally as Milla Jovovich, is an American actress, model and musician.
Milla Jo has a record for being the best she's far more greater than all the rest. No one else compares to her fighting skills, my girl's super bad don't deny her strong will. Who else can kick ass in a humongous dress? While being a double agent I must digress! She kicks zombie ass therefore she can't be wrong cause the RE films ROCK so just go right along, and vote her number 1 on this top 10 list! Otherwise I'm afraid she might show you her fist. Cause she's a kick ass woman who deserves her props, now vote her number one so she will be on top.
Milla has Jolie beat hands down. Maybe if Jolie did a zombie movie she could give Milla a run for her money. But as it stands, no comparision.
She is the best female action heroine ever. I hope she never stops making Resident Evil movies! No one can top her!
I loved the Resident Evil series and Milla fascinates me.
Her glance in some action scenes is unique.
2
Angelina Jolie

Angelina Jolie is an American actress, filmmaker, and humanitarian. She has received an Academy Award, two Screen Actors Guild Awards, and three Golden Globe Awards. She has also been cited as Hollywood's highest-paid actress. ...read more.
Lara Croft came out in 2003, Mr. & Mrs. Smith in 2005, that's almost 15 years ago. Get over it people. She isn't a " best action movie actress " anymore. Kate Beckinsale on the other hand is still doing action movies in her leather catsuits ( the 2017 underworld movie ). Time to adjust the ranks of this list!
She's the best and even Milla Jovocih thinks the same thing.
Milla Jovovich Quote
" From now on, I approach the cinema as a business woman. I intend to be in more action movies because, apart from Angelina Jolie, no other actress stands out in this genre. "
I don't think there is a cooler female action character than Lara Croft, and I don't think no one can ever find an actress to play Lara Croft better than Angelina Jolie did.
I looked no further than this actress. She definitely deserves this spot. She does or did most of her own stunts. And I will have to admit she is pretty sexy to boot.
3
Sigourney Weaver

Susan Alexandra "Sigourney" Weaver is an American actress and film producer. Following her film debut as a minor character in Annie Hall, she quickly came to prominence in 1979 with her first lead role as Ellen Ripley in Alien.
She does deserve the first slot. She shaped the way all other action heroines should be and was really the first badass female role.
Any chick that can take on Aliens pretty much on her own gets my vote. They move a lot faster than Zombies
No female actress is more badass than Ripley!
Definitely her! She rocked in Aliens.
4
Kate Beckinsale

Kathrin Romary "Kate" Beckinsale (born 26 July 1973) is a British actress. After some minor television roles, she made her film debut in Much Ado About Nothing (1993) while still a student at the University of Oxford. She then appeared in British costume dramas such as Prince of Jutland (1994), Cold ...read more.
Damn! Kate looks way sexier than Angelina Jolie! That latex catsuit she's wearing in the Underworld series makes my mouth watering!
She is fantastic! Action roles suits her more than any one. She ROCKS in action movies.
She is the most gorgeous, a talented actress very convincing and utterly hot in her action performances. Definitely n°1.
Kate very top class actresses.
5
Mila Kunis

Milena Markovna "Mila" Kunis is an American actress . In 1991, at the age of seven, she moved from the Ukrainian SSR to Los Angeles with her family .
6
Sandra Bullock

Sandra Annette Bullock is an American actress and producer. She is one of Hollywood's highest-paid actresses, and is an Academy Award and Golden Globe Award winner.
7
Carrie-Anne Moss
Haven't any of you people seen The Matrix? Should be number 1, defiantly..
8
Linda Hamilton

9
Jennifer Connelly

Jennifer Lynn Connelly is an American actress who began her career as a child model. She made her movie acting debut in the 1984 crime film Once Upon a Time in America. Connelly continued modeling and acting, starring in films such as the 1985 horror film Phenomena (her first leading role), the 1986 ...read more.
10
Jodie Foster

Alicia Christian "Jodie" Foster is an American actress, director and producer who has worked in films and on television. She has often been cited as one of the best actresses of her generation.
The Contenders
11
Catherine Zeta-Jones

Catherine Zeta-Jones is a Welsh actress. Born and raised in Swansea, Zeta-Jones aspired to be an actress from a young age.
12
Jennifer Garner

Jennifer Anne Garner is an American actress and film producer. She made her film debut in the comedy Dude, Where's My Car.
13
Famke Janssen

Famke Beumer Janssen is a Dutch actress, director, screenwriter and former fashion model. She played Xenia Onatopp in GoldenEye, Jean Grey / Phoenix in the X-Men film series, Ava Moore on Nip/Tuck and Lenore Mills in the Taken film trilogy.
14
Peta Wilson

15
Jennifer Lawrence

Jennifer Shrader Lawrence is an American actress. Lawrence began her career in television, playing her first major role as a main cast member on the TBS sitcom The Bill Engvall Show.
16
Olga Kurylenko

Ólga Konstantínovna Kurylénko, born Ólha Konstantýnivna Kurylénko, is a French actress and model of Ukrainian origin.
17
Scarlett Johansson

Scarlett Johansson (born November 22, 1984) is an American actress, model, and singer. She made her film debut in North. ...read more.
I can never take her seriously in her action movies. She's like Sigourney Weaver's character in "Galaxy Quest" doing exaggerated action poses.
She's badass & sexy, but I prefer Sigourney.
What is not to love?
18
Michelle Rodriguez

Can I just say: Girl Fight, Resident Evil-1, Swat, Avatar, Fast and Furious... Enough Said! This girl is the epitome of Bad Ass! Don't get me wrong, I love Angie Jolie and Milla Jovovich, but hands down, Michelle Rod, takes the top spot!
19
Jennifer Lopez

Jennifer Lynn Lopez, also known as J. Lo, is an American singer, actress, dancer, fashion designer, author and producer.
20
Uma Thurman

Uma Karuna Thurman is an American actress and model. She has performed in leading roles in a variety of films, ranging from romantic comedies and dramas to science fiction and action movies.
Kill Bill! Need I say more?
21
Sharon Stone

Sharon Vonne Stone is an American actress, producer and former fashion model. She is the recipient of a Primetime Emmy Award and a Golden Globe Award, as well as having received nominations for an Academy Award and a Screen Actors Guild Award.
22
Diane Lane

Diane Lane is an Oscar nominated American actress. Born and raised in New York City, Lane made her screen debut in George Roy Hill's 1979 film A Little Romance, starring opposite Sir Laurence Olivier.
23
Winona Ryder

Winona Ryder is an American actress. One of the most profitable and iconic 1990s actresses, she made her film debut in the 1986 film Lucas.
24
Ashley Judd

Ashley Judd is an American actress and political activist. She grew up in a family of successful performing artists. She is the daughter of country music singer Naomi Judd and the sister of Wynonna Judd.
25
Ziyi Zhang

Zhang Ziyi is a Chinese actress. Her first major role was in The Road Home. She later achieved fame for her role in Crouching Tiger, Hidden Dragon, which was nominated for 10 Academy Awards.
PSearch List