Pierce Brosnan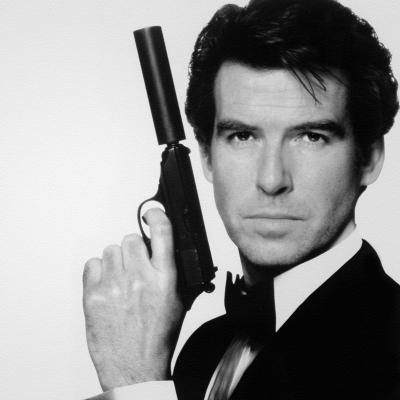 Found on screenrelish.com
Info
Pierce Brendan Brosnan is an Irish actor and film producer who after leaving comprehensive school at age 16, began training in commercial illustration.
Comments
Top
Popular
Newest
Come on people! His style and humour make him the best! He is a handsome and wise looking man and he is the perfect encarnation of james bond! Vote for him please!
Pierce Brosnan is definitely the perfect James Bond, his charm and elegant behavior is one of the reasons. This is also the James Bond I grew up with, and the one I associate with Bond. Golden Eye is in my opinion one of the best James Bond movies, and guess what? Who is the actor of Bond?
Pierce Brosnan is the best actor who played James Bond. He first comes to mind when someone mentions James Bond. Playing it cold and definitely the best of all the other actors who played James Bond. He is the best in the scene when he drives the tank in the suit and sets the tie!
Best James Bond who played the role! It's Pierce! Wise, handsome, exact height, good and charmed looking guy! Accent is great! He is the perfect look of james bond I've ever seen! Awesome
He is the handsomest man ever! Is a perfect Bond character, even better than sean connery! Always good looking, it's just a real man you hardly find in the world.
Pierce Brosnan was the perfect James Bond and it is his films I can watch over and over again. He had the perfect mix of sophistication and humour, humour was over done by Roger Moore. Timothy daulton too serious and George Lazenby just never got it right in any way, his accent was so fake also.

As for daniel Craig, he is a good actor but James Bond? Never! He looks like a builder with no class.

So as the Perfect Bond, Brosnan wins hands down in my opinion.

Sean Connery comes a close second though.
Smartest and the best bond ever in bond series
Look pierce was and will be the best the movie was bad not the actor and he was just a really bond actor ilke no other too bad the only get one really movie golden eye...and daniel is not bad but right now Hollywood advance wayyy to much and make he look so cool and bad ass and great but again more Hollywood then a real actor sorry for daniel fans but brosnan was and will be the best one ever no Hollywood effect need it for he role was the best one
This is the real James Bond. Enough said.
He's who I grew up watching... He IS Bond to me. He just had such swagger and was bad ass. Would of been even better if not for bad writers.
I loved the first movie of his goldeneye it was just amazing and then I like die another day
Brosnan was the best Bond, because he was the typical secret service agent 007. He was sexy, had this special character and fits perfectly in this role... Whenever someone describes James Bond, he wil describe the Bond witzh Brosnan as the actor. He was just the best one
Pierce Brosnan is and always will be my favorite Bond.
He is the whole package: looks, sex appeal, charm, sense of Humor, great in action scenes and can be threatening when its needed.
Plus he the first actor I saw as James Bond when I went to see Die another day in theaters
Simply he played it at best age and he had a mix of best qualities that other guys were having individually.
Everyone is entitled to their own opinion so here's mine...

Pierce Brosnan was the best actor to portray British secret agent James Bond (007). If anyone could put a face to this fictional character created by Ian Flemming, Pierce Brosnan would be my choice.
Pierce brosnan is one of the best looking James Bond
Pierce Brosnan was a great Bond. He the handsome gentleman, the funny charmer who seemed to roll with things and could be a professional killer. His stance in the gunbarrel says it all. It's a shame he got such terrible scripts. - marmalade_skies
Pierce Brosnan is Bond! And Bond is Pierce Brosnan
Pierce Brosnan is the best James Bond with all the qualities... He looks great in action as well as romantic scences... His attitude, style, looks is just amazing... I love all his movies.. What a passionate guy he is... Just love him.
He is original. Best looking and lovable. He is James Bond you would think James Bond was him.
He is just picture-perfect. None other bond's showcased the class he had. The best bond ever
E is the best such a good actor he makes me laugh smile the best bond no one can beat him I do like the other bonds but pierce Brosnan is best so far love his movies makes them his own best James bond over which he was still James bond!
I've always loved him. As an actor and as a man. From Remington Steele to eternity...
Pierce brosnan his look perfect for james bond role
In my opinion Pierce had style and a lot of charm. I say he is the best bond.
Related Lists
Best Pierce Brosnan Movies
Best Pierce Brosnan Movies of the '90s
Most Underrated Pierce Brosnan Movies
Best Pierce Brosnan Movies of the '00s
Best Bond Films with Pierce Brosnan as Agent 007