Angel Locsin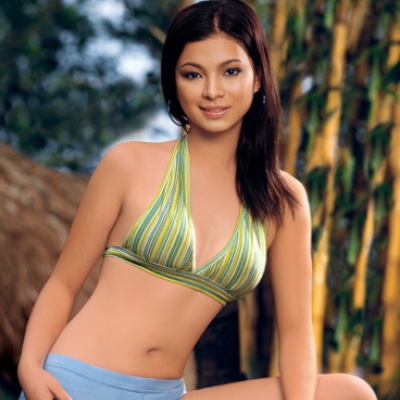 Uploaded by venomouskillingmachine
Info
Angel Locsin is a Filipina television and film actress, commercial model, film producer and fashion designer.
Comments
Top
Popular
Newest
She performs very well in acting. In fact, she received 4 acting awards this year (june 2013), one of which was LUNA which is the most prestigious award giving body in the PHIL., and was hailed film actress of the year for 2 consecutive years from 2 of the most prestigious award giving bodies in the Phil. And was nominated in EMMY awards which by the way no actress or actor of her generation ever achieved. She's very beautiful inside and out.
I wasn't a fan before until I saw one of her movies. It was superb! She acts from the heart and soul. She made me really cry. The most-awarded actress in her generation. I'm so happy for her for receiving 4 Best Actress Awards in just one movie. That is, of course, just in addition from the previous awards she's received. She was also nominated in EMMY which really made me proud of her. And whenever I watch her, I can't help but telling myself "This person has a kind heart. No matter what award she gets, her true award has always been given to her. Her pure heart.".
I really like here specially in acting shes great she deserve to be the number 1 best actress in philippine television. I'm hoping that she will do a movie together with judy ann santos there both good in acting so please to all the producers let them combine in one movie.
Very versatile and talented actress. She really excel in her field.
She won 5 times BEST ACTRESS AWARDS IN JUST ONE MOVIE (ONE MORE TRY)
IN 5 DIFFERENT MAJOR AWARD GIVING BODIES. ANGEL HAS A TOTAL OF 12 BEST ACTRESS AWARDS EXCEPT HER NOMINATIONS TO OTHER AWARD GIVING BODIES AND HER NOMINATION AS BEST ACTRESS ON EMMY'S AWARD.
She must be on the top. Because she can portray any role which always marked to televiewer! She's such a brilliant actress of this generation. No wonder why she was always nominated even international. Angel Locsin is the best for me among the rest on this list. That's why she should be on top. She deserves it! Thumbs up for it! - zyrene_romar
She is a very good actress, a very convincing actress " Primetime Queen " You are #1
angel locsin, nominated in EMMY AWARD that nobody in this generation can reach that kind of achievement.. so she must be the best ACTRESS..

Your the number 1 Philippine actress that we salute you. No one can replace your place as the a number 1. A perfect, versatile actress that every leading man dream to be her leading lady. We admire you so much for being such a humble person.
Simply to define she's the best amongst the rest...
SHE'S THE MOST VERSATILE ACTRESS FOR ME THAN JUDY ANN SHE REALLY BLEW ME AWAY IN HER ACTING SKILLS THAT'S WHY SHE'S AWARDED MANY TIMES AS BEST ACTRESS IN HER MOVIE PORTRAYAL SHE HAS SUPERB ACTING TALENT AND VERY MUCH VERSATILE.
Angel is the Primetime Queen of Philippine Television...She got many awards not only in the Philippines but also international...She deserves to be awarded as Best Actress in the Philippines...Two thumps up for her...
Love You Angel..
Angel is the best, whether its action, drama, comedy, horror, fantasy, etc. Furthermore, she is the dream leading lady of every male celebrities in the land. The only Philippine actress nominated in EMMY awards and had won several best actress awards by different awards giving bodies.
As always she's the real number one
ANGEL LOCSIN SHOULD BE THE ONE TO WIN OR ON TOP ON THIS BECAUSE SHE PROVE IN THE SHOWBIZ INDUSTRY HOW TALENTED SHE HAS AND A TRUE BEAUTY OF FILIFINA.SHE WIN MANY SEVERAL AWARD OF BEST ACTRESS AND HER MOVIE BECOME BLOCKBUSTER NOT FLOP MOVIE LIKE MARIAN RIVERA.eVERY TELESERYE OF HER SHOW IS ALWAYS IN TOP RATING AND MOST OF ALL ONLY ACTRESS IN THE PHILLIPINES TO BE NOMINATED IN INTERNATIONAL EMMY AWARDS...SHE SHOULD WIN THIS RACE OUT OF HER ACHIEVEMENT IN SHOWBIZ INDUSTRY AND MARIAN RIVERA SHOULD SHOULD NOT BE ON THE TOP BECAUSE SHE don't DESERVE THIS AND SHE don't PROVE ANYTHING IN THE SHOWBIZ INDUSTRY LIKE HAVE A FLOP MOVIE, NO T.V. cOMMERCIAL WITHN 3 YEARS UNLIKE ANGEL LOCSIN HER MOVIE ALWAYS BLOCKBUSTER AND TOP ENDORSER..
She acts like a real angel from heaven, beautiful inside and out. She really deserve all the blessings she have now and will have in the future. She always give her best on everything she do on or off pa ito so she really deserve to win this award... Good luck Angel
Amazingly talented, versatile, hot and sexy, total package.
She deserves to be the best actress in this generation because she can play any kind of role..
Angel locsin is one of the best actresses in the world that's why she must be on top as best actress in the philippines
I think shes the best because she acts the best look the best and talk the best! Laugh out loud :) but yeah really like her! Esp in immortal!
She is truly a PINAY who always wear a smile wherever she go. She keeps smiling to other people because she is a really humble person. And the more you look at her face the more you'll see that she is really an ANGEL inside and out. She is a good actress and perform very well.
She is definitely the true best actress in the Philippines.. Why? Simply because she already..
Ain't no doubt.. She's on of the best actresses in her generation...
She's truly an amazing actress of her generation, very versatile, and the one and only action drama queen. Beuatiful inside and out that is why every role she portrayed is truly believeable.
I am not her fan but I think she's the best of all actresses I know. She can handle all roles such as drama, action, comedy, fantasy, catfights, and other. She can act it with all her best. She's truly beautiful because of her angelic face, big heart for the less unfortunate, helpful, patient, talented, sexy. And for that, I really really admire her. Angel is the best and no one else. She defines all the meaning of a versatile actress - Janinelesley