Best Animes of the 2010s
The Top Ten
Fullmetal Alchemist: Brotherhood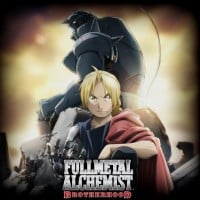 Fullmetal Alchemist: Brotherhood is an anime series adapted from the Fullmetal Alchemist manga by Hiromu Arakawa.
The best one here. Started at 2009 and ended around July 2010. I think Soul eater ended in 2009 only, although the dub DVDs were released only in 2010(but then we shall still call it a 2009 anime). Black butler has three seasons, one produced in 2008, one in 2010 and one is currently going on.
It is so emotional. I felt so many emotions while I watched this
One of the all time best. Very well written.
No doubt about it here. one of the best animes ever made. although I liked puella magi madoka magica and AoT as well.
Sword Art Online

Sword Art Online is a series of Japanese light novels written by Reki Kawahara and illustrated by abec. In 2012, it received an anime adaptation produced by A-1 Pictures and the SAO Project, and is directed by Tomohiko Ito . The first season is divided into two arcs known as "Aincrad" and "Fairy Dance". ...read more.
SAO is good, but I don't think it deserves to be #1.
Like it but SAO 2 (GGO) is a lot better
I love both Sword Art Online and Sword Art Online II!
Blue Exorcist

Blue Exorcist is an anime series directed by Tensai Okamura and produced by A-1 Pictures, which adapts the Blue Exorcist manga written and illustrated by Kazue Kato.
Durarara!!

This is the best anime ever! There should be a season 2! This might even replace Bleach and Naruto if they keep making episodes!
This should be on the top on every anime list on this website.
Not even close, Durarara is the best, next list please!
InuYasha: The Final Act
A very beautiful conclusion to my favorite childhood anime.
Puella Magi Madoka Magica

Puella Magi Madoka Magica is a 2011 Japanese anime television series produced by Shaft and Aniplex, directed by Akiyuki Shinbo, written by Gen Urobuchi, music by Yuki Kajiura, opening sang by ClariS, ending by Kalafina (sometimes by the seiyuus) and original characters by Ume Aoki.
Attack on Titan

Attack on Titan, also known as Shingeki no Kyojin in Japanese, created by Hajime Isayama, is one of the most popular Japanese anime series to be released. It was first watched in Japan during 2013 and was dubbed in English to be watched in America in 2014. It is best known for its emotional moments, ...read more.
Attack on titan gives you the story of humanity pushed back by titans and the struggle they go through. It is one of my favorite anime's and has wonderful characters and good development over time
My favorite anime of the time with about everything you want out of a anime
Deadman Wonderland

Deadman Wonderland is a Japanese manga series written by Jinsei Kataoka and illustrated by Kazuma Kondou, who also wrote and illustrated the Eureka Seven manga, and published in Shōnen Ace since 2008.
Great opening, Great story, Only 12 episodes, Shiro is so cute and insane.
but...
Steins;Gate

Steins;Gate is a 2011 anime television series created by the animation studio White Fox based on 5pb. and Nitroplus's 2009 video game of the same name, and is part of the Science Adventure franchise.
This is an AMAZING anime. It's about time travel - a character-driven sci-fi anime that does a wonderful job on the characters. This anime will make you laugh at the bantering between the characters, make you cry at the serious twist halfway through the series (and again near the end at the sacrifices the main character had to make, and again at the wonderfully executed romance). I recommend it. To practically everyone.
Angel Beats!

Angel Beats! is a 13-episode Japanese anime television series produced by P.A.Works and Aniplex and directed by Seiji Kishi.
One of the best animes yet
The Contenders
Hunter x Hunter

Hunter × Hunter is a manga franchise created by Yoshihiro Togashi. In 1999, Hunter × Hunter was adapted into a 62-episode anime television series produced by Nippon Animation and directed by Kazuhiro Furuhashi. The show premiered on Japan's Fuji TV and ran until 2001. Three separate original video ...read more.
How are black butler and SAO been mentioned but not this masterpiece.
Best anime ever such good story uniqe characters like hisoka or killua
This needs to be in the top three
Black Butler

Black Butler is a Japanese anime television series produced by A-1 Pictures and premiered in October, 2008.
One Punch Man

One-Punch Man is an ongoing, online, web comic, which was later adapted into a Manga and Anime series . Created by ONE in 2009, It gained popularity, and soon after, went viral in 2012, surpassing 7 . 9 million views . One-Punch Man (OPM for short) focuses on the protagonist Saitama (Who is named after ...read more.
Clannad: After Story
Future Diary

Future Diary is a Japanese manga series written and illustrated by Sakae Esuno. The plot surrounds a battle royale in which each combatant has a diary with entries from the future. The manga was serialized in the Kadokawa Shoten's Shōnen Ace between January 2006 and December 2010.
Boku No Hero Academia

My Hero Academia is a superhero manga series written and illustrated by Kōhei Horikoshi. It has been serialized in Weekly Shōnen Jump since July 2014, and 20 volumes have been collected in tankōbon format.
Black Rock Shooter
Hell yeah black rock shooter is the best anime character EVER nobody beats BRS
BRS for the win she beats all Animes!
BLACK ROCK SHOOTER ALL THE WAY. Ever seen a girl wearing black, has a robotic arm, and has a blue flame of eternal life (that's what I like to call it) in her eye? This girl is called BLACK ROCK SHOOTER. And she will make herself known.
Do you ever see a girl that has the ability to light a flame in her eye ultimately kick butt?! BRS is just too epic to not watch... WHO CAN HOLD A CANNON THAT'S ALMOST 3/4 YOUR SIZE?
Fairy Tail

Fairy Tail is a manga franchise created by Hiro Mashima. The manga has been adapted into an anime series produced by A-1 Pictures and Satelight, which began broadcasting in Japan on October 12, 2009. Additionally, A-1 Pictures and Satelight have developed seven original video animations and an animated ...read more.
My Hero Academia

Tokyo Ghoul

Tokyo Ghoul is a Japanese dark fantasy manga series written and illustrated by Sui Ishida. It was serialized in Shueisha's seinen manga magazine Weekly Young Jump between September 2011 and September 2014, and it has been collected in fourteen tankōbon volumes as of August 2014.
Naruto Shippuden

Naruto: Shippuden is the ongoing sequel to the original Naruto anime and covers the Naruto manga from volume twenty-eight on. The TV adaptation of Naruto: Shippuden debuted in Japan on February 15, 2007 on TV Tokyo. It is developed by Studio Pierrot and directed by Hayato Date.
It is the greatest anime according to my point of view.. This is better than Naruto Because Naruto is too booring.. All the secrets are revealed in Shippuden.. Naruto Shippuden is also the greatest anime of 2010
It is the Greatest Anime of 2010 according to my point of view.. It is better than naruro.. Naruto is too boring.. All the secrets are revealed in Shippuden only..
NO.28 are you kidding me? It has to be at no. 1
It's the best ever!
Best Anime I've Ever SEEN!
Mob Psycho 100

Mob psycho 100 is an excellent anime with easy to understand concepts and interesting characters and the struggles they go through. They also manage to fit a whole lot of comedy into the anime, which never fails to make me laugh. My favorite thing about it is mobs commitment to protect his brother and the ones he loves.
Fate/Zero

Fate/Zero is a series of light novels written by Gen Urobuchi, illustrated by Takashi Takeuchi, and is a prequel to Type-Moon's visual novel, Fate/stay night. An anime adaptation of Fate/Zero was jointly produced by Aniplex, nitroplus, Type-Moon, Seikaisha, and Ufotable that ran from 2011-2012.
Bruh all these newbs in the comments don't know this anime
in fact don't watch it its too symbolic for you all
Jojo's Bizarre Adventure

Jojo's Bizarre Adventure is an anime and manga franchise originally written by Hirohiko Araki. It centers around the perilous journey of the members of the legendary Joestar bloodline.
Highschool of the Dead

Highschool of the Dead, known in Japan as Apocalyptic Academy: Highschool of the Dead, is a Japanese manga series written by Daisuke Satō and illustrated by Shōji Satō.
PSearch List