Best Arsenal Players of All Time
The Top Ten
1
Thierry Henry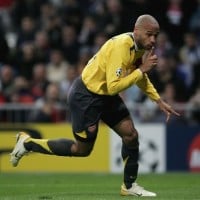 Thierry Daniel Henry is a French professional football coach and former player. He is the second assistant coach of the Belgium national team.
Like an electric waterbug skimming around the pitch always able to find the better shooting angle... so fun when ball at his feet!
Never will we see a player of his ability in the EPL for a long time
Yes, those are EPL stats... full stats is 226 goals in 364 apps... breathtaking and definitely the best of all time for the Gunners
I remember a game when the team were not playing well, even the fans were booing. I was in the North bank about 4th row and shouted to Henry 'Can't you do something to shut these idiots up? '...next thing he scores 2 goals and shouts back 'How's that, will that do? ' I laughed and shouted back 'It's a start we may need another...' But there was a big grin on my face and Henry always put a smile on my face when he played. He also never gave up...He had the right temperament, the right attitude...and the right foot for the job even when it was his left!
2
Dennis Bergkamp

Dennis Nicolaas Maria Bergkamp is a Dutch former professional footballer, who is the assistant manager to Frank de Boer at Ajax.
Bergamot could influence the game so, much creating space and opportunities for his team mates, he was the key ingredient of the great arsenal teams
Dennis helped me to love Arsenal. I love Henry, but he wasn't original. Talented, but still an ordinary forward. Dennis had extreme intelligence, ball control, and athleticism. He always got the ball where he wanted it (diving header pass in front of goal, brilliant 360 move vs Newcastle, etc). His vision and weight of passing were incredible. He did things no one has seen before, and shaped Arsenal into their Invincibles squad (alongside Wenger). An underrated legend.
his skill makes henry look like nothing. master of the long range shot too.
Without dennis no goals for thierry...
3
Mesut Özil

Mesut Özil is a German professional footballer who plays for Premier League club Arsenal. He is considered to be one of the best players in the world. Özil plays mostly as an attacking midfielder, but can also be deployed as a winger.
I was so upset when Real Madrid sold ozil but if he had to go I'm happy it's to arsenal
It may be to early to say for sure, but Ozil may end up being the best player to ever play for Arsenal.
Record signing 42.million sheer class
Amazing is all that I can say
4
Patrick Vieira

Patrick Vieira is a French former footballer and current head coach of New York City FC, who played as a midfielder.
I think he controlled play better than any other arsenal player and he really helped the team because he had very good leadership, he was an amazing tackler and he never steamed to be tired, he had a good shot and could dribble well to.
An amazing player every manager would want him in there team!
Cracking plurr
5
Tony Adams

My friends dad lol
The kind of hardman centre halves that are missing from todays game. Also a fantastic leader. If we had him and Sol Campbell back in the line up our defensive worries would be history.
Mr Arsenal! Stayed with us his entire career like a true footballer and he was just the defender we need today.
6
Ian Wright
How is this man so high up the list we only won the league when he got dropped for every goal he scored the team missed out on scoring two.
Should not be so high up. Won the league just before he came and won it again a few months after he was dropped
He scores lovely goals
2nd highest goalscorer of all time for us and damn they were crackers! Love em!
7
Robert Pires
My favourite player of all time. His dribbling, passes, penalties and not to mention crossers were legendary!
Arsenal's greatest ever winger, so consistent.
Lovely player
8
Aaron Ramsey

Aaron James Ramsey is a Welsh professional footballer who plays as a midfielder for Premier League club Arsenal and the Wales national team.
JUST AMAZING 100987763663 times better than Wayne gooney
He is the best
9
Alexis Sanchez

Alexis Alejandro Sánchez Sánchez, known as Alexis Sánchez or simply Alexis, is a Chilean professional footballer who plays as a forward for English club Manchester United and the Chilean national team.
No way that Ozil should be ranked higher than Alexis. Without Alexis this current Arsenal team would be nothing, he is the heart and soul of this team!
Alexis is one of the best football player in the world. Alexis Sanchez sometimes not played good but even Eden hazard but in my opinion I say Sanchez is better
Alexis Sanchez is a very good awesome player. He is the best
He should be way higher on the list, he is an awesome player. May not have had the best season but still has a big impact on Arsenal
10
David Seaman

The Contenders
11
Liam Brady
World Class, First player to go overseas and actually win something
Had he been playing now he would be worth more than Pogba. Pure genius. An intelligent player on and off the pitch.
Sheer class...
The best...
12
Robin van Persie

Dutch footballer from Rotterdam born on August 6 1983. Currently plays for the Turkish club Fenerbahçe S.K and The Netherlands national football team as the number 11. Robin Van Persie is known for playing for Arsenal and Manchester United, though his most notable goal was his header against Spain ...read more.
he is good at dribbling and always scores penaltys
Van persie van persie robin is his name
Better than Walcott never misses target
Over-rated. Shouldn't be this high on this list. He's only up here because young people can't remember the legendary players of old.
Oh van the scum was a good player
13
Santi Cazorla
Best name for the crowd to sing
Creative genius, plays evenly with both feet.
Best assist in at all times
14
Cliff Bastin
No need to explain. The clubs all time top scorer for decades
15
Cesc Fabregas
NO. 8? What? Number 2! Nobody else that Arsenal has ever had has the vision that this boy has, passing, almost everything... I agree that Henry is number 1, nobody comes close to him... and also Pires and Vieira should be higher up...
Golden boy award at age 19. Captain when he turned 20. Best creative midfielder that Emirates stadium has ever seen. Miss you Fabregas. True gooner!
Cesc Fabregas should at least be number 2 he is the best passer in the world and I agree dat henry is up their but the player with the most vision does not deserve to be 12 place. He started being captain at age 20 that is impressive
Why didn't we buy him back?
16
Jack Wilshere

Jack Andrew Garry Wilshere is an English professional footballer who plays as a midfielder for Bournemouth, on loan from Arsenal, and the England national team.
Don't vote if you are know nothing about arsenal.
Have you ever watch this guy? Have you ever watch wilshere on the pitch?
16? LIST OF JOKE.
He is amazing he is the best player for arsenal and England on his day he is epic
Why is jack going to go bust
Good best player
17
Freddie Ljungberg
He is really fantastic durin his 1st and second year..he deaserve to be among the best..
HE HAS LIGMA
18
Laurent Koscielny
Best best defender in Arsenal
I think he is the best arsenal player of all time... Indeed he is the defender I respect most in pl
19
Petr Cech

Petr Čech is a Czech professional footballer who plays as a goalkeeper for English club Arsenal and captains the Czech Republic national team.
Amazing goalkeeper
He is the best he does his job
20
Sol Campbell
Why isn't he higher. Probably the best defender at arsenal ever
Your mum gay
21
Olivier Giroud
Amazing player, deserves more appreciation.
Great hair but needs to score more often!
Great hair but need to score more
22 Lee Dixon
23
Theo Walcott

Theo James Walcott is an English professional footballer who plays as a forward for Premier League club Arsenal and the England national team.
This guy is one of the fastest athletes I have ever seen.
24
Nwankwo Kanu
Kanu remains one of the best. should be way higher on this list
Surprised, walcott, Ozil and others are placed above Kanu
25
Ted Drake
Old school hardman. They don't make 'em like this any more.
PSearch List