SHINee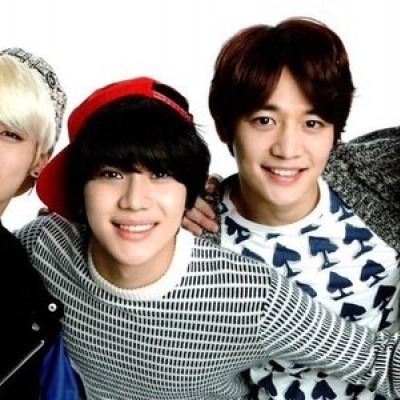 Uploaded by DynastiSugarPop
Comments
Top
Popular
Newest
SHINee is amazing group, I like song and dance of them... We love you so much.
SHINee is a totally great group! They're so funny, and I want SHINee be number one this time!
I really love shinee because they're the first kpop group I listened to and they are my most favorite out of all the sm. I'm a very big shawol and always will be one! Shinee fighting! They care a lot bout each other and they love all their fans!
SHINee is a unique group. SHINee members has their own talent. I like them so much
SHINee, We (Shawol) always love U. SHINee always in my heart. SHINee is the best!
SHINee jjang, SHINee daebak! Lee Taemin Lee Jinki Kim Jonghyun Kim Kibum Choi Minho best detectives ever ~
SHINee! They Are So Great And Amazing! Love Them.. Hope They Will Win
Keep spread our love for the shining boys
Lol cherrybelle is in front of this
SHINee is an awesome group. Each member has his own charms, talents. They're unique. They have real talent. They can sing live very well. Love them and proud to be a Shawol!
All SHINee members are great, not just one. They all have unique personalities that fit with each other and they can come together as 1 not 5. haha Onew and his love for chicken, Key with his fashion sense, Jonghyun with his cute jokes, Minho with his flaming charisma and our maknae teamin who makes cute mistakes but captures your heart with his manly dances. They are such an amazing group and I can keep going on forever as to why - with their heartwarming smiles and on top performances. They truly deserve the name CDNee because they can beat any MR recording. SHINee is just DAEBAKK!
SHINee will be shining brightly always, and their fans "shawol" will always love and never leave them, HWAITING uri shining boys,
They are really multi talented group. I'm proup to be a shawol and lives in shinee world.
Especially Onew that person who the most I like. Go go go! SHINee!
SHINee is The Best Boyband in the World♡ Lee Jinki Kim Jonghyun Choi Minho Kim Kibum Lee Taemin are the king in my heart
SHINee is the best boyband, they're always in shawols' heart. We will always support them no matter what, SHINee daebak!
Lee Jinki, Kim Jonghyun, Kim Ki Bum, Choi Minho & Lee Taemin fighting!
SHINee jjang!
Related Lists
Best SHINee Songs
Best SHINee Concepts

Top Ten Shinee Dancers

Best SHINee Members