Keane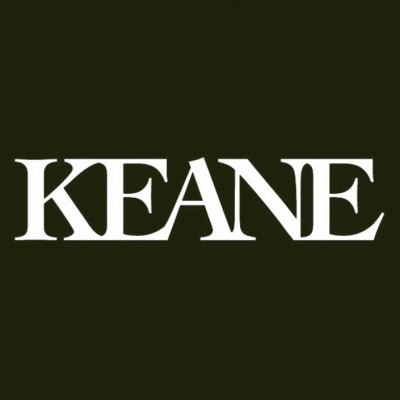 Uploaded by BKAllmighty
Info
Keane are an English rock band from Battle, East Sussex, formed in 1995. The group currently comprises Tim Rice-Oxley, Richard Hughes, Jesse Quin and Tom Chaplin.
Comments
Top
Popular
Newest
Their music is the best in my opinion.
Very pleasant to hear, and if you really listen to it, it has this ability to reach your heart somehow. And it's very melodious, so you never get tired of it (I noticed that even after listening a thousand times to the same song I could hear a new melody in the background I wouldn't have noticed before! ). Besides, some lyrics are priceless, Tom has the best voice you can expect from a singer (and sometimes even goes higher than your expectations).
Also they are AMAZING live! They are not afraid of trying new things (each album has his own sound/theme). And they're really lovely people (from what I've seen) and are close to their fans.
May not be the most popular but they are the best band I've come across in a long time. And its not just me who likes Keane, My friends and my family all love Keane. If you look at their songs they have a great variety from traditional songs like Somewhere only we know to more rock songs like Call me what you like. Truly great band!
In my eyes Keane is the Best band to ever exist and you can't beat them they're just too good, I can't stop listening, I have all of their albums and all of their B-Sides and I listen to them everyday.

P.S. can't wait for Keane's new album coming out on 7th May and debuted on Jimmy Kimmel Live
Keane must be the only band nowadays that it really is all about music. They don't care about fashion, or other bull as many other bands do. Their lyrics are written straight from the heart, and Tom Chaplin's voice is beyond amazing.
The best British band (alive, so I don't put Queen and the Beatles in the same category) for me! Keane reinvented piano-pop and for that I will be eternally grateful to them Tim Oxley-Rice is a God and Tom Chaplin's voice is magical.
Keane definitely deserve their place at number one! Tim Rice-Oxley writes the most amazing lyrics that resound with your soul and the most gorgeous, spell-binding melodies to carry his lyrics through. Tom Chaplin has an absolutely brilliant, honest voice and has such range and power. It's gorgeous without needing any autotuning, unlike most vocals today. Richard Hughes is fantastic on the drums, coming up with gorgeous beats behind the music and
They deserve it. They made one of my all time favorite albums, Hopes & Fears which never gets boring. Each new album brings something different, and although Perfect Symmetry for me wasn't that great I still love them today, with each new reocrd they are changing but still keep that sound that we al fell in love with all those years ago. I hope they continue for quite some time to come.
Keane are amazing! They deserve more credit for their albums, songs and lyrics. Tom's voice is the best voice I have heard and that is very rare to find especially when your in a band. Tim, Rich and Jesse are special musicians! Keane love their fans so much! They are the best band in the UK! There amazing!
Keane is a simple, underrated band with smooth songs that just make you feel good. I have to stop myself from keep repeating their songs because I'll get burned out! They're such a good band, and I hope to see them in concert.
I like many of the bands listed in here and have seen them live too. But nothing compares to Keane's feeling, live performance and magical rhythm. Well deserved the No. 1 position.
They have amazing songs, beautiful lyrics and an amazing songwriter, one of the best voices ever, great musicians. They're concerts are always amazing, they always have a great connection with the crowd. - BlueOrchid
The first time I hear Keane on the radio I went nuts trying to find who sang such beautiful songs. Keane is the only band that has touched my heart... They should not be underrated!
Great lyrics and I love Tom's voice. Tim Rice-Oxley is one of the best writers when it comes to lyrics. They keep reinventing themself and with the new album they're kinda back at the feeling of the first album, but again it's way different. Gotta love those guys and they deserve to win the title of best band of the UK!
THe amazing lyrics and sound make it the perfect band from on the entire word actually, love the piano on them and actually inspired me to learn how to play it
Oh, wow! Keane are on top! They really deserve it! They're so kind, modest, honest.. I just love them from the bottom of my heart.
I'm from the US and found these guys listening to a collection of Indie Rock. By far the best band I've heard in this genre!
I think they are incredibly amazing! The voice, the lyrics, the sound, not all the bands share the same message with the same honesty they do.
I love them so much, their music inspires me and makes me so happy. They deserve this first place. Keane is forever!
Keane are beyond doubt the best band EVER. Toms voice is so beautiful, and he can sing anything! Tims writes such amaizing lyrics, every album is an absolute gem, when you listen to them over and over they become part of your soul. Their critics are VERY wrong about them. Their fans know how truly great they are. I listen to them everyday and love to watch old concerts on you tube, their performances were alway outstanding vocally.
Keane are very underrated I think you don't hear many people talk about them but I think there amazing!
Keane really deserve the top spot! In terms of music, lyrics and vocals, they are definitely number 1... Tim Rice-Oxley, Tom Chaplin, Richard Hughes and Jesse Quin...
And reaching The Best Of... Stage of their career really shows that they are the best - rahmaabdelrahman
This band have spark of ingenuity you can't find anywhere else. They simply can't be beaten.
The best live band I ever seen, their music speaks to me. Tom has the best voice around today.
Simply amazing band. Unique lyrics, melodies, everything. Keane is simply wonderful.
wow!
keane is the best ever!

i love their music!
are genious! - englishprincess
Related Lists

Top Ten Best Keane Songs
Best Songs On Keane's Under the Iron Sea
Best Songs from Keane's Strangeland