Backstreet Boys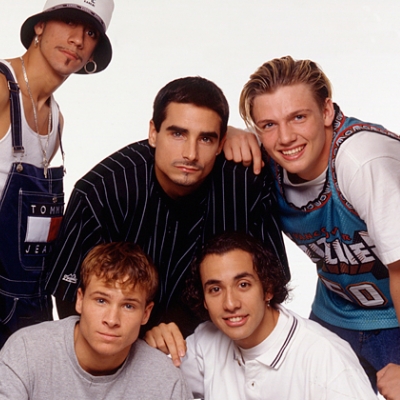 Uploaded by DynastiNoble
Comments
Top
Popular
Newest
Backstreets Back Alright & Their staying like That, They Been through So Much sh*t and they last 20 years together that not only shows they love their fans it shows their dedicated to what they do and how they do it & I am dedicates to them I will be there through thick and thin for them, just like what they do for us fans they also have amazing voices and they are attractive but their looks are only a bonus they also have the confident to be out there and make us sing, I can honestly say their never gonna give up and I'm proud to say that I'm a Huge Mofo Fan & iLOVEYOUGUYS
Make sure you keep the Backstreet Boys at first place, no group can outsold them, sing and harmonize better than them and maintain their level of longevity.
I am currently fifteen years old and Backstreet Boys just had a new single, "Don't Go Breaking My Heart" and an upcoming album, whereas NSYNC, has split up even before I was born.
And don't even start about One Direction, bunch of talentless hacks who harmonize like a bunch of school boys and is so short-lived, you can forget they even exist.
Westlife, Boyz To Men, 98 Degrees, and even The Wanted can make It In the top ten but not higher than Backstreet Boys, I don't think any group will, The Beatles? , overrated, only singing for like a decade, and then wiped from existence.
Long story short, Backstreet Boys will forever be the gods of pop music and they deserved their position entirely.
I saw their concert in Australia a couple of years ago and it was amazing! 7 Albums that are great all in their own way and the fact that they are still (almost all) together producing albums 20 years after starting when so many boy bands have come and gone (Five? Seriously? - I think I must have blinked and missed them cause I only remember 1 song of theirs, say, one hit wonders anyone? ) Backstreet Boys has dozens of awesome songs and top 10 placements - that proves they deserve number 1 always.
Best boyband EVER. They've sold over 130 million records worldwide, they are about to celebrate their 20th anniversary as a group next year on April 20, and they're getting a star on the Hollywood Walk of Fame next year. What more could quality Backstreet Boys as the best boyband of all time? And they sing beautifully, dance wonderfully, have meaningful lyrics and are appealing to people of all ages who listen to all sorts of music. You know they're the best. =)
My favorite band ever, they are the best with their music, and a part of my life with their music, the boys also. I want to meet the Backstreet Boys. They are great. They have to win. If I hear the music, I am happy, I am a 16 years fan of the Backstreet Boys. Brian is my favorite the best singer ever, I love Brian and his voice. He is hot! And beautiful a special person and the Backstreet Boys are a special band!
Backstreet Boys are always my best band, my sweet memories. Can't believe after many years they're still on the stage together. Can't believe my life's changed so much after many years but there's one thing that can never change: my crimson love for our Boys.
Are you for real making that poll?! History of music know only 2 great pop boy bands-The Beatles and the Backstreet Boys. Backstreet Boys sold more 200mil copies, have uncountable n1 hits not a word for the million of fans.
Backstreet Boys=MAGIC! They are The Best Boy Band for me! I love them very much with all my heart, I love all their songs, and I'm very grateful to them for their incredible music. They are really the best-selling boy band of all time with so many fans from all over the world and they definitely deserve this. Backstreet Boys are amazind, talented, natural, very good singers with angelic voices, who sings from the heart! When they sing, they create a magic together, and they give this magic to the fans! They proved that their music is Unique! KTBSPA!
Backstreet Boys are the best! They have had a lot of unforgettable records like As long as you love me, Quit playing games, Shape of my heart and so on and they are still together unlike other boy bands!
I love Backstreet boys they are the best boy band in the whole world. Backstreet Boys fan forever and these are the some of my favorite songs of Backstreet boys: I want it that way, it's gotta be you, Show me the meaning, Don't wanna lose you now and If I don't have you. Again I say I love Backstreet boys forever in my life.
I think backstreet boy is my life. It is the always good songs and their group is very famous boy their song is make me alway happy and very sweet song. They song is sale 130million is the leader of the songs. I always like...
They have been together for a long time, without spliting up, unlike the rest of the boy bands today, there songs are always amazing, saw them in Madrid and they were also amazing live on stage! Love them!
18 years and are still together... More than perfect voices, nothing short of amazing songs, dancing so enviable, truly beautiful videos, concerts inimitable million records sold and more are also beautiful... Need anything else?!?
They are the music! KEP THE BACKSTREET PRIDE ALIVE! I LOVE you GUYS! Since 1997... They are the best singers in the world, they made load of famous and catchy and lovely songs. Music is not the same without them... So vote for them.. Vote for the BACKSTREET BOYS!
Although I was born in the middle of the reign of this phenomenal band, I, too, adore and love them. They are the longest boy band I've seen or heard that was of good morals or just around. The quality was what mattered in their day - not quantity like today. They will demonstrate this seemingly lost way of life very well if they make any new music.
Backstreet boys... Hah. Nothing to say except THEY'RE THE BEST BOY BAND OF ALL TIME!
I listen to them when I was small ( mama always listen to them ) I didn't understand what they're singing when I'm small, when I was big enough, I started liking them so much. The lyrics, the voice makes me smile and a feeling I don't even know...
Better than five! What makes five at the top not only they were minnows but they were never popular around the world like Backstreet Boys, only in britain!
They are the best and their songs make me feel happy - porosoc
People say they're overrated. But if you've lived in their era, heard every single track, and literally related your childhood to them, then no. they are in fact underrated. they have given me the best childhood ever. Their music... has got an actual SOUL in it. you can say the word 'beautiful' every time their songs play. and not to mention, they are evergreen. no One Direction, Jonas brothers, or even The wanted can match up to them. Imagine. they had the same magic even decades ago.
They are THE BEST out there... No one will ever be as successful as them! I lobe my like because the are my life BACKSTREET BOYS forever. KTBSPA!
Backstreet Boys is still my number 1 boy band, because they had a lot of beautiful & sentimental songs. They ran in music industry for over a decade and I think they're the longest male group in history, no one can replace them. The blending of their voice is perfect.
I have been a big fan since I was in the fourth grade. They (Backstreet Boys) care more about quality than quantity of their music which is not what other bands care about. Plus them all being sexy helps. Their voices alone shows their have true talent. I'll be a fan until I pass away laugh out loud. Backstreet Boys #1 baby
Backstreet Boys always being the best boy bands ever.. Even though now we have new music, new artist, even new boy bands such as 1D, BTR, The Wanted etc but for me Backstreet Boys always being the greatest :') They never disappointed their fans.. They always lift up their fans with their musics no matter old or new the song is. I grew up listen to them till now I still support and love them like almost 12 years I've been their fans with proud. So peeps lets KEEP THE BACKSTREET PRIDE ALIVE :')
Backstreet Boys are the complete package they can sing they can dance and they can play instruments... They are all around amazing and I love their music it ranges from tangy dance music to smooth love ballads and many more genres. Backstreet Boys definitely deserves their #1 place.
They got a talent, great sound and a perfect voice, also they're a great dancers. And they have sold 130 million records worldwide that makes them the best boy band of all time... Keep the backstreet's pride alive...