Take That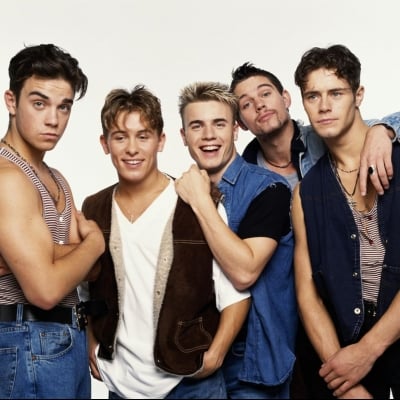 Uploaded by DynastiSugarPop
Info
Take That are an English pop group from Manchester, formed in 1989. The group currently consists of Gary Barlow, Howard Donald, and Mark Owen.
Comments
Top
Popular
Newest
Greatest boy band singer songwriter ever (80's onwards) Gary Barlow check:

Greatest unique boy band personality/entertainer ever Robbie Williams check:

Greatest teen/pop/boy band matinée idol ever Mark Owen check:

Greatest dancer in pop/boy bands ever Jason Orange check:

Greatest hair (the dreadlocks) and organiser of the vocal harmonies who also happens to sing lead on one of the most iconic boy band singles of all time ever Howard Donald check.

Greatest boy band ever who weren't put together in an era full of pop music and vocal harmony groups and had to break down dance/rock dominance to get to the top and for boybands to thrive. This leading to all the vast numbers that followed later in the decade. Take That check.

Diversity of songs: Take That check

Diversity of genres: Take That check

Unique creative tours unrivalled: Take That check.

Over 20 years commercial dominance and relevance: Take That check.

Yep ...more
Take That are one of the few bands to make a comeback and be better and more successful than the first time around. They music and tours are even better than before. They have had the best selling album of the century and have broken their own records for ticket sales and dvd sales as well. They are one of the best live acts EVER - and I've seen many bands over the years. Plus as a bonus they look better than ever too.
Take That are not just band for me. They are my GODS literally said. I can't imagine a day without their song. Patience is my ringtone, Up All Night is my alarm signal, Love Love is a ringtone for my family and When We Were Young for my friends. My only wish is to meet there guys cause they are MINT. TT and I always will. I just want them to tour again and again and again... Please don't leave your fans in tears like you did in 1996 (when I was born)
Well... They're from Britain so obviously everything they do is more challenging than anything by any other boy band on EVERY level... By far! They just didn't make it in America because they have phobias about anything perceived as gay over there (which, for the record, they are not. They just have a huge gay following in the UK amongst the many others). They write their own music and they're the best selling act in the UK ever since The Beatles, what more can I say...?
They have sold millions of live tickets, many records, and landed a lot of hits in the charts of the past and also nowadays. TAKE THAT is the result of 5 great musicians!
BEST LIVE BAND EVER... PROGRESS WAS INCREDIBLE... LOVE TO SEE ALL THE OTHER BOYBANDS HAVE A MASSIVE ROBOT IN THE MIDDLE OF THE STADIUM... AND HALF THESE BANDS ARNT AROUND ANYMORE

And I would but westlife 2nd
TT count just GARY BARLOW ROBBIE WILLIAMS... Just tell me another band counting 2 genius like them... Best UK musician and best UK lyrics writer of their generation so far. The poll should not exist.
They set the benchmark for everybody else. Creatively, they are brilliant. Their shows are a visual spectacular and their music is truly inspiring. Above all, they are highly entertaining.
The best most talented boy band since the Beatles! They are talented song writers, can play instruments, dance and can all actually sing unlike a few other bands. They are all down to earth guys who are true to their fans and always put on an amazing show at their concerts. Just no comparison they're 100% the best :-) xx
Take That came, left and came back better than ever! They give us the best live shows and produce top quality music. I think the other bands on the list are just a distant memory, but Take That is more alive than ever!
Take That are the best boy band, because they are not a boy band anymore. The fact that they've grown up and managed to come back with grown up music makes them very very appealing! And they are able not to take their past too seriously. They're just absolute darlings with awesome songs!
Take That were, and still are THE ultimate boyband. They shaped pop music in the 1990's and have come back and done it all over again. Undisputed champions!
Take that are the best ever, they write their own music which is timeless not just two minute pop songs, they play instruments, they sing perfectly live, what more can I person want from a musicians? And top of that they're al handsome and get better with age.. Bless them
this guys have some of the greatest hits in UK's pop history, plus two of the band members are ROBBIE FRIGGIN' WILLIAMS and GARY BARLOW. What else do you want?
The Best band ever, love them so much. They Got so brilliant stage shows, and they're so attached to their fans. And most important, their music are fantastic, and they're All very handsome guys.
Definitely the best boy band! Such talented singers with lovely genuine personalities! They were top in the 90's and still top of the top now, they appeal to a huge variety of people due to their fantastic music and very good looks!
Take That are THE best band EVER! If you haven't gone to a Take That tour you are seriously missing out! ! Gary Barlow is a musical genius! Take That will Forever be my number one favourite band!
They are the greatest boyband in the world! They can wrote almost of their songs and their gigs were like an amazing shows. I've never seen such at tented guys as Take That, they must be British treasure.
Best boy ever! Amazing lyrics, amazing songs, 5 BRILLIANT GORGEOUS TALENTED MEN and the best LIVE act yet... That surely is enough to get them to number 1!
Take That is the best boy band ever! And they are more than this! They're 5 men who only want to create good music and they've left all bad things in the past! They're amazing in the CDs, but they're also amazing in live concerts!
Take that are the best band, four gorgeous sexy men who can actually sing live. They also put on amazing live shows I love you take that they deserve to win this because they are hardworking men
Take That are good singers, dancers and everybody can play more than a musical instrument. They communicate emotions and feelings. What more? They're PERFECTION.
They are the best seen them live for 3 times ane love them since 1993 until the end of my live How deep is your Love - Babe - Patience - Robbie Howie Mark Jason
Take That are the biggest and best since The Beatles, Gary Barlow is the best british Singer Songwriter ever and him and the boys make TAKE THAT AMAZING!
Best live acts; every concert getting better and better! Beautiful songs, beautiful dances and beautiful men... What else do you want to have in a band!