Westlife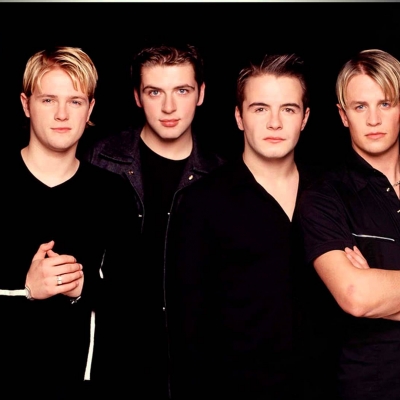 Uploaded by DynastiNoble
Info
Westlife were an Irish boy band, formed in July 1998 and disbanded in June 2012. Originally signed by Simon Cowell and managed by Louis Walsh, the group's final line-up consisted of Nicky Byrne, Kian Egan, Mark Feehily, and Shane Filan.
Comments
Top
Popular
Newest
WESTLIFE, I was still a child when they are popular worldwide. Until now, I'm 17 years old, they are still popular, everyone talking about them, everywhere I heard their songs. And every people around the world know Westlife.. 23rd June Fans from nations came to Croke Park to say good bye. But WESTLIFE said 'this isn't good bye'. And then everyone start crying, Fans and WESTLIFE themselves.

It's too hard to forget the amazing 14 years that Westlife gave to us. For me, for us, WESTLIFE is still ALIVE. Long Live WESTLIFE. We always support Shane, Kian, Nicky, Mark, and Brian. :)

We LOVE you WESTLIFE - Shane, Nicky, Kian, Mark, Brian.
They are forever the best of the bests. No one can surpass what they had achieved as singers as they only aim for perfection and also for the sweet smiles which serve as gifts from the fans they love. Hearing their voices is like listening to how golds and diamonds twinkle. Seeing them smile is like the next most beautiful thing to a rainbow. They deserve to be hailed as the BEST BOY BAND EVER, SO PLEASE DO VOTE FOR THEM.
We know Guys That WESTLIFE is Always The best.. ! Cheer Up and Thumbs Up for them guys Because they Have many songs that touches our hearts.. Westlife have a COMPLETE PACKAGE IN SINGING... Angelic voice like MARK.. Rockstar Voice like NICKY.. Simple Voice From KIAN.. And THE VOICE THAT MELTS YOUR HEART, He is SHANE! Even though Bryan Leaved Westlife In Past yrs. The Boyband stayed STRONGER, SEXIER, AND AMAZING BOYBAND OF all time!.. Vote Westlife Folks!, Thanks )
Please READ

The Beatles are the best and they're the only group that surpassed Westlife on their number ones. In chart history, the acts that have the most #1s are: Elvis (18), The Beatles (17), Cliff Richards and Westlife (14).
BUT technically, The Beatles isn't a boyband, but a band, which makes Westlife the best boyband. Westlife even got #1s in the shortest time in history, more than 3 months quicker than The Beatles. Even though Westlife haven't cracked America, the biggest music market in the world, and they haven't sold 130 million like the Backstreet Boys, they have 5 Awards for Best International Group and 8 Awards for Best International Act. Backstreet Boys only have 4 awards for Best International Group. They are the only act to have 7 consecutive #1s, which made them in the Guinnes Book of Records. Westlife have performed for the Nobel Peace Prize Concert twice, President Obama, Queen Elizabeth II, the Sultan of Brunei, and Pope John Paul II. UNTIL NOW Westlife ...more
Nothings better than them.. That's why I keep on holding on to the prayers of westlifer's that they will never be disband...

WESTLIFE WILL ALWAYS BE WESTLIFE!

After all.. They showed to the world what they got.,

Their songs feels like I'm nowhere that brings to me the hidden world of music.. THANK YOU WESTLIFE FOR EXISTING TO THIS RUDE AND CRAZY WORLD, BUT WITH YOU IT MAKES THE WORLD SO BEAUTIFUL AS GOD CREATES IT..

THANKS a lot... MORE SONG, MORE YEARS, AND WESTLIFE FOREVER
Amazing and have inspired so many people of all different ages even the elderly! I thought only cliff richard and rod stewart could do that! Love shane loads (kissed his cheek and got my arms signed off all of them when I was 10! And my sister and her friends licked my cheek for hours only to remember that I kissed him) love them! X
I Do love WESTLiFE!... Promise! Love ya! They are the BEST among the rest! *Boom! I love each and every one of them... Shane filan, nicky byrne, mark feehily, kian egan, and even brian mcfadden... That's why I want them to have a reunion concert before they finally say 'goodbye' as a 1998-present Irish lads band!
Westlife is the best! They are like my lighthouse :) whenever I lost my way, I always think of them and always manage to get the inspiration from them so that I can carry on with my life! They cheer me up with their amazing voices especially Mark! I am so grateful and happy that I am one of their fan :) though I never attend any of their concert, but I believe that one day they are gonna reunite and have a little concert.. And I am sure that I WILL BE THERE! This is my dream!
Westlife are splitting up after there greatest hits/farewell tour this year and would give them a great opportunity to perform to such a big crowd of people again and would also give them a amazing sign off for there split at the end of this year, a westlife fan and always a westlife fan, LOVE WESTLIFE! - jessicaamypeoplle
W-ell, their songs are very addicted and interesting
E-ach day, I browsed youtube to search for they music videos
S-ince I'm younger old now I'll bring it to my oldest years
T-hey musics are very attracted and they also
L-oud and clear beautiful voices I hear it from them
I- will always says that the band westlife will comeback soon
F-orever and ever and still their songs beautiful and the best
E-ver since I grow old still their music for me is the best!
Westlife is the best, and it's my dream to meet them in person or sing with them, they're great, and I'm from the Philippines, westlife you're the best of them all, looking forward to meeting you,
Westlife. A very simple boy band. Or is it? Just one song, and you cannot help that feeling of thirst and that feeling of wanting more. All of their songs are very touching, very realistic, it seems that they themselves have felt that specific moment, that specific feeling, that makes you want to sing with them too. I love them. And they are my everything. Westlife is my life.
Westlife is really the best band ever.
Had many albums.
The other bands disband due to fight but westlife disband because the really don't have time with their families due to many concerts.
Westlife: being on top is so hard.
The band doesn't only have good looks. They are also talented. They make great covers and their original songs really moves hearts. They can make people realize that music is an art. Not just a form to amaze or entertain. It's an art that moves everyone from the inside. I really wish I knew them before they disbanded. Love their songs.
They've got it all!
(1) The very handsome looks!
(2) The very lovely and enticing voice ever!
(3) Their songs that touch deep within me and I'm sure everyone whpo hears them!
.. And it's just simply that they are the WESTLIFE!
Westlife is the best boy band that I know, every time I listen to Westlife music I feel so comfortable, they make me feel. Although they broke up but their songs always in our heart, can't blotted. I really love "My love" or "Flying without wings" or "Fool again"... I always support them. Hopefully that 4 our guys always succeed in their new job.
I just love all of them, every beat of their music feeds my soul... They lighten up my day. Best songs I have ever heard were all from them, love the way they are and all the things they do, still love them wherever they are and whatever they do!?! Nothing will change the fact that they're the best! WESTLIFER FOREVER AND EVER! I'll never forget the way they change my life by their voice!
Westlife is the best, they are legendary, they have released phenomenal songs since they were on the market... They have the looks to win a woman's heart even boys too... Every time I hear their voice I feel like I'm in heaven
Westlife is the best band that can exist in the world, his songs are beautiful, they express many positive things you are taught to see life and love differently. I love these boys are handsome, talented, sensitive, simple, have a unique voice and I can not keep writing more about them because I never end.
When I'm sad, I listen Westlife's music to make happy
When I'm happy, I listen Westlife's music to keep happy
I listen Westlife songs wherever and whenever, and many my friends do, too
Westlife is the best boyband in the world!
I LOVE you KIAN, SHANE, NICKY, MARK
I LOVE WESTLIFE FOREVER!
I lay my love on Westlife. My love for Westlife is unbreakable. I will keep Westlife safe in my heart forever. Nothing's gonna change my love for Westlife. Westlife is my light in the dark, my sit in the park, my key to the door, my port in the storm. They're my lighthouse that I need.
The incredible number 1 record and the legent successful selling will fully illustrate that they are the best boy band around the world. 14 years music experience change them from boys to men, although they have ever had the volley in their career, but they use their effort to deduce so-called teamwork, anyway, they are always the best forever!
They've amazing voice... They are can make very amazing songs... They are very friendly with their fans... :)
I really really love all songs Westlife so much, 'cause can makes you happy, can touched your heart, and can makes you always wanna dance... :D
WESTLIFE is number one and there's no other boy bands like Westlife, forever and ever... :)
I love Westlife so much
Westlife is the best and greatest band of all... I really love them so much and admired their voices... WESTLIFE is number for me... WESTLIFE raised me up whenever I will hear their songs and see their videos...
Westlife is always be the best BOYBAND ever! They are not only good in music, they r also clever, smart, and handsome. Long Live Westlife fans all around the world will support Shane, Nicky, Kian, Mark and Brian. Love them so much
Related Lists
Top Ten Songs By Westlife

Best Songs On Westlife's World of Our Own
Most Underrated Westlife Songs
Best Songs Between Westlife and 98 Degrees