Pele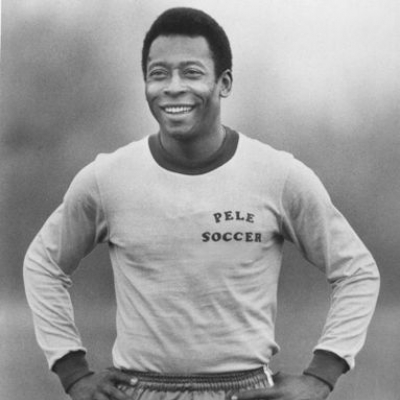 Uploaded by pele10brazil
Info
Edson Arantes do Nascimento, known as "Pelé", is a retired Brazilian professional footballer who played as a forward. He is one of the best players in football, hence why he's nicknamed the "king of football".
Comments
Top
Popular
Newest
Zico number 5 what a joke and various others, this is based on the latest and has nothing to back it up, only one legend from years ago, how can you have a vote like this when most of the people voting don't have a clue and too young to even have seen other greats that played along side pele through the years, and to say to say neymar that high up an even bigger joke, and to say he's got the skill of messi, who are you kidding, if he was that good wouldn't he have been put in the with Ronaldo and Messi for player of the year ohh no he wasn't, he's got extreme talent but to put him along side the greats already is the stupidest thing I've read, neymar wouldn't be be able to handle yesteryears games but the legends would've scored a lot more goals these days, they was constantly hacked down with career ending tackles they might not have had the pace but look at Barcelona and teams like that, the legends wouldn't need the pace there skill on the ball would win over pace
Pele is by far the best player ever, He began playing for santos at the age of 15. Two years later he became the youngest World cup champion ever and becoming best player in the tournament and ind the world ate the age of 17 AMAZING! Pele of course won lots of team awards and lots of individual awards, but people say that the biggest thing he won was a country USA if Pele did not come to play for the cosmos then there would be no American playing football. So that's why I voted for Pele or as we call him in Switzerland "THE GOD OF FOOTBALL.
He was a genius there was nothing he couldn't do he was just the god of football he ran and ran but he would never be stopped. He had so many skills that tackling him was pretty much impossible. For me and for many he is by far the best football to grace planet earth. He won a record 3 world cups, scored over 1000 goals and did things you will see once in a life time.U.S. A have him to thank for getting to the world cup. VOTE FOR PELE!
As close to a complete player as there has ever been. Scoring goals, creating chances, brilliant vision and understanding of the situation of the games in which he played, physical strength, touch, stunning creativity. He knew when to try the impossible and when to do the simple things. His opponents were fairly unanimous in declaring him the best and they should know a thing or two.
My uncle went to his camp and he is a great soccer player! While he was there he learned so many things from Pele that he eventually won all but one of his games, including the championship. So not only is Pele a great player but he is a excellent role model and teacher. He has an unconditional passion for soccer and that is what people should love about him! :-)
Ronaldo first, is something wrong with you people who brought Brazil to victory on many occasions and has been voted as the best many times Pele is the greatest soccer player of all time!
Pele is by far the greatest man to ever touch a soccer ball no arguments please. Ronaldo is an amazing finisher but he's not pele and no one is quit like pele so he remains at the number one spot for the greatest soccer player in the world
He was so good for Brazil. Unfortunately, he never got to play for a good league team. He only got to play for Santos and the New York Cosmos. His skill moves were amazing and a lot of people think he's the best player in the world.
Best of the best when I look at his talents and skillful plays. He changed/upgraded the way players play soccer all over the world. King of the soccer is always pele. I also appreciate others who tried to follow his legacy.
All time greatest. Striker, number 10 can run through and create space for partners plus be the target man centre forward, shoots powerfully off either foot, strong in the air, maniacal dribbling and feints, strong on the ball, speed and acceleration to trouble modern day defenders, a team player to boot. He was called the King. With a reason.
He's been the best player for multiple decades. Also he has won 3 world cups with brasil. He is amazing and the best player ever in the world yes
Pele is a legend and would put any keeper or player to shame. Gordon Banks' save was nominated for save of the century just for saving one of Pele's shots and that's saying something. - sam11855
Pele is in this individual group of GODS in soccer, along with Maradona, Cruyff, and other outstanding figures of the sport. He broke so many records and won THREE world cups in his prime. Many lists regard Pele as the GREATEST soccer player of all time, and this list should do the same.
Overrated... Never played in Europe! Played with week defense in Brazil with santos... He would never score that many goals if he played in Europe and maybe becomes a bust... Ronaldo is first for a reason! He was better and played with MEN not little boys...
The pest he is the best and has won many things individually and with his team. He has reached more than a thousand goals which a few players have achieved he is by far the best player in the world
Pele is God of football. Pele scored his 100th goal in the year 1970. He was the only player who play 3 world cups. He got a golden boot for scoring the highest goals in the world cup
Pele because when the Brazil won there first ever World Cup title was he was only 17 years of age against Sweden and he contributed 2 goals to the finals and that is really great and no one can break that since ever
Best player in history! Won 3 cups with his country Brazil! Player of 20th century! Unstoppable shooter! Has 1243 goals in his career!
He is truly the god of football no one can stop him he's just to good he's got all you need in football speed, skill, amazing shot and hard, as a great tackle.
Not only that Pele was a better player than all others, his overall behavior was much suitable for a sports professional than Ronaldo. He is the king.
Simply the best, then ronaldo. Ronaldinho should be in kaka's place, and nilmar nowhere on this list. In comparison to these players on this list he can't even be a water boy
Unlike players like messi or maradona who can only use their strong foot, Pele is an all round player he can use his left foot just as well as he can use his right, he can use his head, he can do nearly all the tricks and all the type of kicking styles such as chips, bicycle kicks etc. For me Pele is also better then players like Ronaldo or Maradona because he can help the team a lot bu also make his team mates better he can make the most sensational pass and is usually very calm
Hello, welcome back. I am sorry for any inconvenience. God knows how long it will not 2nd 22 22nd. The list is not the only way I could have a good time. The list is not the only way I could have a good time. The list is not the only
People who say ronaldo is the best Brazilian player are stupid because pele is the best he won three World Cup he score the most goals in history but messi could beat it if he continues
Pele is the best player in the history of football but he is standing at number 2? I think the reason why Ronaldo is at number 1 because Ronaldo's time wasn't far from now while Pele's time was like some decades ago. From that, most people now only think about Ronlado when they're asked who's the best brazilian footballer ever.