Hakeem Olajuwon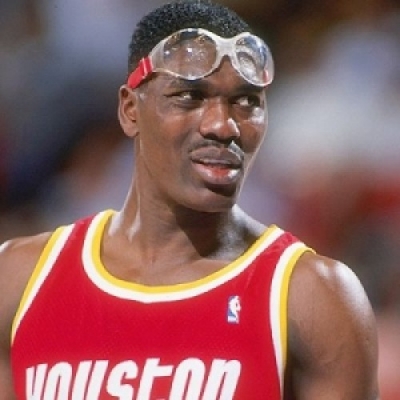 Uploaded by Htown3ball
Info
Hakeem Abdul Olajuwon, formerly known as Akeem Olajuwon, is a Nigerian-American retired professional basketball player.
Comments
Top
Popular
Newest
All time blocks leader ( Russell had Wilt and no one else to match up with). Simply put Hakeem dominated the best era of the position. Best footwork on both ends, quick, had the touch of point guards and the power and skills of the greatest centers. He would be my number 1 pick to start an all time team in real life if it was possible. Want proof he is the greatest center ever? Why does nobody ever ever have a problem with him being taken over the " best player of all time"? because he was The Dream. Oh and "Dream Shake" enough said!
He was a Small Forward in a Centers body. To quick, to big, to good for anyone to guard him one on one. If you took the best player off of almost any playoff team and replaced them with the Dream I'd bet that team would win the championship. Best foot work for a center I have ever seen. Incredible defender. Top notch rebounder.
I can't put into words just how great Hakeem was. He was able to stand out by himself in the famous 1984 NBA Draft, the same draft class featuring Michael Jordan, Charles Barkley, John Stockton and more. His team took steps for the worse, as Lewis Lloyd and Mitchell Wiggins were suspended for cocaine and Ralph Sampson's career was ruined by injuries. Hakeem Olajuwon would go onto win his first MVP in 1994 and make a cinderella run by taking his team, which Hakeem won his first ring by being a championship team that didn't have a single All-Star or single future Hall of Famer. He outplayed Patrick Ewing in the 1994 NBA Finals in hard fought 7 game series which he won. In 1995, he outplayed legendary big men such as David Robinson, Karl Malone, Dennis Rodman, Dikembe Mutombo, Shaquille O'Neal and legendary non-big men such as Penny Hardaway, John Stockton, Jeff Hornaceck and more. Alongside Clyde Drexler (old), Robert Horry (overrated) and Kenny Smith, as a 6th seed, they overcame ...more
Unmatched combination of size, agility, quickness, and coordination. clearly outplayed David robinson and shaq who are both top 5 all time centers in their own right. if I am picking one center in his prime regardless of era to win a championship I have to go with the dream.
He is the best all around center to play the game. No center has produced more steals, blocked shots and no basketball player has earned NBA MVP, Finals MVP, Defensivei player of the year. His assist to turnover ratio is also tops. Free throw shooting should be part of the top ten, especially when it matters the most. Only Kareem, Ewing were good free throw shooters. It's part of the game. So when considering top ten centers, look at all the stats!
He's the best all around center ever. He was elite in every aspect of the game including offense, defense, and FREE THROWS! He is one of the few that did not have a weakness. Hakeem could do it all. If I was starting a team from scratch, Hakeem would be my first center taken.
Better than everyone of these centers defensively, yes even bill Russell, and was the most skilled post player ever, not to mention amazing in the playoffs without much help while playing against the best big men the game has ever seen
Ask all the other big men who they would least likely guard it would be Hakeem. Ask all other big men who they would least like to be guarded by and it would be Hakeem.
Greatest center ever definitely. the only one to be compared to him is Kareem. Hakeem is the leading blocked shots ever and could embarrass anyone while on offense with his dream shake.
Hakeem the dream olajuwon is the greatest center of all time! Hakeem is a two time nba champion finals mvp but what seperated him from others is the dream shake his post moves were unmatched he tore David robinson apart and would do the same to kareem... Wilt is overrated he's great but played with people he had at least 6 inches on other players if he played against hakeem he'd be lucky to put up 20

Oooh and ask lebron kobe dwight who they learn there post moves from they will tell you the dream
"The Dream" as they call him plays well defense, can score outside and inside the paint, and has multiple rings. He was also the #1 draft pick in the 84 draft. Just enough stats to be a basketball legend
He destroyed every center he played against including Kareem, Shaq, Ewing, Robinson, Moses, Walton and everyone else who played in the 80s and 90s. He probably would have took Wilt and Russell too!
Of all the centers in the era center. No center can beat Hakeem one on one. He defeated the likes of Ewing, Robinson, Shaq even Karl Malone!
Greatest center ever no doubt. No center had the speed and quickness like him. He is #1 in blocks and eleventh in points and top ten in steals. The only people to compare to him is Kareem and shaq.
The man with the thousand moves. He could go left or right-- there was no predicting which. A nightmare for opposing players and a Dream for his team. Simply complete on offense and defense.
In 1993-94, he became the only NBA player to EVER win the regular season MVP, the Defensive Player of the Year, the Finals MVP, and, most importantly, an NBA Title.
their not many centers in nba history were triple teams on by opposing players, still were able to score on thems. And he had many move that were unstopable.
What a legend he was! Never before or after has power and grace so descriptive of one NBA player. Hands down best Centre of all time!
A big man who moved and played like a small forward.
Actually "older" Kareem outplayed "young" Hakeem by quite a lot. It is true that Hakeem was better than "Grandpa" Kareem.
Hakeem the dream olajuwon is the greatest center all time! First off wilt played in a really soft era not to mention he had about 5 inches on a lot of the players back then... But now hakeem he won 2 rings his post moves were amazzing that dream shake was off the charts his repoirte of moves down low was by far the best he's a 2 time finals mvp and regular season mvp 12 time all star should have won defensive player of the year about twice! Oooh and ask kobe lebron dwight who they trying to learn there post moves from they will tell you the dream
Glad 2 see Hakeem here. People tend to overlook him. But just saying, Shaq is 2 high. Kareem & Russell should be above him.
Hakeem's dream shake could annihilate anyone. All time leader in blocks. Enough said.
The best center ever to play the game. Good shot blocker, speed, footwork and crossover moves.
Kareem should be up here. Top 5 player of all time and top scorer of all time