Didier Drogba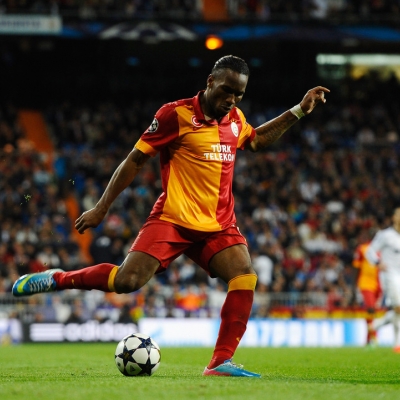 Uploaded by STANCAKE
Info
Didier Yves Drogba Tébily is an Ivorian professional footballer who plays as a striker for Canadian Major League Soccer club Montreal Impact.
Comments
Top
Popular
Newest
Drogba is one, and possibly the greatest, player of all time. His style of playing and how he always stays 10 steps ahead of the opposing team is just amazing. Chelsea will never have a player as talented as drogba
By playing more on pitches, I would vote Frank. But doing ok in his short time compering to Frank, there is no doubt... Is Drogba. He never lost hope of scoring, and he is well known for his creativity of chances.
He's the best player ever in Chelsea he uses his talent well for the success of Chelsea, he never lose the chance when he got it. He's our legend
He's their best player ever he won them the champions league I still remember that
He is one of the best players in the world. He is sharp and as a skill in dribbling
Didier Drogba is the best player ever. He will be remembered as a legend in football history forever.
Best striker chelsea ever had and was always better then fernando torres
All 100 goals for chelsea talented player I hope he makes his return to chelsea we love you drogba
How how how is didier drogba not number one on this list he's the best on Chelsea ever period!
Drogba stayed in Chelsea since 2004 He helped us win the Champions League for the first time
He is a great player when you give the ball to him he will finish it he is a goal machine
Best player ever for Chelsea proper legend we couldn't win the UCL without him
Didier was the best player on chelsea, even in his old age, he's still amazing
Drogba has scored about 157 goals for Chelsea and now is an absolute legend
Didier drogba gave chelsea the uefa champions league, he is the best
He will go down as the best player ever for Chelsea without doubt
He is my friend and is an amazing player
Why? Because he was the best striker in Chelsea, simply genius
Drogba Drogba what a fantastic player isn't he. He is a legend
Best player chelsea will ever have and we need him back!
I still miss seeing the attacking tricks in the blues
He is the best legend I have ever seen play football
Drogba was the first player I ever knew he is so good
Why did Didier drogba leave Chelsea he is the best
Didier Drogba is the best striker of all time..
.
Related Lists

Best Clubs Didier Drogba Has Played For