Best Cities In Japan
The Top Ten
Tokyo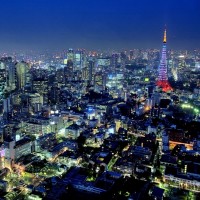 Tokyo, officially Tokyo Metropolis, one of the 47 prefectures of Japan, has served as the Japanese capital since 1869. As of 2018, the Greater Tokyo Area ranked as the most populous metropolitan area in the world.
I am a Japanese and love Tokyo
1. Tokyo
2. Osaka
3. Nagoya
4. Hiroshima
5. Yokohama
6. Kyoto
7. Kobe
8. Sapporo
9. Kawasaki
10. Fukuoka
Kyoto
I am a nature lover. So I voted for Kyoto
beautiful
Osaka
It's like Tokyo except less populated, and Tokyo is WAY too overpopulated! - booklover1
Yokohama
Sendai
Sendai! Founded by the most bada** samurai ever
Kobe
Takamatsu
Fukuoka
Akita
The Contenders
Okayama
A city near and dear to my heart
A beautiful city home to one of Japan's top 3 gardens (Korakuen Garden), the scenic and historic Kibi Plains, the nations largest Naked Man Festival, and many interesting areas in addition to great fruit and food.
Hiroshima
A city with an excellent and moving museum about the atomic bombing in WWII, a nice garden, and delicious okonomiyaki.
Nagoya
A city that is comparable to Osaka, except it's aquarium is better, it has a world-class Railway Museum, many gardens, and nice museums.
Hakodate
Kawasaki
Ise
Home of the Grand Ise Shrine, the holiest Shinto shrine in the world.
Nagasaki
A truly historic city, not only because of its significance in WWII, but even prior to that Nagasaki's position as the only port open to foreigners has given it a very rich history and unique atmosphere.
Saitama
Bonsai Capital of the World and home to one of Japan's best Railway Museums.
Kochi
Birthplace of Sakamoto Ryoma, one of Japan's most famous and beloved samurai and revolutionaries. Kochi Castle, an original, Godaisan, and Katsurahama Beach are all scenic areas. They are one of the only places in Japan that continues the tradition of dog fighting. Kochi is also serves the best katsuo no tataki.
Kurashiki
Famous for its large and romantic canal lined with historic buildings from the Edo Period.
Nikko
A historic city with many World Heritage Sites, as well as a lot of fascinating natural wonders.
Matsue
A lovely coastal city with a great castle, nice onsen, and lots of other interesting sites scattered about.
Naruto
Most famous for its whirlpools, it is also home to a fun museum featuring replicas of famous art from around the world.
Matsuyama
A city famous for its large castle and historic onsen.
Otaru
A scenic historic town in Hokkaido
PSearch List