Best Cities In Russia
The Top Ten
1
Saint Petersburg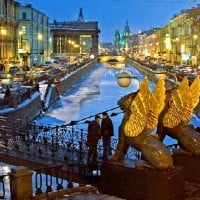 Built on a godforsaken marshland and became the most beautiful city in all Russia
I think it is so beautiful. I hope everyone visits there someday.
The most beautiful city I have ever seen. It's so cool!
My dad is from here, the most heavenly city on Earth.
2
Nizhny Novgorod
I study here in lobachevsky university.just love nizhny love russia
I live in Nizhny Novgorod! I ♥ Nihzny Novgorod!
Its beautiful
3
Kazan
Kazan is very beautiful city. A mix of Tatar and Russian culture, a bridge between the West and the East.
4
Yekaterinburg
AWESOME CITY! I MUST SAY, THE TRUTH IS ALL OF THE RussiaN CITIES ARE BEST AND BEAUTIFUL AND NICE BECAUSE Russia IS WONDERFUL! I LOVE MOTHER Russia AND I WANT TO GO THERE AND BE A RussiaN CITIZEN NOT A STUPID FOOLISH FILIPINO CRAP!

Russia ALL THE WAY!
Russia RULES, BECAUSE RussiaN RULES!
5
Moscow

Chic and luxurious city, Moscow is developing and will develop further, because Lee is widely expanding its borders and the population of the capital increase, now live in Moscow 12 million officially, is not officially 15 million - 18 million. Moscow Metro is one of the best and most beautiful in the world
Moscow is the largest and the most populous city in Russia. Along with a beautiful skyline, this city is rich in culture.
Why number 4? Should be number one!
6 Veliky Novgorod
7
Samara
Friendly people!
Excellent city
8
Sochi

Best fr tourists
Olympic pride
9 Novosibirsk
10 Murmansk
The Contenders
11 Makhachkala
12
Vladivostok
I think also that Vladivostok Should be on top of the list. That is a great place
On a rainy night listening to Zelenaglazoe Taksi, one flight away from Tokyo, that's where I wanna be!
Very underrated, It's a great city!
The Russian pearl in Far East
13
Ryazan
One of the oldest cities in Russia. With magnificent Kremlin. It is also an industrial and high-tech center.
14 Chelyabinsk
15 Rostov-on-Don
16
Volgograd
This city is also known as "City of Heroes".
17
Tyumen
This city is the best. Didn't like the traffic they had for that small of a city though. But that's the only minus!
TYUMEN IS A BEAUTIFUL CITY ON TURA RIVER, RUSSIA!
City is advanced in terms of gardens and parks. For entertainment, high class cinemas are present in the city equipped with advanced technology. Embankment of Tura River and Holy Trinity Men's Monastery are major tourist attractions in the city.
My homeland is amazing. It's so green and not polluted. People are friendly...
No pollution. Fresh food. Cheap oil.
18 Grozny
19
Omsk
So many beautiful people
20
Krasnoyarsk
Yes! It is a wonderful city!
21 Ufa
22 Yuzhno-Sakhalinsk
23
Kursk
Lovely city in all over the Russia.
24 Yaroslavl
25
Tambov
A small beautiful European city in the heart of Russia. The churches create a breathtaking atmosphere of peace.
PSearch List