Best Cities In Spain
The Top Ten
Barcelona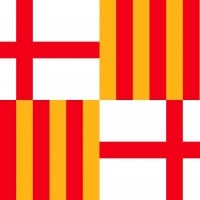 Barcelona is a city in Spain. It is the capital and largest city of the autonomous community of Catalonia, as well as the second most populous municipality of Spain.
Barcelona is CATALONIA, not sPain (intentional). The city has been under Spanish occupation since 1714 due to the Nueva Planta decrees and the Treaty of Utrecht.
Architecture by Gaudi, fabulous and endearing. Pace of life unhurried. You can occupy a restaurant for as long as you want and nobody nothers you. Plenty of affordable housing. Esdy to get around in. Nice beaches, and short train rides to even nicer beaches. Hot night life 'til dawn. Great football team. Great markets. Great museums. Easy walkaround. Reasonable climate. Two cultures, each interesting.
Catalonia is part of Spain as same as Baviera is part of Germany... Nothing else
Actually this city is part of Catalonia (which is about to be an European country) not to Spain. Culturally and emotionally Barcelona and Catalonia have never been Spain really.
Madrid
Madrid, Much better than Barcelona in any sense.
Stop with nationalism! The crisis promote nationalism everywhere in Europe today and we are living very bad times... In spite of all cultural differencies (which concerns most of European regions... ) Catalonia is definitely part of Spain (way of life, food, way of doing things, music... even the tongue is very closed to Spanish tong...). Just 30 years of local nationalism abusing democracy.
Madrid is first not Barcelona
Valencia
Valencia is a great city, I have been at Valencia 2 times and I am planning to go this summer again, great food, great beaches(Mediterranean), great people. Just love Valencia!
Granada
Historic place. Monument AlHambra. One of the best universities on the country. The most wanted Erasmus destiny on the country. - AlejandroG
Sevilla

I've never been. But It has to be great. I also think that it should be the second one.
Should be second after Madrid.
I live here it's awesome!
Sevilla is THE BEST! - donrodrigo
Bilbao
La Coruña
Murcia
Murcia is the best city in the world the solo is amazing great tables sexy gurdia civil
Malaga
San Sebastian (Donostia)
The Contenders
Caii
Zaragoza
Alicante
Oviedo
Ourense
The Best! - MrSheldon
Majorca
Jaen
Santiago de Compostela
A waaw city full of nuns! Serious, a very beautiful, historical place. Very nice people, very good food and a lot of culture to enjoy.
Toledo
Tarragona
Santander
Albacete
Puerto Hurraco
Soria
It's the smallest city in Spain but that's good! It's a really cute city with an amazing story. And it's so clean, you can breath without getting attacked by pollution...
Vigo
Beautiful city located in Galicia, fiestas in July, diverse...
PSearch List