Best Cricket Captains
The Top Ten
Mahendra Singh Dhoni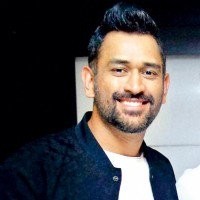 Mahendra Singh Dhoni, commonly known as MS Dhoni, is an Indian international cricketer who captained the Indian national cricket team.
He is the best captain in the world because he take decisions by cool mind and is moderate good in batting and wicket keeping
Mahi is the best captain I ever seen
The Coolest captain to be found on Cricket team...Powerful and Vibrant leader
Mahi is the best captain in the world
Steve Waugh
Mahi is the best!
Dhoni is the best
Best captain
Win rate of 72% and built a team that dominated for over a decade. no one is comparable to steve
Imran Khan

He is the number 1. Without any hesitation. Mahi is nothing in front of him.
Comparing him with now a days tods is somehow insulting the cricket legends. Whether its Dhoni or Kohli, they're groom in well system but Imran Khan groomed and skilled by his own efforts. He's number 1 without any doubt. The Captain which leads the team with bold and optimistic attitude.
Very good captain. Those who think Ms Dhoni and the Australian Steve Wa
He is the best one no matter in terms of cricket point of view but and also in social life as he is helping all the people needy in pakistan love you imran khan die heart fan
Richie Benaud
World no1 all theory's ICC & aisia cup tri series first time India two final only team MSD
Viv Richards
He is the one who never lost a test series.
Never lost a series ever. He leads his country for exactly 50 Test matches during 1985 to 1991 and won 28 out of that.
Powerful captain in cricket history
Undefeated captain
Allan Border
Kapil Dev
Becoming a captain of it's country is a tough job or responsibility.
Kapil dev deserve number 1 spot.
He is like a very destination setter his is very good very power ful
Best captain
Don Bradman

Sir Donald George Bradman often referred to as "The Don", was an Australian international cricketer, widely acknowledged as the greatest batsman of all time. Bradman's career Test batting average of 99.94 has been cited as the greatest achievement by any sportsman in any major sport.
Captained the 1948 invincibles and was the greatest player ever
master
Flippin moron crapest player I have ever seen
Virat Kohli

He is upgrading himself from every match. He is yet learning. He is going to be the best captain.
Takes decision with great thinking...
According to me he can break Sachin's record for most hundreds
Best Captain ever
Virat is going to be the best captain in the world some day
Best caption in India.
And best batsman.
Good fielding effort.
Stephen Fleming
Powerful captain...
The Contenders
Richie Richardson
Dada (Saurabh Ganguly)
Dada is undoubtedly the best captain. He gave new life to the Indian team. He showed the world a new side of Indian cricket
He is the best captain in team india. First a for He is bilde the number 1 team and he has thinking so well and he is the grate bats man and 2003 world cup is the grate experience so dada is grate please back in to the 2003 world cup sourav ganguly
He is best captain because he build up a new team India and dhoni get their result
Dada is the Best captain in the World. Who taught India that How to win without any key player.
Graeme Smith
An absolute example of leadership
Captain fearless
Superb leader
The best ever!
Ricky Ponting

Hey he should must be at the number one position. If not, then search on google or wikipedia. He is far better than most other batsmen of 20th century. Dhoni is no match with him. He is one of the greatest batsmen of all time and far better than the choker kohli, who is called the king of cricket.
The greatest captain of all time.
Best caption ever
Very powerful captain
If Ricky Ponting had served in the armed forces he would have been a five star German. Such was his leadership qualities
MS Dhoni
Best captain, best wicket keeper, best finisher and always cool mind. Always guide juniors... He is the best Captain ever, nobody replace him ever..
MS Dhoni's name is a definition of captaincy and greatness.
"The best"... Presence of mind is marvelous.. At last over even he is on field side or bating.. every one speak about dhoni...in television we can here the sound of people " Dhoni Dhoni.."
Best captain ever
Rohit Sharma

Rohit Gurunath Sharma is an Indian international cricketer who plays for Mumbai in domestic cricket and captains Mumbai Indians.
World best captain
Having good Captaincy skills that shows in lot of crucial time for her team.
Best tactical captain...best user of resources...no nepotism...encourages the players very well
Superb captain I have ever seen, he manages the crucial situations brilliantly on the field. I am the biggest fan of his batting and also of capataincy
Mashrafe Mortaza
He stands like a TIGER, no matter how worse the situation is. A spark of fire burns inside him and this fire touches all the others members of the team.
#bestcaptaintigerswilleverget
The captain who wants the team to win even sometimes he used 0overs of him for the team.
He takes the decision in a cool mind.
He is the smartest.
He is a good bowler.
He take decision cool mind... And he is brilliant captain... Any situation he is handle easily because he is brilliant and cool best captain
Kane Williamson

He is arguably the greatest captain in this era.
In finals, on the field, he didn't even cry because he knew they tried their best and the will be successful next time.
Ya of course I agree he is the real captain Cool and should be the no1 place in the list
He will remain as the best captain in this century. No one can match him
Yeh khiladi meri jaan hai love you bade bhai
Sarfraz Ahmed
It is a great caption in the world
He is very very good captain, intelligent and smart.
Great captain
Best captain
AB de Villiers

Abraham Benjamin de Villiers, commonly known as AB de Villiers, Mr. 360° or simply AB, is a South African cricketer.
He is the best cricketer which I had seen my life ever
Best captain...
Best are best
Awesome supermancaptain
Kumar Sangakkara

Kumar Chokshanada Sangakkara is a cricket commentator, former cricketer and captain of the Sri Lankan national team.
Deserves to be in top 10 because he was an amazing batsman and a leading captain
Best captain and batsman
Top captain. Should certainly be in top 10 or 5
Class
Steve Smith
This CHEAT doesn't deserve to be playing cricket, let alone be a cricket captain, and he's such a cry-baby.
He should be the captain of Cricket Australia in all formats of the game
He's a CHEAT and should've been banned for life. Instead, he cried like a baby because he got caught. Pathetic. He doesn't deserve to be on the cricket field, let alone captain. Overrated and GROSSLY overpaid.
Yes smith is the best captain
Eoin Morgan

Eoin Joseph Gerard Morgan is an Irish cricketer who captains the England cricket team in One Day and Twenty 20 Internationals.
He's the current world cup winner, y'all are Indian inbred filthy dumbasses with low IQ
Best ever
Yuvraj Singh

Very very most important and power full batsman
Best all rounder & powerful at no 4 batsman
He is most powerful batsman super bowler ones upon a time,yuvi and Kaif fielding was more popular yuvi is best allrounder in all format
Hai iam your fan
Suresh Raina

Raina is super player because his talent was left arm batting and right arm spin,i like his ability and silent and also best fielder in the world
He made as captain in 3t20 series and he won that series 3-0 that's why he also best captain
Best player and captian
GREATEST AND THE MOST UNDERRATED CRICKETER EVER
PSearch List