Kim Possible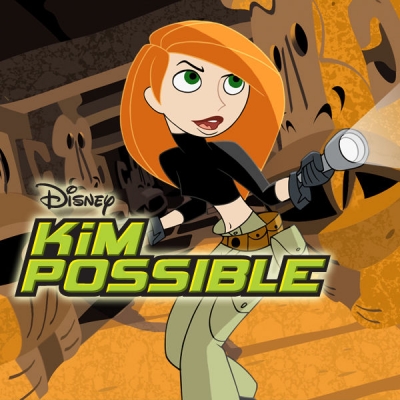 Found on mzstatic.com
Info
Kim Possible is an American animated children's television series created by Bob Schooley and Mark McCorkle for Disney Channel.
Comments
Top
Popular
Newest
Warning: This show contains well developed characters, original story lines, tons of humor, and awesome animation. Not meant for those who live a boring lifestyle void of fun and enjoyment. Do not allow children to watch due to the danger that they might get hooked on this great show. Do not allow them to watch due to the danger that they might attempt to imitate Kim's butt-kicking talents which include olympic level gymnastics and tumbling skills, knowing 16 styles of kung fu, skydiving, cliff climbing, grappling, dodging energy comet-powered plasma blasts, escape unharmed through A...

Okay, now that that's over, in case there was any confusion, everything above were all huge complements. Great show, great chracters, great animation, well you get the point. Kim does show her midriff most of the time through seasons 1-3, but other than that, awesomest, most badical show ever on Disney.
Kim Possible needs to be up in the top 10! It aired for so dang long and was such a FANTASTIC SHOW! I'm completely SHOCKED to see that people love Good luck Charlie and Jessie so much... THOSE SHOWS aren't EVEN GOOD... Good Luck Charlie is pretty close to Life With Derek except they try to make it funny by making nothing serious and it's just awful... Same with Jessie except Jessie is a billion times worse... I can't even stand watching Jessie... *sigh* I guess people love Jessie so much because their aren't many good shows to compare it to... In fact, there are currently no good Disney Shows AT ALL (besides Gravity Falls) - Ncat97
Greatest cartoon ever! I was roughly the same age as the characters, so I related perfectly, with the teenage part anyways. If this show would have been on a highly watched channel, it would have lasted longer and rivaled the greatest cartoons of all time.
I wish today's T.V. shows were as great as this. I mean, what happened to quality kid shows?
I think they should air this show again. I've been deprived of good T.V. long enough, Disney. Give us the Proud Family, Recess, and Sister Sister back! What in the world are you Disney people doing, throwing us Jonas Brothers and Sonny With a Chance? Oh God, don't get me started with Austin and Alley, I'm in the Band, and Pair of Kinds. How. Dare. You. Give. Us. Crud. Like. That.

I just want Disney to get back to the way is used to be.
I am only 10 but, I have 2 older sisters and as soon as they showed me this show I absolutely loved it! My favorite song is the naked rat rap it is hilarious! I love this show and I think they should bring it back! My Favorite episode is "Emotion Sickness" It is hilarious if you want a good laugh watch that episode!
This show should be higher on the list. Much higher. It's by far Disney's best animated series. The characters are relatable, hilarious, and the episodes stick to the plot line. The music is also catchy. For those of you who like Perry the Platypus, I would recommend watching this show because Rufus the naked mole rat is very similar. Also, this show actually lets people know that friends are helpful.
This is by far the pinnacle of Disney Channel Original Programming. Fun premise with lovable characters (especially Ron). Good writing, and the fact that it is 13th at the time I am writing this is a travesty. Especially when trash like Hannah Montana, Austin and Ally, and especially Shake it Up are higher up.
I CANNOT believe this is not the first one!
SERIOUSLY Kim Possible is SUCH a EPIC show, Even The name Sounds Epic.
Please Vote, kim Possible is Already Gone. The Least We Can Do is vote for them

Go RUFUS =3
Followed by That's So Raven, this is the best show on Disney Channel. It should at least be in the top 5. This show has clever word plays, a really good sense of humour, the characters are so awesome, and is my favorite cartoon. Disney should keep this show because it is super, or at least do some reruns of it. And the animation is the best animation ever that I have seen in a cartoon, Rufus is so hilarious also Ron, and the vilains are awesome.
I love this show so much it shows how powerful just one person can be AND it portrays high school more accurately then the other shows that are recently been on air even though. People to this day can still recite the theme song perfectly. Bring back shows like this please.
But seriously this show is awesome, ron and rufus are awesome and the theme song having ron have his pants ripped off is classic, and pretty much having a mercenary girl version of james bond!? Awesome! (I mean Kim by the way)
I loved kim possible it's sad that they don't show it anymore. I loved it because it reminds me of my childhood and I thought it was funny and not just me watched but my whole family did and there is seven people in my family.
I have to be honest, I watched all episodes and movies of Kim Possible in less than 3 months! Kim Possible is awesome and I feel empty without more episodes... We need more! True classic and perfect mix of reality and humour.
Kim possible is very fun and you can watch it with friends and family it very expressive and interesting kim is really nice and if I so her in real life well hello we would be good frien d on day one so to all of you out there go watch kim possible
Why is this not number 1!? I was watching this when I was five it went off eight years ago and it's still better than most of the crap they air now! The top two for this list in my opinion would be this followed by gravity falls
Best cartoon T.V. show ever. I love Kim and Ron, they have the best friendship/relationship.
It's funny, has loveable characters, great story's, you would never expect to love a naked mole rat so much they great villains, they have cool last names so what's not to like
My niece got me watching this with her. Then I got my daughter hooked. We love this show! Great humor for all! Bring it back!
It was the best T.V. show I would stay up and watch it every night I wouldn't go to sleep until it was over and that was late when I was that young
My favorite show from Disney, watched since I was a little boy and now, with 20 years old, still loved, but one question remains, why is only on top 12? What the hay guys!
this show is awesome!!!!! i have watched EVERY SINGLE EPISODE and i hope it always stays on the air!!!!
one of my favorite shows on disney channel, i am crazy about Ron stoppable
This show is hilarious, heartwarming, and entertaining. It is so well written and so fun to watch, even teaching us lessons that make us think. One of the greatest shows ever.
Best show ever I will watch it not matter how old I get I love ron and kim and that little guy rufus.
I LOVE KIM POSSIBLE! It's my favorite show, and I really love ron and kim. They look so good together.