Lab Rats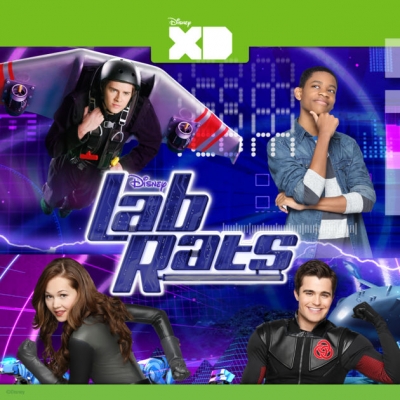 Found on mzstatic.com
Info
Lab Rats, also known as Lab Rats: Bionic Island for the fourth season, is an American television sitcom that premiered on February 27, 2012, on Disney XD, and aired through February 3, 2016. The series was created by Chris Peterson and Bryan Moore and produced by It's a Laugh Productions for Disney ...
read more
.
Comments
Top
Popular
Newest
Lab rats is an amazing show! There is lots of suspense, mystery and exciting fighting scenes. I like how at the beginning there bionics is a secret then later the whole world knows about it, which gives the, lots of problems but they overcome it as a family. I also love how funny Adam is in the show even in the most tense situations he always makes a joke. Lab rats then continues into Lab Rate bionic island and then combines with Mighty Med to create Lab rats Elite Force. If you haven't seen the show you really should!
Lab rats should be number 1 because to me it's the awesomest show ever to be made other then kickin it
I can't believe lab rats is at 22 it should be within the top 5. It has a mix if thrill, action, comedy, and family problems that are so out of this world. I especially like the character Adam played by Spencer Boldman. Soencer is doing a great job showing Adams personality as a caring, sometimes mean, and funny brother. My favorite character is Leo. He ties the whole family together. He is the little brother that no one believes but everyone cares for. He is the only kid in the Davenport family that doesn't have biotic but seems to hang on without them even though he wishes he has them he has a great developing mind which will probably lead to a great part of the next season or end if the season
I do to love Lab Rats, I watch it when I am bored and is hilarious. I like how they didn't go crazy with the power and how it looks sorta real, enough for me to believe and enjoy. The script was my favorite part out of the whole show. Davenport was my favorite mostly because of his overall funny character that adds to the show. Very good show, and is very enjoyable.
I really love this show it really inspires me and I really come close to my siblings because I am influenced by the bionic siblings it has shown me how to be better to my sister and brother and to help me get closer to them I really love this show this show is amazing and really helped me in life. special thanks to who ever made the show lab rats
This is the best show I've ever watched, and believe me, I've watched a LOT! Completely clean, but not lame like so many other shows. The storyline is awesome, and the stunts and special effects are so well done. Disney really came through with this one, choosing the best actors/actresses for the job. Well done, Disney! ()
Lab Rats is a show with an interesting premise and good storylines. I love Chase he is so cute. I always fall for a cute nerd. The special effects are surprisingly good for a Disney show and all the actors are attractive. Even Leo later on. I like the last season where we can learn more about bionics. the only thing I didn't like was Marcus as a villain because his performance when he tries to be evil is so over the top it's laughable. That brow raise though
This is the best Disney Channel show ever. You can relate to some of the circumstances the teenagers have to deal with. Seriously though famous singer song writers, talking dogs, kids of famous parents, celebrities coming back home, this is just so fake.
I seriously only like the specials though that Bionic Action Hero episode's ending was kinda dumb because seriously Giselle is just going to rebuild Marcus. Wow, way to be suspenseful Disney, I could legit do better than that when I was like 7.
Been a while since Disney had an amazing show like this one, the end of each season had a cliff hanger. The plots were awesome and the jokes were actually funny! I felt pretty sad knowing this show came to an end after a great 4 seasons :(
One of my friends recommended this show to me about a year ago. I love all the amazing adventures! At first I thought this show was "meh" but then I watched more and more. It got more and more exciting every second! All the actors/actresses are just hilarious. This show is perfect! It's amazing how they blended lab rats and mighty med together (season 4! ) this is the best show ever made
Now this show is hilarious. I like every main character (mainly Leo and Chase) but my favorite character is a recurring bionic child named Spin. He is funny because he is always trying to prank or trick Leo. I am a 12 year old guy and I always watch this with my twin sister and 10 year old brother. Also the young actor who plays Spin is Max Charles. He played Sherman on the movie Mr. Peabody and Sherman and now plays on the new Nickeaks. All of his roles on all of his (spotlights) are amazing. Go Max Charles
I have loved this show my whole life. The three bionic siblings were hilarious with each other. Adam likes to push Chase around and Bree like to tease both of them. Very creative show!
Leo is one my favorites, though I feel a little bit sad for him because the other characters make fun of him because of his size and muscularity. - LaST_LiGHT
I love all of the characters, and the show has a good plot. And I don't know why they call chase tiny or unattractive. I mean he's not that bad
Lab rats is awesome it has helped me get closer to my siblings as the lab rats so because of this show I am getting closer to my siblings and it is awesome
Awesome show. it is my favorite. the plot is awesome the acting and the one hour specials are double awesome. you should watch this show.
Better than Most shows. Vote for it! Jessie, Austin and ally, any farm; shake it up, etc, should be below this! By a mile!
This is the best show ever should be 1 it is action packed but still funny. ant farm and jessie and phineas and ferb should all be below
This show is awesome. Joey Logano was in an episode. This show would be so awesome if they kicked Leo out.
It is by far the best show ever. It is hilarious and all the characters are great. Perry and Eddy are just hands down funny. So sad it ended after season 4 but, there is still the awesome spinoff Lab rats elite force which only consists of mr Davenport, Bree and Chase
This show is awesome! It's characters act real and everyone has a personality. It has people problems and hero problems. Every episode had an individual plot but there is also an overarching plot. There are actual dangerous villains, who also have personality and aren't just people that do evil stuff because the show needs a plot. It's actually very real. Not every bad person is brought to justice and some bad things happen to good, innocent people. There are very few characters that I don't enjoy on screen. Very few clichés are ever used which is great. I could go on and on about every aspect of the show but if you haven't seen it then you are living under a rock. Watch it. You'll be happy you did!
Love it so much! Should be at least in the top five of not #1.
Did you know: The longest running Disney show ever is wizards of waverly place with 106 episodes.
Lab Rats is on it's 94th, with the rest of season 4 and season 5 still to come (records about to be broken)
#Legend!
This is the best show ever. It should be number 1.
I think that this show is wonderful but I also think you need to add more episodes to netflix