Sonny With a Chance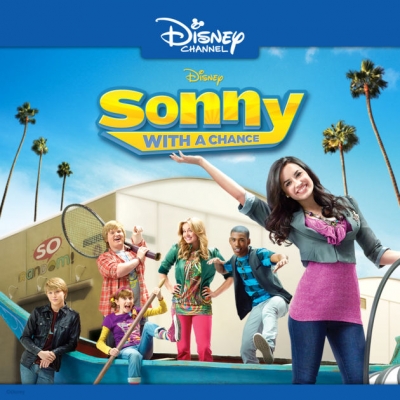 Found on mzstatic.com
Info
Sonny with a Chance is an American sitcom created by Steve Marmel which aired for two seasons on Disney Channel from February 8, 2009 to January 2, 2011. The series follows the experiences of teenager Sonny Munroe, portrayed by Demi Lovato, who becomes the newest accepted cast member of her favorite ...
read more
.
Comments
Top
Popular
Newest
I definitely think this is the best Disney channel show but all the old Disney shows from 2006-2011 were really good what I love about this show is the cast Demi lovato can sing and act she is crazy talented and Tiffany Thornton was hilarious plus the show was relatable maybe not the fact that there on a to show but the pressures teens like me face and we may not be on a to show but we r looked at and judged by the people around us constantly wether we like it or not and we all go through relationship issues even if they seem silly this is my personal favourite Disney show I have watched each episode about a hundred times and I'm not bored I learn something new every time I watch it x by the way girl meets world is a great show too x
maybe swac was not good in the beginning but the 2nd season is hillarious... I laugh at every episode n it is appropriate for children as well but I love hannah montana n I knw it IS the best show but wizards?... I don't think so... just bcuz of selena's good acting n expressions the show is not gud... wel in my opinion I think I lyk swac so much cux I love sterling n demi together... I laugh at every show I watch them all equally... I don't hate any of em... I LOVE THEM ALL..
Demi lovato's just the best and this show is so funny :)) and so random.. Except that demi won't be coming back to the third season and the show would go on with the name so random... Without demi but... Sources say she would be coming back for the 4th season after her unbroken tour.. So let's just hope for the best :))
My favorite show ever! I am so sad that it ended! Demi is one of my idols and I understand why she left, the pressure for her became too much. The ending was good but it felt like it needs to be continued.

PS: I hate how they made Sonny and Chad break up over a stupid thing. Stupid Disney. -. -'
I love Demi Lovato. She's such a good singer and actress. The whole cast is funny. This is one of the few shows that doesn't have a fake background and cheesy unwell played actors. The shows all must have taken time to make just showing from how well the lines are written and portrayed. I really think this show deserves to be number 1!
Sonny With a Chance is an awesome (maybe even the best) Disney Channel show for a couple of reasons. The cast is really talented. Demi Lovato played a happy, ambitious, positive character extremely well. but at the time she was really suffering. Tiffany Thornton and Sterling Knight are really kind and sweet in real life but when you see some of their scenes, you'll think they're really jerks. Brandon Smith and Doug Brochu have excellent comedic timing (the whole cast does) and make Nico and Grady best friends for life. Allisyn Arm perfectly gives Zora her quirk and weird charm. Sterling and Demi also have amazing chemistry that'll make you ship Channy for sure. The episodes are very funny but also have a good lesson as well. Sonny is a great role model for kids as well. Sonny With a Chance should be on the top ten and I'm upset it isn't.
THIS NEEDS TO BE #1. AT LEAST IT WAS FUNNY COMPARED TO ALL THE OTHER TERRIBLE SHOWS ON DISNEY, DEMI LOVATO IS AN AMAZING ACTRESS, IF YOU DON'T BELIEVE ME THEN GO WATCH WHEN SHE MADE A GUEST APPEARANCE ON GREY'S ANATOMY. SHE IS THE ONLY DISNEY STAR WHO CAN SING. SHE'S a lot HEALTHIER NOW, AND IS WAAYY MORE SUCCESFUL THAN ANY OTHER DISNEY PERSON.
I loved it. It was just so great! Sonny was a role model, always trying to make things right when they got awry. I don't know why this is number 12 - it was really funny and just a great show in all. The characters were so likable and so was Demi Lovato. Best show on Disney Channel, I believe.
WHY THE HELL IS THIS SHOW AT 15? I SERIOUSLY DO NOT UNDERSTAND.. Disney should honestly stop trying to make new shows, they all suck. They all went down hill after hannah Montana, wizards of waverly place and sonny with a chance finished. They should consider creating a throwback channel, it would probably make more money anyways
I LOVE SONNY WITH A CHANCE It's THE BEST T.V. SHOW EVER! On that show demi lovato is my role model and its pretty much the best show on family and on earth so hands down vote for this one. THE BEST SHOW IN THE WORLD!
This show is so funny! Its jokes are witty, not stupid like the new shows. I miss Sonny With a Chance so much. Why did Sonny and Chad have to break up? Hopefully Demi will guest star on So Random!
I totally love sonny with a chance its so hilarious! I wish there would be a new season of it because I wonder how chad n sonny go back 2 treating each other! Plus demi is such a great actress for sonny with a chance...
This show is totally funny I wish there were more episodes. It is also a great show that I can relate to in many ways and I hope it comes back to Disney Channel :( so sad to see it go
I think that this may be the best Disney Channel show till date. The characters are done very well. Sonny is a great role model as she is kind and is willing to give everyone a second chance. The acting was amazing. Some people think Chad is a jerk, but I really think he has a great character arc and I love how he becomes a better person for Sonny. The same goes for Tawnie. Honestly, this should be #1.
The acting in this one is surprisingly good. This is a rare Disney Channel show with a unique premise that delivers pure entertainment without being over-the-top.
I wish their was a season3 I really love this.. The good, good fine that's awesome and the song of demi lovato I love.. Wish their was season3 please?
I love this show! I wish it didn't have to end. It was so funny and every time I would watch it, it made me laugh a lot.
Demi is my idol due to this show! I love Sonny with a Chance and I practically cried when I heard Demi went to Rehab and Sonny with A Chance got canceled.
Sonny with a chance deserves 1st place its the best show in the whole world it is so nice its amazing! 1
I love the whole cast of so random! In sonny with a chance... It was a great show... Demi was awesome... Love you demi!
I LOVED THIS SHOW! I can't believe it didn't air for long... Demi Lovato is an amazing actress that just has this 'thing' where she lights up the room every time she walks in... It had the best cast, although I didn't really like the spin off...
Sonny with a chance is my favourite it should be first place, then hannah montana, than zack and cody, thst's so raven...
Sonny With A Chance is really amazing and I really miss demi on the show but it's still pretty good, though.
It's very nice show...
I like its poster, its songs, every thing
Far better than Hannah Montana, suite life of zack and cody and so on
They have a lot of funny and weird lines and I love it when people sing at the end (especially me myself and time)