The Suite Life of Zack and Cody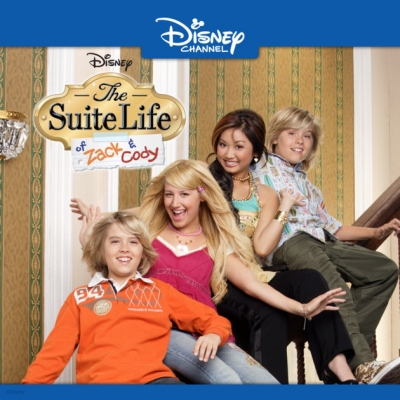 Found on mzstatic.com
Info
The Suite Life of Zack & Cody is an American sitcom created by Danny Kallis and Jim Geoghan. The series was first broadcast on Disney Channel on March 18, 2005, with 4 million viewers, making it the most successful premiere for Disney Channel in 2005. It was one of their first five shows available on ...
read more
.
Comments
Top
Popular
Newest
The suite life of Zack and Cody is in my opinion the best show to ever air on Disney. The characters themselves are creative, funny and unique in their own way and make you laugh till your ribs hurt. The actors/actresses are some of the best to ever come out of Disney and are all successful. The storylines are great and original and teach young children great life lessons about friendship, family and relationships. The show also teaches children that they will get in trouble if they do something bad. I miss Zack and Cody so much and I wish old Disney would come back. Good luck in college.
This isn't hardly the best show if were counting cartoons but if just shows still that so raven was better and a couple others but me and cousin use to love it so much when we were little so it made me very sad to see it end when I got older I was 14 I think 16 now and I didn't watch suite life on deck my baby brother did and that's how I saw it sad to see a part of your child hood end
Zack and Cody are sooooooooo funny. I watched all of there shows and my favorite one was when they went out with the girl twins and they watched zombie mom. I love Zack and Cody. It is my favorite tv show and belive I saw alot of tv shows.
Actually, Wizards of Waverly Place should be number 2 as a matter of fact, not The Suite Life of Zack and Cody, Number 1 should be Gravity Falls, More people love Gravity Falls more than Wizards of Waverly Place and The Suite Life, And That's So Raven needs to be number 3. - nelsonerica
SUITE LIFE OF ZACK AND CODY WAS FAR BETTER THAN WIZARDS OF WAVERLY PLACE! Although I still loved that show... Suite Life Of Zack And Cody was a very funny show. It's a kids dream! When I was their age I always dreamed of being a Spy... Every kid has this dream! Every kid wants to run around Hotel causing mischief! That's why I loved this show! And that's why, whenever it comes on (if you're lucky it'll come on around 11:00 to 12:00) I always watch it no matter what.
This was the first real funny show better than that Hannah Montana with laughing tracks hey Disney here's an idea can hire Dan Schneider to make the shows instead of hiring cheap directors with stale jokes how about that. Because every damn time I watch Disney Channel the jokes suck and my laugh is just waiting to be released.
I love it! Zack and Cody is very amazing actor and put something crazy in swankiest hotel. The Suite Life of Zack & Cody is better than The Suite Life on Deck. But it really disappointing that Disney Channel Series in 2010 to 2012 is getting worse. But I love Suite Life of Zack & Cody. Keep it up!
This show was amazing! Cole & Dylan were pretty
Good actors for kids, Brenda was really convincing,
Ashley was also great, & mr. Mosby and Karry and
All the other adults were great. This show was on
Point, I don't know why they don't show it as frequently
As they used to. Overall awesome show. Point Disney.
I love your show its so cool. Im erin and im about the same age as yous. Cody you are so cute and smart but somtimes that letes you dowen whith the laddies. Zack your sweet kind and absilootly pig your such a booly .
THE BEST SHOW EVER!
it is just the best show I have ever seen
I was sad when I heard that it was ending but then I started LOVING the new one The Suite Life On Deck but now that's finishing too but the movie was good I guess.
Best show ever. I cried so hard when it ended. Zack, Cody, please come back! The show was funny, thoughtful in a way no other shows reached. I grew up with the show. Now that it's over, my childhood left with the show. :( I love this show!
I miss this show so much! I miss every single character and when I watch the last episode EVER I cried. We have known these characters so long and it was pretty hard to see the last episode. It was funny, sad and awesome. BEST SHOW ON Disney Channel! - LilyB
An amazingly funny show with a little twist to it, taking place in a hotel. A great story here about two twin brothers in one crazy hotel. Comedy is placed everywhere, and it isn't over exaggerated like Hannah Montana.
I used to watch the suit life on deck when I was younger it was very entertaining and heart touching now every time I hear it's theme song It reminds me of my childhood and your childhood is a very important thing to remember because it is what shapes up who you are.
I love this show even though I did not see the last episode I will everybody sad my favorite episode is the super twins zack and Cody are so cute brenda song and Ashley tisdale are very good
I think they are really funny and it makes me want to live in a hotel just like them and have very good friends why is it not number one why is it Hannah Montana. The Suite Life of Zack and Cody should be number one
Good show. I didn't really watch Disney too much though so I don't have a big opinion. But of what I have seen, this show and Hannah Montana are probably the two best just do to characters, plot, and acting ability.
It reminds me of the days so long time ago. I always want a buddy along with my side. Unluckily my childhood best friend and I went separate ways so early. I guess Zack and Cody show the life a single kid of his family wishes to live.
I THINK Disney Channel SHOULD STOP MAKING NEW SHOWS AND PUT THE OLD ONES BACK ON. Even the movies, there all about singing now. The suite life of zack and cody was the best. Now the shows are shake it up, jessie, etc. That's still singing. THEY NEED TO PUT THE OLD SHOWS BACK ON. Even the logo is stuipid. It has like squre behind it. They need to make a new channel with old classic Disney movies, the cartoon ones.
YES! This is awesome, Austin and Ally and ANT Farm disgrace Disney for what they used to be, a great channel for kids ages 4-10. Not just teenage crap centered around desire for fame and really crappy music.
I will always watch reruns of this show. And even though I know most episodes by heart the jokes still get me. That is how good and funny this show is. Amazing actors, well developed, but cheesy characters and plenty of laughs.
Suite life of Zack and Cody... I heard of this show, and searched up one episode on YouTube and watched it. Ever since, I've been watching all of the amazing episodes. It's an amazing plot line, the characters are hilarious, and it's not another overrated show with the same basic story every episode! I loved it... The spinoff was ok in my opinion, but this show just wowed me.
I MISS THE SUITE LIFE SO MUCH I ALSO HAPPEN TO LOVE THE SPIN OFF IN WHICH THE TWINS WERE OLDER. This show really is the best, it's so funny, entertaining, yet pretty educational. Even better, the stars of the show (the sprouse twins) actually are ones children can look up to, they've graduated from NYU. I'm totes gonna get my future children to watch this series lol.
Very good and loved it. I Must say that The Disney Company was better and Now Just Keeps dropping. So sad That it was cut But they should go back now that the suit life on deck has ended.
I watched this show since it started, when I was still in elementary school. It is very sad to see the show come to an end. I will never forget all the laughs I had watching this series.