Best Drama Actors From South Korea
The Top Ten
Kim Hyun Joong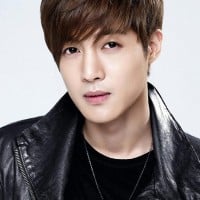 Kim Hyun-Joong is a South Korean entertainer, actor, singer, dancer, and the leader and main rapper of boyband SS501.
Best actor ever... Expresses his feelings in such a nice manner...
I want kim hyun joong because he is a nice actor, handsome and most of all he is very talented.. That's why I like kim hyun joong
I love this boy. His voice is just transcendant - not technically the best, but the tone & quality is sublime. His acting is good - he conveys the characters well and after Inspiring Generation he's shown he's got the chops for an action star BIG time. More than that, though, is the EFFORT he always puts into whatever he does. He's going to go all the way to do it right and if it's not something that comes naturally to him he will LEARN how to do it.
Even from Africa I love his music and the way he continuously redefines himself.
Lee Min Hoo

Lee Min-ho is a South Korean actor and singer. He first gained widespread fame in Korea and parts of Asia with his role as Gu Jun-pyo in Boys Over Flowers in 2009. The role won him a Best New Actor award at the 45th Baeksang Arts Awards.
He's Good talented. He's one of the most perfect Boys I've ever known.
He just perfect being as an actor... He did it effortless but great and natural at the end... Can't wait to see his coming up drama soon!
Very good talented most handsome actor in k-dramas that I have ever seen. Greetings from Sri Lankan fan. God bless you lee min ho
Actually, I can't express my feelings in words because it's the first time when I am writing something about him. I just wanna meet him one time
Kim Soo Hyun
For me, as I have watched several dramas of Kim so Hyun such as Moon Embracing the Sun, Dream High, You Who Came from the Star, and Producers, also his movies Secretly Greatly, and The Thieves, I could say that he can be versatile and can portray his role as if he is really that person. Every drama or movie he's in, you can feel the sincerity of the character. He's not just in one angle but he's the best in all the angles of his portrayal.

Not only that, Kim so Hyun too is a very dignified, humble and compassionate man who is willing to give all his best so that he can repay the people who supports him well. He never forgets to thank his family and his fans. He is really a good example not only as an actor but also as a person.

I hope we could still see his marvelous acting skills and youthful face after he fulfills his enlisting in the military.

I admire Kim so Hyun a lot, and I hope many people would also see and appreciate his hardworks. Kudos Kim so Hyun oppa!
His acting in Secretly Greatly was really good! It really showed how he has seriously awesome acting skills and not just a really hot face
Loved his facial expressions and vocal changes he does in his film 'producers'...he is a true artist...he looks handsome too. 'My love from the star' was excellent.
Kim so Hyun is the best actor!
His act so good in Dream High! So Handsome too..
Park YooChun
Best idol turned excellent actor. Does enjoyable dramas that showcases his strong points.
Good actor, singer and composer. Very talented.. First episode of rooftop prince Lee Gak already got my heart.. And also Han jung woo made me cry. First korean actor/kpop star that really caught my attention. And I also like his group JYJ. I love you yoochunie.! ALWAYS KEEP THE FAITH.
Lovely man who can grab your hearts unconsciously, his acting has been recognized by professional and his action in three days is so awesome, he never use stunt for any laga he did... cool and hot man at the same time
The best actor. Best singer and very talented actor.
Lee Joon-gi
What I admire with him is the way he treats his fans. He knows that without them he will not be in that stage of being famous Korean actor. He is so down to earth and at the same time He has a baby face, his smile and killer looks will definitely knocks you down and his really very good in his craft, whether in acting, dancing and singing. I wonder what else he can offer for his fans.
He is so much more than just a pretty face. He is what is known as a triple threat in the entertainment world. He can Act, Dance and Sing! He pours himself into each role he takes on. He is one, of a very few actors, who is actually invested in his craft. He chooses challenging roles and commits completely to them. His comic timing is excellent and his ability to make you feel his characters internal conflict and pain is second to none. His smile brings joy and his tears convey deep wells of sorrow.
LEE JOON GI can ACT, SING, DANCE and is such a versatile entertainer. Read his instagram messages, watch his video clips and read the responses of his fans and you'll have a great day! His fans' messages are so funny. All his fans love him and are CRAZY about him! If you are sad, go to his INSTAGRAM and your life will be bright once more!
Many American fans of 'Scholar Who Walk The Night' have commented on the web that Lee Joon Gi's acting skills are amazing and the drama is fantastic!

One even commented that Lee Joon Gi's eyes should be considered to be the National Treasure of South Korea! His eyes are obviously gorgeous!
Lee Seung Gi
I really like him because he can portray his role very well, and he is a talented person. He is really cute especially when he smiled.
He so good personality, talent and intelligent, perfect people, he always do the best for multitainer, became singer, actor and MC he always got number one awards, He very humble and smart.
He's acting is very good. Every time there's this hug scene if he is the male lead. I really wanted to be the female lead and I can feel his love and warmness. He's also very very handsome and a smile killer. He's cute and a calm person. I love many actors but he's in my list of my favorite actors. He is also very smart and very talented. I envy I'm Yoona from Girls generation who is dating him right now. I am so jealous of her! Well hope all the best for you Lee Seunggi! I love You!
He has adorable smile ever
Kim Bum

Kim Bum is VERY HANDSOME and SO HOT! When I showed the American girls, they think he is BEAUTIFUL! They said that among Asian guys, no one is better looking than him. Kim Bum is a good actor. He chooses difficult roles for his dramas and expresses different sides of his personality. Also, he is such a good singer with a nice, strong voice. I've seen him play piano, guitar, and saxophone. Overall, he is very talented and one of the most popular Korean actors.
Such a good actor and singer, but why he always second lead? His dramas are good and popular though. He's so HANDSOME! Hopefully, he'll get a leading role in upcoming dramas. Good luck! Wish you the best!
He's really a handome guy and his smile is truly awesome
Love you kim bum
He is SO GOOD LOOKING and HOT! I think he is the most handsome and perfect looking Korean actor. His dramas are awesome and he's always playing interesting characters.
Kwon Sang Woo
He could act even with only his facial reaction. A very good actor who has been neglected so far...
I love him, he is very talented
He's super handsome! Love him!
Because his acting is very natural, cool, and his style is very comfortable.
Stairway to Heaven, sad love story, into the sun, cinderela man..
It's my favorite drama..
Jang Keun Suk
He's very good looking. He possess a unique personality. He acts very well on his drama. He is a versatile actor, he can play any roles that will be given to him... For me, he's the most handsome actor in South Korea,...
Best looks, by far the best voice, intelligent and fun in conversations, incredible actor
He is such a versatile actor. He deserves even better and best. I always liked the way he performance in his every single drama and movie. He is quiet dedicated and passionate towards his career. Best applaud to jang guen suk such an diligent and versatile actor in S. Korea.
He is my most favorite among the South Korean actor.
Song Seung Hun
He has great acting skill. He acts marvelous in every drama that he casts. Moreover he is very very handsome and attractive, known as heart stealer and it is absolutely true.
He is the great actor. He acts very good in romantic comedy (my princess) and drama (east of eden). Is very very handsome.
He is the best he is so good that he makes others that play with him look good best best best
I love him, he is very attractive and gentleman, he steal my hearts every time I watch his acting, I'm dying to watch his next project...
The Contenders
Jo In Seong
One of the best Drama actors I've seen. The way he acts, it's just so captivating.
He is one of the bests in Korea. He can act well and he portrays his role with passion and feeling. He is also very cute...
He is very handsome and talented actor. His eyes are full of emotions. He does woonderful works.
I saw dirty carnival and this actor is hands on the most talented korean actor I have ever seen beside choi minsik
Yoo Ah-in
Seen most of his dramas and his acting skills are really amazing. He really potrays his characters well, regardless of whatever role he takes. Unlike most of the other famous actors with good looks and their charming, sweet and rich guy roles, YAI is definitely one of a kind. He takes on roles with flaws, roles that might not give him the best popularity but still carries them well. The way he acts makes audiences share a deep connection with the character he's portraying. Sure, some of his dramas may have bad endings but I do not think that a good actor means choosing a drama with a good ending that would please everyone. His acting skills are great, no doubt (even for the badly criticized dramas, he acted really well on his part). I was charmed by not only his talent in acting, but his depths as a person. He's intellectual and inspiring. An actor who's not acting just for fame, but who wants to make a difference in the acting industry. A positive difference.
He's a good actor and has that charm
He is a very good actor
He still needs to improve sometimes his acting gets annoying because he tries too hard until it gets overrated
Ha Ji Won
She is such a very versatile actress who can do more than expected. She has the passion and the character of an ideal celebrity.
She is my favorite actress in dramas and in movies as well. She can play any role with ease and passion. I love you Ha Ji Won.
Ha Ji Won an amazing actress, a very beautiful woman, a vitamin for her fans. Good luck in everything! Love you!
"My favorite actress ever! Every single one of her dramas and movies were so awesome especially Empress Ki.She has done pretty much all genres possible: Medical, Action, Historical, Romantic Comedy, Thriller, and Horror. She does every single genre with perfection and plays roles with a lot of passion and effort.
Ji Chang-wook
Hi is very talented.
He's a hottie... he will be the one I love most compare to any protagonist leading actors.
My lovely, favorite, handsome, talented, amazing, oppa, wonderful, super actor
Versatile actor and extremely good looking. He's mesmerizing to watch because he's so talented.
Song Kang-ho

The actors in the top spots have a recurring voting reason of 'HE'S HOT' and 'HE'S HANDSOME' by these American fangirls who don't understand the film/acting industry and instead base their votes on someone's jawline.

Song Kang Ho is a real actor, he can copy real emotion and paint it as if he were a spectacular artist painting a canvas. He will always have my respect as an astoundingly talented actor, and not just someone praised for his good looks, but his talent also.
He's charming, and likeable, and his acting range is astonishing. He can play the comedic goofball or the principled cop with remarkable skill.
Lee Min Ki
Lee min ki is a excellent actor for me he act any kind of role very versatile actor.
Versatile and has an interesting way of portraying a character.
He is an excellent actor.
Song Joong Ki
Very adorable, cute, intelligent and talented actor. I love him in Innocent guy and Werewolf Boy. Especially in Running Men, he was so hilarious with his way of dance and sing. I wish a successful life for him. I love you so much Song Joong Ki
Song Joong Ki is very cute, intellegent, and has great acting skills! He never gives up and tries his hardest at whatever he does... He moved my heart so many times in Running Man, where he kept on trying, and never lost his hope... I hope that he continues to improve and I am rooting for him! ;P
EVERYTHING ABOUT HIM IS SO PERFECT!
He is my favourite actor, as his acting skills are very very good and he is very cute, talented and charming. He is just PERFECT. I think he should be on the top of the list. Love you Song Joong Ki!
Bae Doona
Gong Yoo
The depth behind his character is always revealed in every show or movie he plays a role in. He can make anyone cry or feel emotionally shaken with just a few looks, or happy and bubbly with his dazzling smile and thoughtful eyes.
I think he's the best korean actor I've ever known. He has such qualities that not common actors have. I've seen some of his interviews and I think he's more than just ordinary actor like the majorities, he's so thoughtful and beside his great talent, he's also done things that give good impact to society he belongs with. The one I'll be always amazed with is his role in film "Dogani".
He is the best actor. I am not saying that all are not good every actor is good but I like him. I like very much his film train to busan.10 out of 10
Love him he has the cutest smile and you can see his great charisma and how funny he is
Go Ah-sung
T.O.P
I like him in iris as he was act as a hunter who want to kill all iris characters. He should be number 1. His evil eyes, his skills give him some badass power.
T.O.P... You're the best actor with your evil's eyes..
I like T.O. P who act in Iris
Top oppa you are very handsome and sweet
So Ji Sub
He has some serious acting chops. Very subtle but deadly effective. He is one of those actors that pays enough attention to details - from the way the characters talk right down to the way they walk. Every characters he has played todate has distinctive characteristics that defines and separates them. Which only shows that he can be quite versatile.

Couple that with his good looks and charisma - you have a beautiful package of an actor in Ji Sub. He is one of South Korea's most precious leading actors the country should be proud to have.
He does everything infinitely well acting, rapping, modeling, he is intellegent and a deep thinker. He can do anything well he wants to because he is a true professional.
Very good actor, wish he'd do American films
He is very handsome and cool.I like his drama oh my venus and master's sun.
Joo Won
An amazing actor with a charming, baby-like face, Joo Won is one of the fastest rising young male actors in Korea. With lead roles in top-rated dramas under the belt for him (Ojakgyo Brothers, Bridal Mask, Good Doctor, 7th Grade Civil Servant, Baker King etc.), his acting skills still have endless potential waiting to be unleashed. Taking on roles of different natures, this man-boy is able to make us believe he is evil, damaged, heroic, pure and autistic (! ) when we watch him in different characters. You would not believe that it is the same person, giving such a magnificent performance that shows his understanding, depth and genuineness of his emotions.
I love him in Good Doctor. He made me cry and sympathize with Si On's character within 5 minutes of watching the first episode.
Good appearance and best actor especially in action drama also he's so handsome
A real gifted and blessed actor.
Yeo Jin-goo
I am such a huge fun of this young actor. His dramas which includes Missing You, Moon Embracing the Sun and movies Hwayi, Shoot my Heart is a must to watch...He can portray any character that was given to him. No wonder Park Bo young wanted to act along side Yeo Jin Goo. He will be one of the actors to watch for the years to come...
My introduction to Yeo Jin goo was in the Crowned Clown, since then I've watched him in Hwayi, Royal Gambler and many others, recently in Hotel del Luna! His Acting skills are AMAZING! There are many Korean actors who are good, but YJG is Brilliant! Best Korean actor!
Love you so much (kawmini, umasha)
HE ACTS IN MANY DRAMAS,SUCH AS "THE MOON THAT..","MISSING YOU" "MONSTER BOY","POTATO STAR"AND"ORANGE ME..".HE IS VERY YOUNG,HANDSOME ACTOR.HE IS ONLY 17 YEARS OLD.HE IS GOOD IN THE DRAMA"THE MOON EMBRACING THE SUN".IN THIS DRAMA HE ACTS AS MAIN CAST.HIS ACTING SKILLS ARE GREAT.(MY NAME IS KAWMINI,FROM SRILANKA 0453458169)
Kim So-eun
PSearch List