Best DSBM Bands
Nord666
The Contenders: Page 2
21
Gris
They are the masters here! Such an awesome band with great compositions like: Profonde Misanthropie, Where So Many Tombs Were Forgotten & Lueur d'Ombre!
Great vocal range on Gris's Foret album, with a lot of atmosphere, memorable riffs, and probably the best instrumental closing in DSBM history. The first time I heard this album, late at night, all alone in the dark, I nearly vomited, then I was depressed for days.
Really emotional! More than the standard DSBM... Listening to Neurasthenie is like drowning into a desert of sadness!
V 1 Comment
22
Totalselfhatred
The best - as for me - powerful; lyrical; deep; perfect orchestration. Amen
23
Forgotten Tomb
The pure emotion Herr Morbid drains into his music is more than enough to be a strong contender.
Loves burial ground is now negative Megalomania!
Underrated! Needs to be in top ten! - Ananya
So striking, so morbid, so great.
V 3 Comments
24
Hysteria
Very depressive band from Croatia. Should be ranked higher.
Awesome one man band from Croatia
25
Starless Night
Great band...give em your votes
HELL YES! - Shea
V 1 Comment
26 Forgive Me
27
Apati
Super mega ultra depressive and suicidal. Rip Obehag. Best of DSBM. Maestro
I think this band isn't the best in DSBM.. But these guys are really talented and I love their songs.. Rip obehag
"Eufori" is a masterpiece. Obviously the best DSBM album I've ever heard.
P.S. they were singing about drugs - their singer died because of overdose. Such in irony
V 2 Comments
28
Hypothermia
They are the best in my humble opinion. Their slow riffs, their slow atmospheres with the Kim's voice could kill everyone.

Listen at "Melankoli"
V 3 Comments
29
Uaral
They are a great band, their music is really melodic. I enjoy when they sing Spanish softly it adds a great touch to it. I recommend everyone to listen to their uniqueness. Most of the times they sound like their actually crying and that is what I look for in a depressive band, a lot of crying. They are. By far the best depressive black metal band I have ever heard. I highly recommend them.
They put all their emotions and sadness in their songs... Best doom metal band ever
Y'all need Uaral on this list. Two brothers started this band in memory of their master, who taught them how to play... And live.
V 3 Comments
30 Cosmic Church
31
Leviathan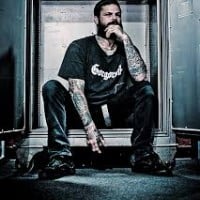 Leviathan is an ambient black metal solo project of Jef Whitehead (A.K.A. Wrest), formed in 1998. Wrest records and plays all instruments including vocals entirely on his own. Despite having early problems with the release of Massive Conspiracy Against All Life, it was released March 24, 2008 in Europe ...read more.
Easily one of the best out there.
Should be at least 2nd Leviathan's music is some of the best DSBM around! TThey even have a amazing split with Xasthur!
V 1 Comment
32
Kalmankantaja
It can absolutely possess your mind.
33
Nihilistic Misanthropy
Cold and raw, unique sound!
34
Cry
Heads off not only hat just go n go n go inside the depths of songs
V 1 Comment
35
Nortt
For me Nortt is the PUREST Depressive Black Funeral Doom Metal and Nortt can take over any other band in this list.
Cold winter night in deep dark forest - that how nortt sounds like. Sound like death breathing in your ears.
Nortt. The sound of a cemetery. Only the dead would appreciate this music
V 2 Comments
36
Xathrites
Just for this song : My Last Day Story. You must listen this band!
V 1 Comment
37
Hanging Garden
I like this band one of the best DSBM band
V 1 Comment
38
An Autumn for Crippled
Depressing, full of emotion, and truly surrounding. Try Not To Destroy Everything You Love is an incredible, rounded album that's easy to lose yourself in.
39
Abyssic Hate
One of the earliest and still one of the best Depressive Black Metal bands of all times. It's a shame that Abyssic Hate now buried under modern DSBM garbage
They are very innovative, showing that anger and sadness can be effectively combined into a sorrowful rage
They are not a very popular group but they make very good music, you must check them out.
They are so creative...needs more attention - Ananya
PSearch List
Recommended Lists
Related Lists

Best Rock Bands of All Time

Top 10 Best KPop Bands

Best Metal Bands
Best Japanese Rock Bands

Best Alternative Bands of All Time
List StatsUpdated 24 Feb 2017
1,000 votes
154 listings
5 years, 84 days old

Top Remixes (7)

1. Xasthur
2. Make A Change...Kill Yourself
3. Nocturnal Depression
ChristBlaster

1. Xasthur
2. Trist
3. Lifelover
Nord666
1. Silencer
2. Lifelover
3. Forgive Me
MaskedH
View All 7
Posts
Error Reporting
See a factual error in these listings? Report it
here
.