McDonald's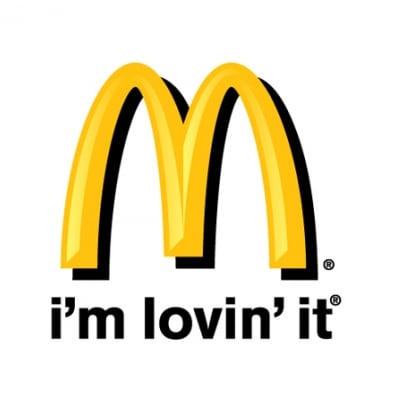 Uploaded by ChuckECheese
Info
McDonald's is an American fast food company, founded in 1940 as a restaurant operated by Richard and Maurice McDonald, in San Bernardino, California, United States. They rechristened their business as a hamburger stand. The first time a McDonald's franchise used the Golden Arches logo was in 1953 at ...
read more
.
Comments
Top
Popular
Newest
I AM CURRENTLY 23 STONE DUE TO THE INSENTITIVE FOOD RONALD MCDONALD AND HIS EVIL CLOWNS MINIOMS COOK UP.. THEY HAVE FORCED ME TO EAT THERE DELLICIOUS MEALS SUCH AS THE BIG MAC, HAPPY MEALS, QUATER POUNDERR AND MY PERSONAL FAVE, FILLET O FISH! I AM NOW LOOKING AT 3 MONTHS TO LIVE (4 AT BEST) DAMN YOU EVIL CLOWN MINIOMS! - althemasterno1enemy
It's only unhealthy if you eat it every day. It's still really good and you gotta love them hot crispy fries! The only thing from McDonalds I don't think is that great is the burgers. They're okay, but Burger King makes them a lot better.
Well, Mcdonalds has respect on people despite some disgusting food (yet very tasty). For those who hates Mcdonalds don't know what Mcdonald was. So if you want to know, well watch the movie called The Founder and see how Mcdonalds was made. (Yet some haters go back in time to kill the founders so it won't happened). Stay Mcdonalds to be number one for life.
No. This isn't dumb. They can kill someone. Someone could go to the hospital. That is another reason kids today might get fat. And their apples(shudders) they have chemicals that are bad to keep them good. Chicken was made by slaughter and I doubt they even feed those chickens! No wonder a game series called "Chicken Sisters" was born! So goes for you KFC. I am warning you. DON'T YOU DARE say I wasn't doing anything to stop you! Or Imma blow up a gasket up here YOU HERE ME? A GASKET!
McDonalds is disgusting there double cheeseburgers look like they been stepped on first of all, they has a bland taste, every bite taste the same, and there is no no lettuce and tomato unlike Burger king There is lettuce and tomato and the sandwich has a different taste each bite, in each bite you get a different amount of the tomato and lettuces I will never eat at Mcdonalds, but only if its for Mcnuggets I know I said I hate Mcdonalds but that's the one and only thing they do a good job at but the main coarse, the burgers they are garbage.
Damn, number one on BEST and WORST? It should be number one on worst. - EpicJake
I don't think McDonalds have ever been the best. The only thing I like there are their Chicken Nuggets. McDonalds have the worst Fries, I'm tired of Onions. They have never taking them off, even though I've asked them to not put any on at least 1,000 times since the 1980's. Not once have they done it. BURGER KING IS THE BEST! - westofohio
McDonald's is actually pretty disgusting. I eat every once a while, but heck, one time The McDonald's in my town ran out of hot mustard, I mean seriously it's McDonald's. it's you supposed to have hot mustard. Anyway that's my opinion tell me if you disagree
Are you kidding me?!?!?! Mcdonalds is so gross it always smells like feet, there chicken nuggets are made out of pink slime, and the service is terrible. the waiter are rude and disrespectful, they always look at you in a bad sort of way and there burger patties are made out of MEALWORMS
I hate McDonald's! The only good thing about it...their fries! KFC is the BEST! Oh, and by the way, can anyone tell me who the hell Wendy is and why she's in the top ten?!
It's so good my friend made a rap about it I always get a #10large with a coke this is the tastiest place in the world McDonald's fries are legendary even better than Wendy's
I don't care what Supersize Me says, it's so good, and so addictive. And the Dollar Menu is the best.
Oh yeah! Being Fat till I die is not cool at all! McDonald is a cruel fast food, Subway is better!
The only burger I like in McDonalds is the Big Mac (Any size) also I like the French fries and the coke but everything else is complete crap, gross, Burger king, Subway and Five guys is a sextillion times better than McDonald's and Pizza Hut.
McDonald's should be last on this list. They're food is fake. It's not even good. The Chicken Nuggets and the Fries taste the same. Dairy Queen however, should be first.
Great place I know it is not always healthy, but come on when is fast food ever healthy. McDonalds started it all it taste great. My grandmother and her siblings are rich because of McDonald's. I would eat McDonald's before I eat Burger King. Subway is pretty good, Wendy's too.
Its pretty good untill you actually know what it is made out of. I found out what it is made out of and I didn't want to eat there anymore, but I mean oh well I still do, and also you might not want to ever eat there again if your like someone I know and find a tumor in her burger..
How can you hate this? It's so good, when I was a kid I always asked my Mom if we could go to eat there. And the second best part? They're one of the few fast food places that sell Coke products, which are way better than Pepsi. The best part is the Smarties McFlurry. As I am writing this I crave a Smarties McFlurry. Crunchy and smooth at the same time, just like peanut butter and jelly on a sandwich; a perfect combination!
But you didn't mention the burgers that look like they've been stepped on, or the soggy fries. - SammySpore
Haters gonna hate and people are going to criticize and analyze, but McDonald's is just damn tasty. And actually pretty economical too, with all their $1 and value menus. As long as you eat it couple times a month, indulging yourself at times, it is not too unhealthy. I mean, come on! As a human, you gotta carpe diem and enjoy just a little.
McDonald's is gross their burgers are made of meat leftovers from the actual meat. I hate it. Kids only eat it for the toy they eat the worst food to each kid and convince them to get it for the toy It's terrible and sometimes the toy's aren't even good.
Awful. Inconsistent. Mix Them Both And You Have Got McDonalds! They Suck! Welcome To Earth!
It deserves to be at the bottom of the list. Thumbs up now!
I just love it! I could eat it every single day! Of course, I'd be a bit fat but I'm fat anyway.
McDonald's has always been the staple. The unfortunate thing is over saturation causing quality control issues in my opinion. It's a great company and when you do find a store that is on point, you can't go wrong.
McDonald's didn't roll out the full breakfast lineup for all day long. This is disappointing to me. Besides that I have found that during the day the food (usually)tastes better than going thru the drive thru late at night. At night time you may get cold wet soggy fries lol. Or cold burgers. I absolutely hate paying for old food that sat around for a few hours. - Angel288